Opportunity rover shows its age with double amnesia event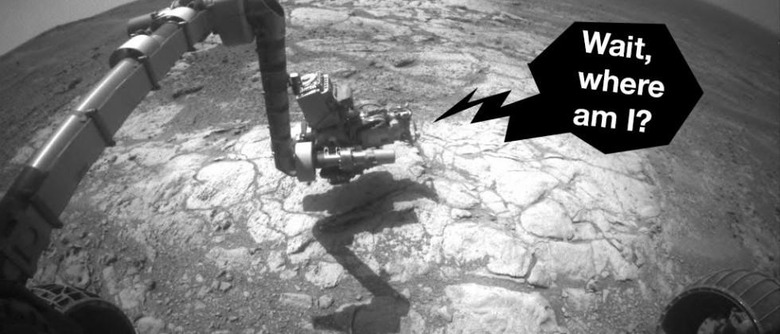 In Mars news today, NASA has reported their Opportunity rover to be having a second bit of amnesia in so many weeks. This event is affecting the machine's flash memory banks, and scientists had, after the first incident, attempted to bypass the faulty bank. The first event happened back on March 20th, and another event happened on the 25th. NASA scientists suggest that they're disappointed at the second occurrence, but not surprised. Another memory reformat may be just the ticket to get this machine back in order.
John Callas, project manager for Opportunity at NASA's Jet Propulsion Laboratory, Pasadena, California, spoke with the press this morning on the matter in a statement. This is not the first, nor the second time similar amnesia events have happened to the rover – "dozens", NASA says, "of similar amnesia events and more serious flash-related resets of the onboard computer" occurred prior to the year 2015.
"We changed how the rover uses flash memory in an attempt to correct problems the rover had been experiencing," said Callas, "There is still no clear understanding of what is causing the problems. Only time will tell if we have been successful in mitigating the most serious flash problems."
"Although we are a little disappointed at the occurrence of an amnesia event only five days after reformatting, we are not surprised."
ABOVE: A 2015 NASA update session released earlier this year for Curiosity. Eleven years and counting – not half bad for a old robot.
This December, the Opportunity rover switched into no-flash mode for a period of several months. Since then, the rover had been experiencing several resets daily.
In the first week since resuming the user of flash, no resets have occurred.
Have a peek at the SlashGear Opportunity timeline below for more information on the latest happenings in the Mars rover environment. Lots and lots of events have happened since this rover first touched down all the way back in early 2004 – we've been covering this craft for a long time!