Oppo Reno phone spotted with stick-of-gum camera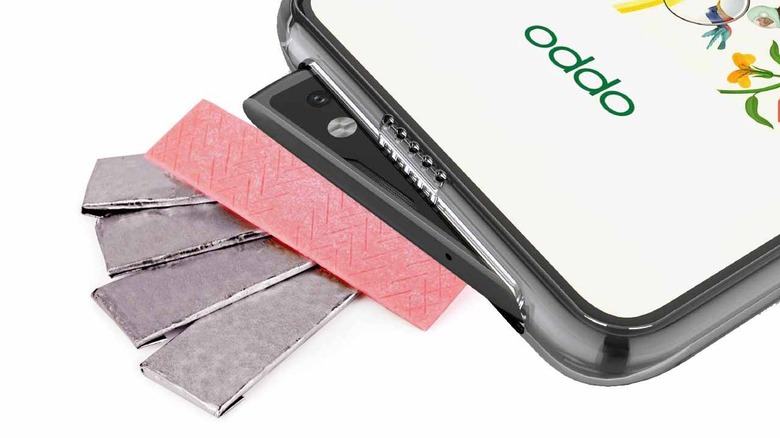 Right now, China's various big-name smartphone companies are risk-takers. They're willing to make the leap into the unknown with new gadgets because they're in a market where technology is evolving extremely fast. From China, we get devices like the Oppo Reno, a smartphone with a camera that pops out from its body like a stick of gum from a package, or a playing card from a deck.
The concept-like renderings we're seeing here come from 科技小诺  on Weibo. They depict the phone in its Qualcomm Snapdragon 710 edition – presumably we'll see at least a couple different versions, eventually. On Weibo, the "microblogging" social network that dominates Asia, the Oppo Reno's had several nicknames because of its strange camera. Said camera's been compared to a shark fin and a Zippo lighter, too.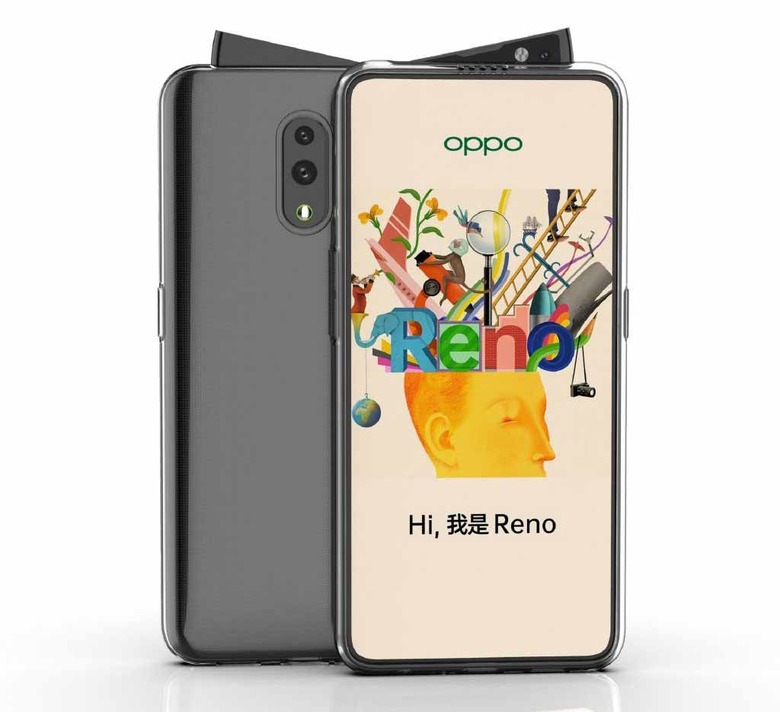 Below you'll find a demo video of the actual real-life phone courtesy of 科技头条  from Weibo. This video shows the camera popping up – real nice and smooth-like. Kind of like what we've seen with the just-released OPPO F11 Pro, aka The Perfume Bottle. It's called The Perfume Bottle because its camera pops straight up from the top of its head, making the whole phone's silhouette look much like that of a perfume bottle.
If you'll take a peek at the video in the Tweet below, stop at around 0:21 and you'll see a meticulous engineer placing all the hardware into the Oppo Reno. This isn't actually really how it's done – there's an assembly line in China where parts are placed one by one – but still, take a peek and notice on the right. In the upper right-hand corner of the array of parts there's a black piece that's basically the size of a stick of gum. This is quite likely the pop-up camera we see in the leaked media above and below.
We've filled Reno with ingenious things to elevate creative minds. #GetReadyForReno, launching this April. pic.twitter.com/QMheD09Gpt

— OPPO (@oppo) March 25, 2019
Also let's hear a respectful clap for the graphic designers and ad team behind the campaign Oppo's using to get people hyped up for Reno. Look at the graphic below and tell me that's not one of the coolest brand-made ad spots you've ever seen.
Take on new angles and rediscover your favorite places. #GetReadyForReno pic.twitter.com/I7LDOZ9aEg

— OPPO (@oppo) March 28, 2019
UPDATE: We've been informed (by a source that wished to remain anonymous) that different iterations of the Oppo Reno were in the works – and might still see the light of day. One has a pop-up camera similar to that of the F11 Pro, but to the side, rather than centered. Another version has a full pull-up backside, with cameras hidden like they're in a drawer.
One final edition seems to have not just one, but two front-facing cameras, both popping up from different places on the device – that's just overkill, isn't it? Below you'll see a gallery of renderings of various versions of this phone that've been leaked from various sources, most of which were shared and re-shared endlessly on Weibo.
This smartphone will likely be revealed some time in mid-April. We'll then see the device out for sale in at least China, maybe elsewhere in the world, in the weeks after the inevitable reveal event's proceedings.