OPPO F11 Pro hands-on: The Perfume Bottle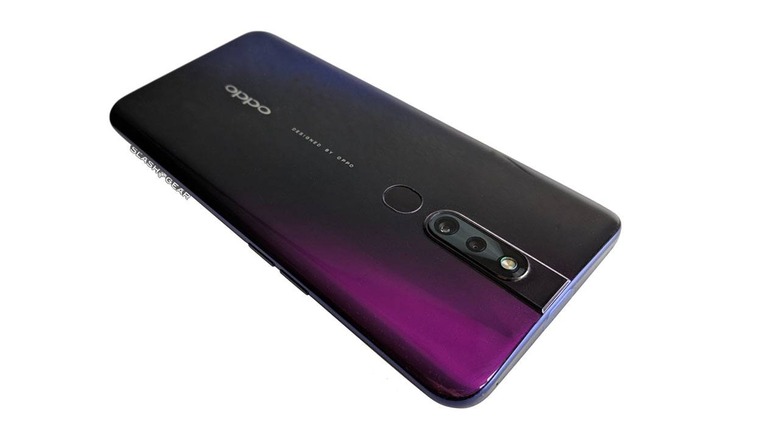 The OPPO F11 Pro has a 6.52-inch display with no notch, no camera hole, and a bare minimum bezel around all its edges. This smartphone is beautiful – and not just because it's got a full-coverage front-facing display. This device is also colorful, and it has a rising front-facing camera, and it's been revealed officially by OPPO just this morning.
This device's front-facing display is 6.53-inches diagonally with some considerably-rounded corners. It has a "Panoramic Screen" they say, with a 19.5:9 aspect ratio. There's 2340 x 1080 pixels across its face, and it's rolling with TFT LCD technology.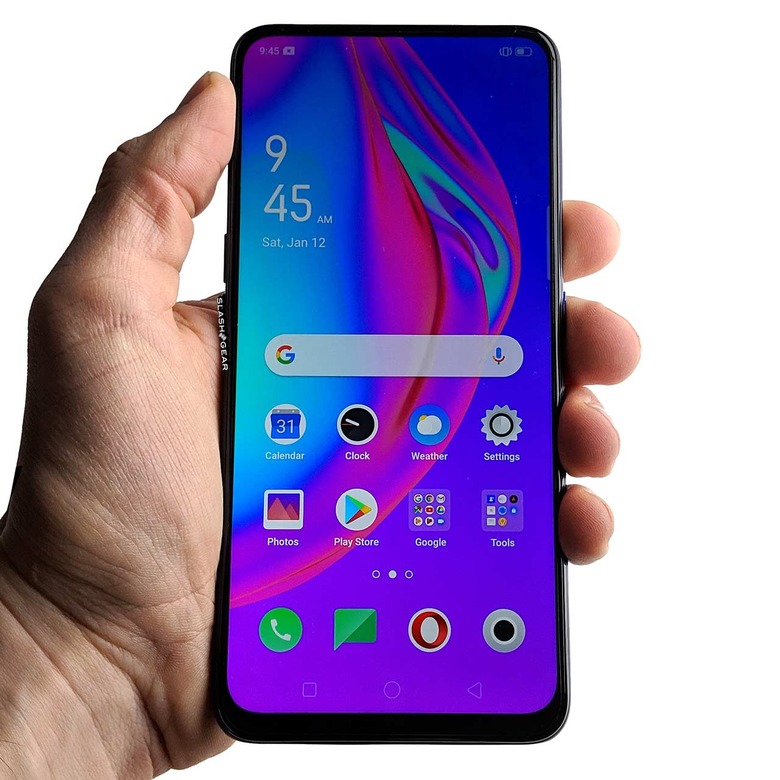 This is one of two devices with the same name, save one word – Pro. The Oppo F11 Pro is set for release right alongside the non-pro edition. The difference is in the placement of the camera, NFC (none in non-Pro), and the colors available. Both devices sport 6.53-inch displays with what's supposedly the same amount of pixels – but how can that be true?
The Pro has no notch, while the non-pro has a "WaterDrop Screen," which means it has a front-facing camera that's dropped in in the center of the forehead of the display. As you can see here, there's also a speaker above the display on the Pro – you might also recognize that feature on the Vivo V15 Pro... or a OnePlus 7, MAYBE.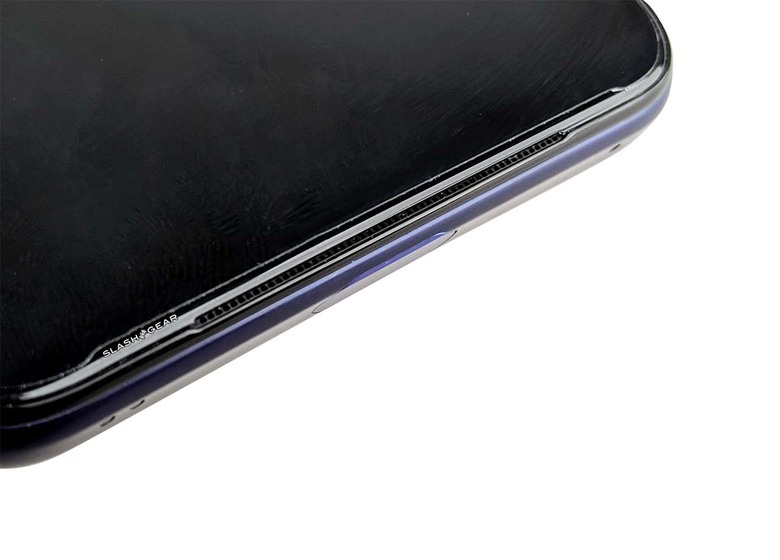 So the displays are the same size, yet one has a notch in it – so we've either got some very interesting squishing of pixels going on here, or there aren't quite as many pixels in the lesser of the two.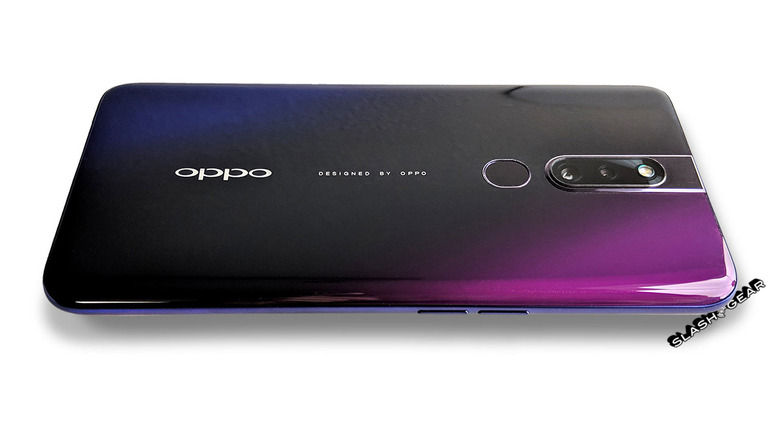 The non-pro comes in Fluorite Purple, Marble Green, and Jewelry White. These are lovely tones, but they don't quite add up to the eye-dazzling combos included with the Pro. The Pro has a double-color gradient with "Aurora Green," and the one we've got here, a triple-color gradient: Thunder Black!
This Thunder Black colorway has purples, blues, and black, and it's pretty lovely to behold. It's not quite as glittery as some gradient-backed phones we've seen in the last year, but it's really quite nice to see.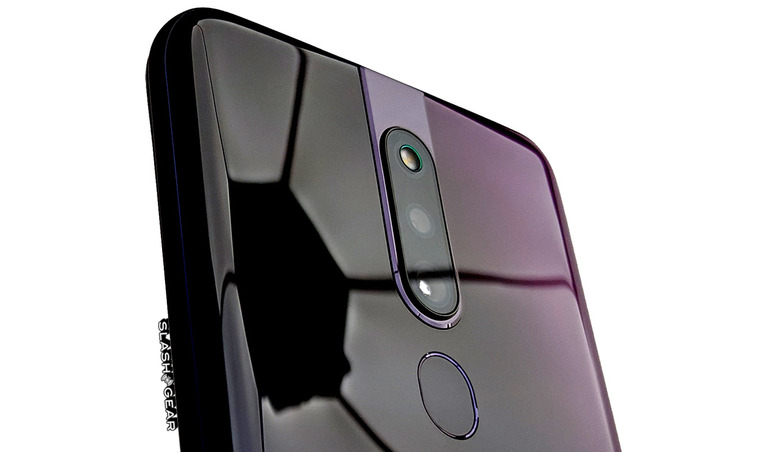 The Oppo F11 Pro has a pair of cameras and an LED flash at the back. There's a 48MP camera and a 5MP camera, capable of Ultra Night Mode, Color Mapping, and AI Scenes Recognition.
The camera in both the pro and the non-pro seem to be the same, regardless of whether they rise up from the body. Both are 16-megapixels, have f/2.0 aperture, and have "Sensor-HDR" – we'll be interested to see how that works in our full review. This camera array also has "Custom Beautification."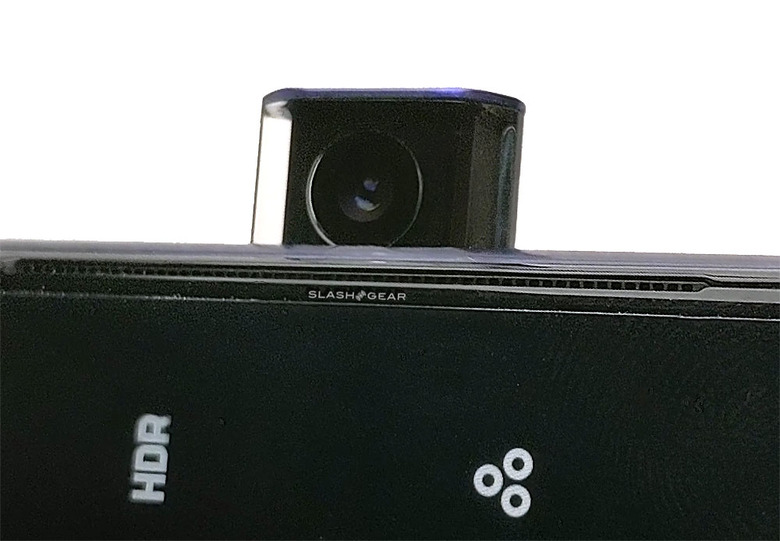 Oppo describes the look of the front-facing camera and the overall visual of the phone with this camera popped up as a perfume bottle. Their exact words were, "The rising camera of OPPO F11 Pro adopts a transparent design inspired by amber. The camera has a rounded curve and is crystal clear. When the camera rises up, the phone looks like a perfume bottle ready to be opened, allowing you to capture amazing photos at any time."
Inside we've got an MTK P70 processor with 6GB RAM and 128GB internal storage (ROM). There's a 4000mAh battery under the hood, and we are somehow, by some strange miracle, still charging with microUSB, not USB-C. That's most likely because OPPO mostly operates in areas that don't mind such chargers, and they're using VOOC 3.0 charging tech.
There's a fingerprint sensor on the back, as well as a magnetic sensor, light sensor, distance sensor, gyroscope, and gravity sensor inside. This device is capable of holding two Nano-SIM cards at once, and it's about to hit shelves this week.
This phone will launch first in India. It'll then be followed by SEA, MENA and what OPPO describes as "more in the near future." Stick around as we get more pricing information and such, too!