OPPO Reno 2 revealed with Z and F models to battle OnePlus, Xiaomi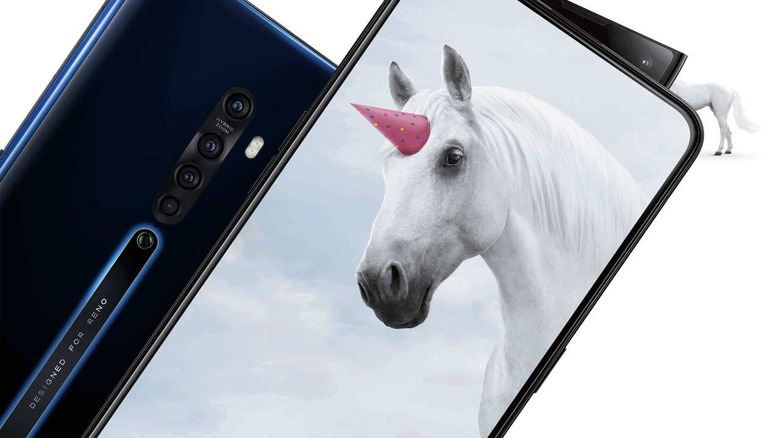 Today the OPPO Reno2 (or Reno 2, if you prefer) was revealed in several iterations. This smartphone has a 6.5-inch AMOLED display (16.5cm) with 2400 x 1080 pixels, a screen-to-body ratio of 93.1-percent, and a motorized pop-up front-facing camera. There's also a collection of four cameras on the back of each of the different OPPO Reno 2 models – 48MP & 8MP & 13MP & 2MP and a dual LED flash in the mix. If these specs seem familiar to you, you're not alone!
OPPO Reno 2 is one of several devices revealed this year with what's essentially a full frontside display, without significant bezels, notches, or camera holes of any sort. This device series has a set of specifications that are very, very similar to those of the recently-revealed Xiaomi Mi 9T Pro, and in turn the Xiaomi Redmi K20 Pro. All of these phones are also quite similar in specification and in appearance to the OnePlus 7 Pro.
The biggest differences come in the execution – the OPPO phone has a slightly taller display (with an almost exact amount of pixels-per-inch), and both run Android 9 Pie – as does the OnePlus 7 Pro (until it's upgraded to Android 10, soon!) OPPO attempts to step ahead of the game by delivering FOUR cameras at the back of the phone where its competitors have at least one camera lens fewer.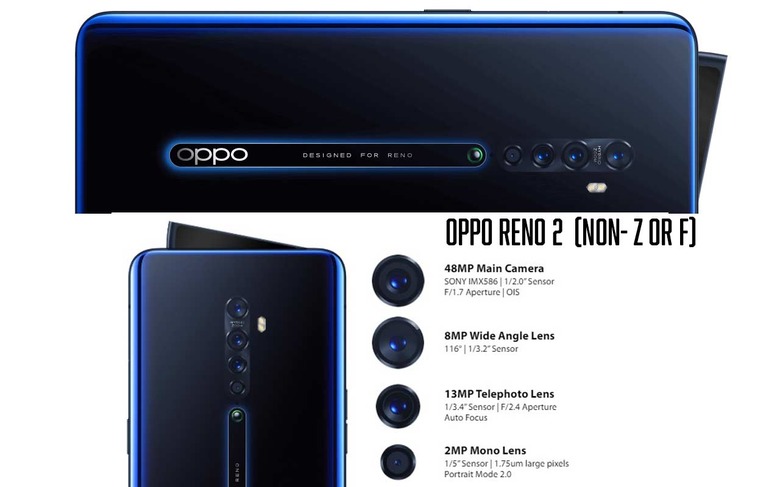 The OPPO Reno 2 has a 2MP lens dedicated to macro photography. It also sports an 8MP lens with F/2.2 (ultrawide), a 13MP camera with f/2.4 (telephoto), and a 48MP camera with f/1.7 (26mm, wide). The motorized pop-up camera on this device is 16MP with f/2.2 (26mm, wide) and it has an LED flash and the ability to capture HDR photos.
This device rolls with a Snapdragon 730G chipset with 8GB of RAM and 256GB storage and a 4000mAh battery. You'll find this phone available in India first on September 30 for around INR 37,000 ($515/€465). We'll have to wait and see whether it'll make it to the states. For now, have a peek at our OPPO Reno 10x Zoom Review to see what these devices are all about.
Reno 2 F and Z
The F model and the Z model from the Reno 2 series use pop-up cameras like the OnePlus 7 Pro and Xiaomi devices, while the main Reno 2 device uses a slide-up sorta slice. The F and Z change their chips and their cameras just a bit, as you'll see in the images below.
All devices here have the same sort of display, all 6.5-inches, AMOLED, the same amount of pixels, same battery, same RAM. It's the stuff beyond the display (and battery, and RAM) that's changed. The Z has a MediaTek Helio P90 processor, 8GB RAM, and 256GB internal storage.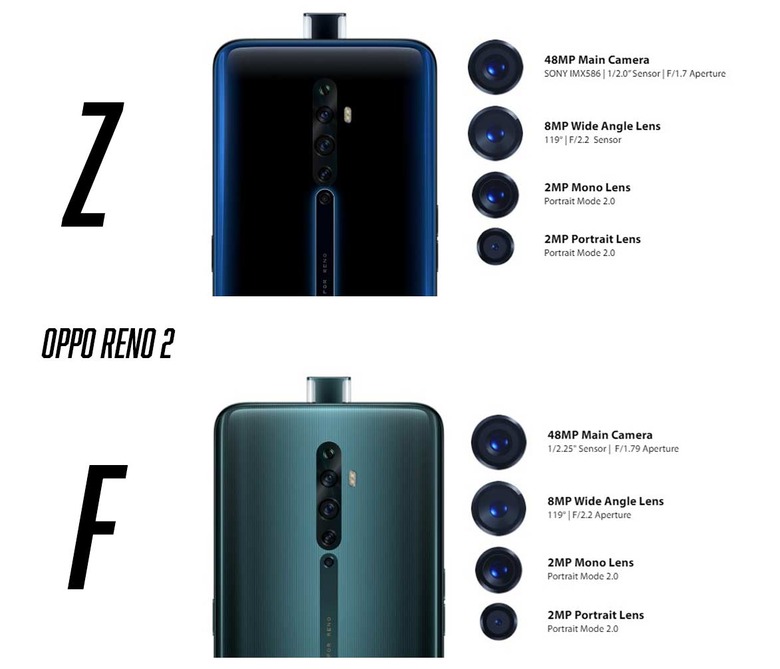 The OPPO Reno 2 F has a Helio P70 chipset and 8GB RAM. It also has a 48MP camera sensor at its back, but it's a slightly different model from the other two devices. This F model's 48MP sensor does not seem to be the same Sony sensor as the Z and the standard model, instead opting for what MIGHT be a Samsung sensor – we're investigating now.
The Z has a September 6th release date and a starting cost of INR 30,000 ($420/€375). The F does not yet have a price, and will go on sale in September.