Oppo Find 7 Tipped As First To Snapdragon 805, 2560 X 1440 Display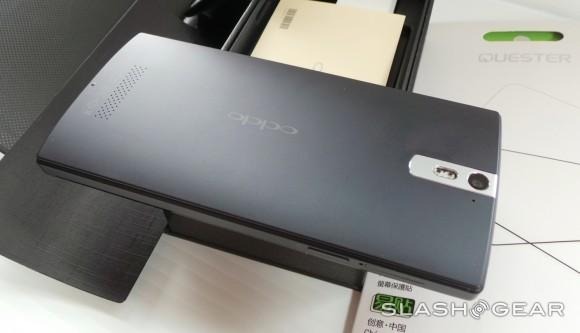 There's nothing like a next-generation smartphone rumor to start your day off right, especially when it comes from the folks at Oppo. The brand Oppo has presented several surprisingly interesting devices in the recent past, notably the Oppo Find 5 and the Cyanogenmod-laden Oppo N1. This week we're to understand that the Oppo Find 7 is under construction, with some wholly next-level specifications.
Straight from GizChina comes a tip which appeared via Weibo, a notoriously wishy-washy source of news. That said, we can gain some insight into what's possible with this release with the clues provided. This teaser begins with the suggestion that Oppo will be one of the first manufacturers to work with the next Qualcomm processor.
The Oppo Find 7 will likely resemble the Oppo Find 5, a device we reviewed earlier this year. This resemblance will appear both outside and in, this "7" coming with a Qualcomm Snapdragon processor as well. Oppo has been tipped to be one of the first companies to push the Qualcomm Snapdragon 805 quad-core processor to their devices, starting with the Oppo Find 7.
You'll also find word that this device will roll with 3GB of RAM, a 5-megapixel camera on its front, a 13-megapixel camera on its back, and a massive battery inside. The display up front has been suggested to roll with 2K resolution – that's a cool 2560 x 1440 pixels across its 5.7-inch face.
Sound like a winner to you? Now if only it'd be made available outside of China, we'd be ready to tap!