The highly anticipated OPPO N1 is set to be released Dec. 10, OPPO announced this evening. The phone will come with ColorOS, an operating system based on Android 4.2 Jelly Bean, but it will be easily convertible via an app to CyanogenMod, the Android distro installed by about 10 million users to date. This marks an early case of CyanogenMod being practically ready-baked into a high-profile smartphone manufacturer.
The OPPO N1 will retail for a suggested $599 in the U.S. (€449 in Europe), but the price points may well be justified by its high-end specs and innovative hardware and firmware. The N1 has a large 5.9″, 1080-pixel display, a Qualcomm 1.7GHz quad-core Snapdragon 600 processor, and 2GB of RAM — OPPO's most attractive specs to date. The phone will be available with 16GB or 32GB of hard storage.
A 13MP camera will be able to swivel to either the front or the back. The backside touch panel adds some unconventional usability to the handset. The press pic OPPO released today: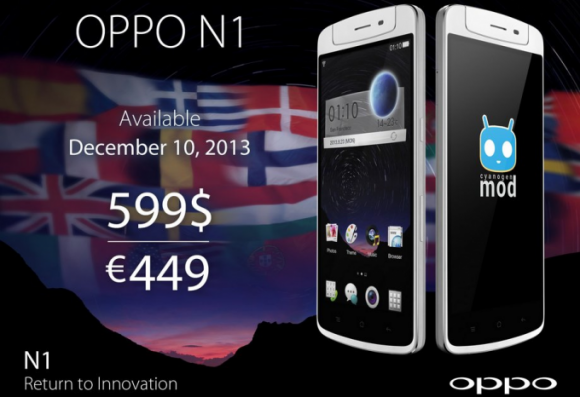 The CyanogenMod distro conversion from ColorOS will be available through a downloadable app. If you're still not familiar with CyanogenMod, we've been covering it in-depth. CM is widely felt to be an upgrade from the standard Android OS. Additions and tweaks include theming options, FLAC audio codec support, support for various forms of tethering, CPU overclocking, convenience changes to the notification pull-down menu, app permission management, and a variety of other sundry changes to the firmware.
The N1 will be available in multiple countries direct from OPPO as well as through Amazon. Check out the availability locator at OPPO if you need to. And do check out the timeline below for more info about this innovative new phone. We're looking forward to seeing how well it fares in the market.
SOURCE: OPPO