OpenPeak Tablet for AT&T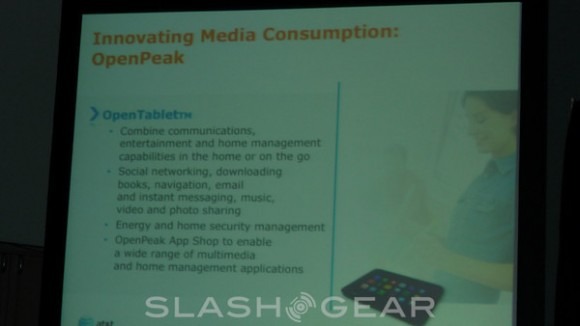 AT&T is busy announcing things like 3G MicroCells and subscription-based music services over at CTIA 2010, and we're quick to grasp all the juicy details. One thing of particular interest is the OpenPeak Tablet, which is AT&T's master plan at combining just about all your daily uses into one device. This is just more than simple tablet: it's designed to combine your communications, home management, and your entertainment all on one, easy to use, sleek device.
It has a whole slew of activities for you: social networking, download books, navigation, email and instant messaging, music, and video and picture sharing. As you can see, it would seem that AT&T has certainly covered all of their bases with the OpenPeak Tablet, making sure that you can get all your services right from one device. Especially when you add things like energy compliant devices, along with home security management capabilities. Sounds like a dream come true to us.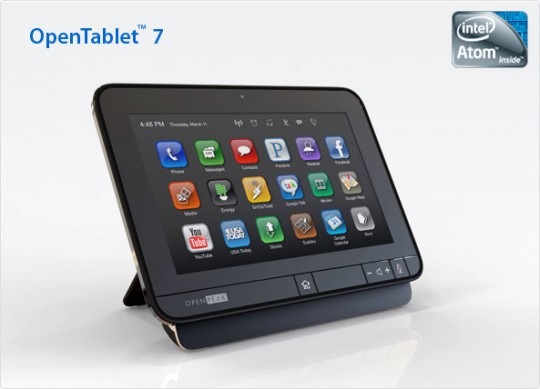 Finally, but definitely noteworthy, is the fact that the OpenPeak Tablet is going to have its own electronic store, called the OpenPeak App Shop. (It's got a ring to it, doesn't it?) With the App Shop, you'll be able to download a wide array of multimedia applications, along with several home management applications. We're most interested to see these home management applications, to see where AT&T is going to take this burgeoning market. We're still waiting for some additional information about the device, but hopefully this video we shot at the keynote will tide you over until then.
[vms 5900908db6cae9272361]
Boca Raton, Florida, Dallas, Texas, March 24, 2010

ShareThis

AT&T* and OpenPeak Inc, a leading provider of multimedia touch-screen devices and device management platforms, today announced a powerful, multipurpose computing tablet device ideal for the home and on the go equipped with AT&T mobile broadband wireless service. The thin, elegant device, to be based on OpenPeak's ultra-sleek OpenTablet™ touch-screen design, will combine communications, entertainment and home management capabilities, and will be available nationwide via multiple retail distribution channels expected later this year. The OpenTablet is based on Intel's next generation handheld platform, codenamed "Moorestown," which delivers outstanding performance at low power.

Anticipated to be a breakthrough in versatility and value, the tablet will feature AT&T wireless connectivity via the nation's fastest 3G network, as well as 802.11b/g/n Wi-Fi and Bluetooth connectivity. Consumers will be able to use the device for social networking, downloading books, navigation, email and instant messaging, along with music, video and photo sharing. By adding home security systems and energy consumption monitoring applications, homeowners will be able to enjoy quick and easy access to a total home dashboard.

OpenTablet includes both OpenPeak Device Management Services and access to the OpenPeak App Shop. Device management allows providers to remotely provision, monitor and update the tablet over a broadband network to ensure the smoothest, most up-to-date user experience. The OpenPeak App Shop brings consumers and third-party developers together to enable a wide range of multimedia and home management applications.

"OpenTablet is an exciting multipurpose device with all the benefits and flexibility of a wirelessly connected personal computing and entertainment device," said Glenn Lurie, president, emerging devices, resale and partnerships, AT&T. "When you combine the capabilities of OpenTablet with AT&T's 3G mobile broadband service and AT&T Wi-Fi service, we're able to provide consumers wireless access to content they most desire, right at their fingertips."

Powered by an Intel Atom chipset, the tablet features a high-resolution 7-inch multi-touch TFT LCD screen with LED backlighting. It also includes HDMI output for connection to today's HD televisions, as well as dual cameras for capturing both high-definition video and still images. An onboard USB interface and MicroSD slot further expands the device's connectivity.

At just 9 inches by 5 inches and only .59" thick, the tablet is as slim and unobtrusive as a photo frame, and weighs just 1.15 pounds. It will be sold with a desktop docking station for convenient viewing and recharging when not in the user's hands.

"We strongly believe that people are ready for a thin, easy to use device that brings together virtually every entertainment, communications and management function anyone could want," said Dan Gittleman, CEO of OpenPeak. "Our agreement with AT&T unites a number of powerful technologies, resulting in a product that will provide a variety of exciting uses, for many different types of consumers."

"The Intel® Atom™ processor is helping to unleash a wave of industry innovation across a range of new intelligent devices," said Anand Chandrasekher, Intel senior vice president and general manager of the company's Ultra Mobility Group. "OpenPeak's tablet design based on Intel's upcoming Moorestown platform is a fantastic example of the technology's flexibility and scalability and, when combined with AT&T's network, will make it easier for people to access the information that matters most to them."

AT&T's 3G mobile broadband network and OpenPeak's innovative devices will enable consumers to monitor home energy usage, set a thermostat remotely, arm or disarm home security, sync family schedules, check movie times, listen to music, watch videos, get weather updates and more.

The OpenTablet-based product is expected to be available in late 2010. For more about the OpenTablet, go to www.openpeak.com.

*AT&T products and services are provided or offered by subsidiaries and affiliates of AT&T Inc. under the AT&T brand and not by AT&T Inc.

About OpenPeak

OpenPeak designs and develops end-to-end managed platforms and devices that enable service providers, utilities, applications developers, and content owners to interact with customers in their homes, offices, and while traveling. OpenPeak's engaging multi-media touch-screen devices can be used to provide application-driven services including energy management, telephony, digital media, Internet content, messaging and a wide range of information and entertainment apps. The company's flexible interactive software framework and SDK leverage common programming protocols for ease in development and delivery of new applications. OpenPeak's Device Management Services allow providers to provision and manage customer devices remotely, while a fully partitioned white label App Shop offers revenue sharing opportunities and individual content management controls. For more information visit www.openpeak.com.

About AT&T

AT&T Inc. (NYSE:T) is a premier communications holding company. Its subsidiaries and affiliates – AT&T operating companies – are the providers of AT&T services in the United States and around the world. With a powerful array of network resources that includes the nation's fastest 3G network, AT&T is a leading provider of wireless, Wi-Fi, high speed Internet and voice services. AT&T offers the best wireless coverage worldwide, offering the most wireless phones that work in the most countries. It also offers advanced TV services under the AT&T U-verseSM and AT&T | DIRECTVSM brands. The company's suite of IP-based business communications services is one of the most advanced in the world. In domestic markets, AT&T's Yellow Pages and YELLOWPAGES.COM organizations are known for their leadership in directory publishing and advertising sales.

Additional information about AT&T Inc. and the products and services provided by AT&T subsidiaries and affiliates is available at http://www.att.com. This AT&T news release and other announcements are available at http://www.att.com/newsroom and as part of an RSS feed at www.att.com/rss. Or follow our news on Twitter at @ATTNews. Find us on Facebook at www.Facebook.com/ATT to discover more about our consumer and wireless services or at www.facebook.com/ATTSmallBiz to discover more about our small business services.

© 2010 AT&T Intellectual Property. All rights reserved. 3G service not available in all areas. AT&T, the AT&T logo and all other marks contained herein are trademarks of AT&T Intellectual Property and/or AT&T affiliated companies.
[via AT&T]