AT&T 3G Microcell launching nationwide in April 2010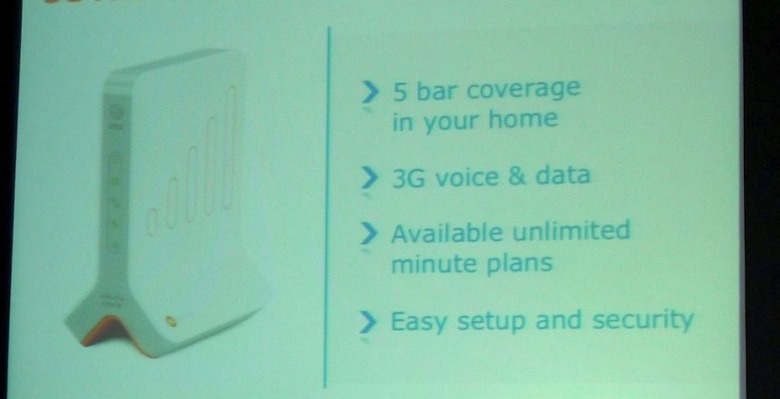 Having gone through a limited trial last year, AT&T's 3G Microcell is now set for a US-wide release come April 2010.  The Y-shaped femtocell promises to improve both 3G data and voice coverage by routing each over a home or office broadband connection; in return AT&T are looking for a one-off fee of $149.99.
Up to ten phones can be registered to a single 3G Microcell, managed via an online interface, and up to four can be actively using the femtocell at any one time.  While there's no ongoing service charge for the 3G Microcell itself, AT&T will still count any minutes used against the cellphone making them, which always seems a little unfair given you're basically paying them to use your own broadband for VoIP.
Still, if you reckon you'll be making frequent use of the femtocell, AT&T will offer a $19.99 per month Family Talk plan that allows unlimited voice calls through the 3G Microcell.  There are also various rebates if you take out such plans or upgrade your AT&T DSL connection at the same time as ordering the 3G Microcell, which can potentially make the device free.
Press Release:
AT&T Announces Nationwide Plans for 3G Microcell

Femtocell Service from AT&T Supports 3G Voice and Data, Will Offer Attractive Price Point and Plan Options

Dallas, Texas, March 24, 2010

AT&T* today announced that AT&T 3G MicroCell plans to begin its national roll out beginning in mid April, with new markets activating in cities across the continental U.S. for the next several months. AT&T 3G MicroCell is an innovative solution that allows residential customers to route wireless phone calls and data connections (or sessions) across a home broadband connection. This solution is designed to benefit customers who live in homes that have coverage impediments that consistently interrupt wireless spectrum, such as dense wall and roof construction or unfavorable terrain.

AT&T 3G MicroCell is the only femtocell to support both 3G data and voice services. Developed in conjunction with Cisco and in a public trial in select markets since September, AT&T 3G MicroCell is available for a one-time cost of $149.99.

Consumers with AT&T 3G MicroCell will be able to easily activate the device the same day it is purchased, thanks to easy, self-install instructions. Technical support is available for customers who need it.

Consumers manage AT&T 3G MicroCell though their online MyWireless account at www.att.com/mywireless. Through this online management, only those phones chosen by the customer may use the MicroCell. Customers may define up to 10 lines to have access and up to four may operate on it simultaneously. Minutes used through the MicroCell affect only the account of the phone making the call – there is no requirement to purchase separate service for the 3G MicroCell.

In addition, AT&T will offer a companion rate plan option for MicroCell customers – especially customers on Family Talk plans — who want to supplement their existing voice plans. For $19.99 a month, individual or Family Talk customers can make unlimited calls through a 3G MicroCell, without using minutes in their monthly wireless voice plan.

Consumers who select 3G MicroCell calling plans at purchase are also eligible to receive a $100 mail-in-rebate toward the purchase of AT&T 3G MicroCell – effectively making the device about $50. Customers who also purchase a new line of broadband service with AT&T (DSL or U-verse 1.5MB or higher) are also eligible for $50 via mail-in-rebate– effectively making the device about $100. If a customer is eligible for both rebate options, the customer will be able to get the device for $0, after mail-in rebate.

For more information on AT&T 3G MicroCell, visit www.att.com/3gmicrocell. For the complete array of AT&T offerings, visit www.att.com.

*AT&T imposes: a Regulatory Cost Recovery Charge of up to $1.25 to help defray costs incurred in complying with obligations and charges imposed by State and Federal telecom regulations; State and Federal Universal Service charges; and surcharges for government assessments on AT&T. These fees are not taxes or government-required charges.

1 Promotional Card from AT&T: Price of 3G Microcell is $149.99. Receive $100 mail-in rebate via AT&T Promotional Card with enrollment in AT&T Unlimited MicroCell Calling, and $50 mail-in rebate via AT&T Promotional Card with new AT&T DSL 1.5 Mbps or greater subscription or U-Verse High Speed Internet Access subscription. Allow 60 days for fulfillment. Card may be used only in the U.S. and is valid for 120 days wherever major credit cards are accepted. May be used to pay wireless bill. Not redeemable for cash and cannot be used at ATMs or gas pumps. Some restrictions and other charges apply. See terms at store or at att.com/wirelessrebate. Card request must be postmarked within 45 days of activation and you must be a customer for 30 consecutive days to receive card. Cannot be combined with promotions or discounts other than those described here. Offer available while supplies last.

2 Limited-time offer. Other conditions & restrictions apply. See contract & rate plan brochure for details. Subscriber must live & have a mailing addr. within AT&T's owned wireless network coverage area. Equipment price & avail may vary by mrk & may not be available from independent retailers.

3 Sales tax calculated based on price of unactivated equipment.

4 Standard usage rates apply to text messaging and Internet browsing, depending on your plan.

5 High Speed Internet service and AT&T post-paid wireless plan of $39.99 or higher required. Unlimited talk option available for additional monthly charge. Device must be operated in a location where AT&T is authorized to provide wireless service. It is not compatible with other wireless systems. The maximum coverage of the AT&T 3G Micro Cell™ is approximately 5000 square feet. Actual coverage will be limited by the density of obstructions. Device may not support all location based wireless services or video share services. In the event of a service disruption, you will not be able to access E911 service using the Microcell. Internet access serviceand usage generated by 3G MicroCell are subject to applicable charges from your ISP. Normal charges apply for mobility data plans and features when using the AT&T 3G MicroCell™. AT&T Unlimited MicroCell Calling talk feature includes inbound anytime minutes and outbound anytime minute domestic calls made to the 50 United States, Puerto Rico, U.S. Virgin Islands, Guam and Northern Mariana Islands.

6 Information set forth in this press release contains financial estimates and other forward-looking statements that are subject to risks and uncertainties, and actual results might differ materially. A discussion of factors that may affect future results is contained in AT&T's filings with the Securities and Exchange Commission. AT&T disclaims any obligation to update and revise statements contained in this news release based on new information or otherwise.

*AT&T products and services are provided or offered by subsidiaries and affiliates of AT&T Inc. under the AT&T brand and not by AT&T Inc.