OpenPeak OpenTablet 10: Android on Moorestown with outdoor-viewable display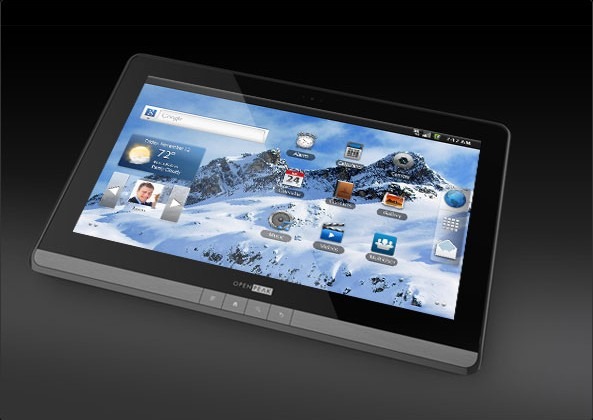 We grabbed some time with OpenPeak's OpenTablet 7 back in September, but now there's a 10-inch version making its debut at CES 2011. The OpenPeak OpenTablet 10 has a 10.1-inch capacitive touchscreen, a transflective LCD for easier outdoor viewing, and runs an unspecified version of Android on Intel's new Moorestown Atom processors. The display not only recognizes multitouch finger input but control from an electrostatic pen.
There's also a 5-megapixel rear camera, a front-facing webcam for video calls, WiFi a/b/g/n, Bluetooth 2.1+EDR and optional 3G. Ports include HDMI for 1080p HD, microSD, micro USB 2.0 and a headphones socket, and there are speakers and a digital microphone.
Android on the OpenTablet 10 is integrated with OpenPeak's OpenServices backbone system, which allows for enterprise-friendly functionality such as remote-wipes, pushed applications and remote firmware updates. Alternatively, consumers can make use of multi-user logins, password protection and more. No word on pricing or availability.
Press Release:
OpenPeak Premiers Innovative OpenTablet 10 at CES

New Intel® Atom™ Processor-Based Tablet Incorporates Transflective Display, Pinpoint Active Stylus Input, High-Definition Video Conferencing and Multi-user Experience

BOCA RATON, FL and CES, LAS VEGAS — OpenPeak Inc., a leading provider of multimedia touch-screen devices and device management platforms, today unveiled the OpenTablet 10, a device delivering more powerful performance, better usability and features not available on any other tablet on the market. Driven by the Intel® Atom™ processor, formerly codenamed "Moorestown," the family-friendly device combines a dual camera, HDMI output, wideband speakers and a unique transflective LCD panel for a superior multimedia experience, even in bright light conditions.

"We've taken the tablet to the next level by incorporating the most-requested user features into a powerful device that's ideal for retail and enterprise customers," said Dan Gittleman, CEO of OpenPeak. "In addition to unprecedented out-of-the-box functionality, the OpenTablet 10 also taps our OpenShop app store for easy access to a large and growing universe of Android™ Apps."

Weighing just over one pound, the sleek half-inch-thin device features a transflective display that combines both transmissive and reflective modes for ideal readability in all light conditions. The display self-adjusts to become an ultra-high contrast e-book reader in bright sunlight, and a bright full-color backlit display in normal light. This innovative display technology not only enhances viewing, but also dramatically reduces power consumption.

"Intel believes the best experiences are created on Intel® architecture," said Doug Davis, vice president and general manager of the Netbook and Tablet Group at Intel. "Based on low-power Intel Atom processors, the OpenTablet 10 offers a stunning visual experience optimized for the Internet and high-definition multimedia consumption with excellent battery life. Support for Android also helps illustrate Intel's 'port of choice' strategy for computing on the go."

Unique Touch and Stylus Input

Unlike most touch-screen tablets and mobile phones, which rely exclusively on multi-touch input, the OpenTablet 10 adds a unique active precision stylus that is ideal for note taking, drawing and signatures. The dual input is made possible in part by the highly durable yet responsive Corning® Gorilla® glass screen.

"Traditionally tablet and phone devices have needed to make a design compromise: choosing between multi-touch, capacitive glass that is responsive to fingertip gestures, or using a resistive display more suitable for stylus input that requires sacrifices in contrast, wear and tear, and need for calibration," Gittleman said. "The OpenTablet 10 delivers the best of both worlds with an electrostatic pen that makes writing as easy as with a traditional pen and paper."

The Ultimate Videoconferencing Experience

Designed for a top-quality high-definition videoconferencing experience, the OpenTablet 10 features a front-facing 720p camera, wide band stereo speakers with a connector for external speakers or headset hookup, a digital MEMS microphone, and HDMI port for 1080p output to an external HD display. Connectivity is easy with built-in 802.11a/b/g/n Wi-Fi and optional 3G integration, plus Bluetooth 2.1 with EDR.

Powerful Device Management Control

The OpenTablet 10 integrates easily with OpenServices, OpenPeak's cloud services platform and device management system, to allow comprehensive device management to service providers, including the ability to push applications, perform firmware updates and lock devices.

Many of these same robust device management tools can also be made available to end consumers, offering centralized controls to enable parents or a designated device admin to apply content filters, set budgets, manage apps on multiple devices or even locate and wipe a lost device. The OpenTablet 10 also features built-in multi-user sharing, with account management options and logins for different family members. Custom settings for each account allow individual users to configure their own applications, wallpaper and other options; password protection offers peace of mind, security and control.

OpenPeak representatives will demonstrate the new OpenTablet 10 and other debut products at a private suite by appointment only during the International CES in Las Vegas from January 6-9.

For more information about the OpenTablet 10 or OpenPeak's fully-managed service deployment and device management solutions, visit www.openpeak.com.

About OpenPeak

OpenPeak designs and develops end-to-end managed platforms and devices that enable service providers, utilities, applications developers and content owners to interact with customers in homes, offices, and while mobile. OpenPeak's Device Management Services allow providers to provision and manage customer devices remotely. OpenShop, a fully partitioned white label app marketplace, offers revenue sharing opportunities and individual content management controls. For more information, visit www.openpeak.com.