OpenFrame home info center coming to O2 by end of February?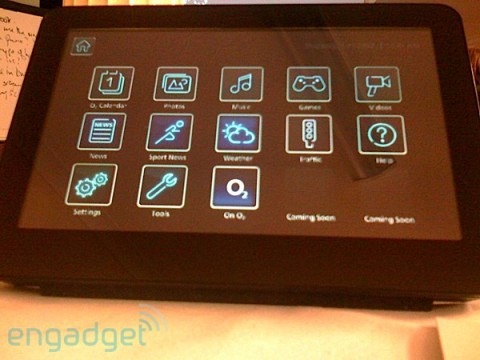 It's been around six months since OpenPeak showed off their OpenFrame home information center, and since then Verizon have launched their own take on the concept, with the Verizon Hub, while iRiver unveiled their own WAVE HOME.  Obviously someone at carrier O2 has been taken with the OpenPeak device; photos of the OpenFrame in action, complete with new iconography, have shown up, together with a predicted release date.
According to the anonymous tipster, the OpenFrame – which will likely get a new name under O2 – will be available at some point around the end of February.  Since O2 is a European carrier, we're predicting that to mean the UK will get the touchscreen device first, though of course that's not confirmed.
In terms of hardware, the original OpenFrame was to be based on Intel's Atom processor and have a large touchscreen interface together with a number of  cordless, presumably DECT-based, handsets.  With both a landline and broadband connection, it would be able to offer internet, media and home messaging functionality, together with gaming and digital photoframe services.