Verizon Hub launches for $199.99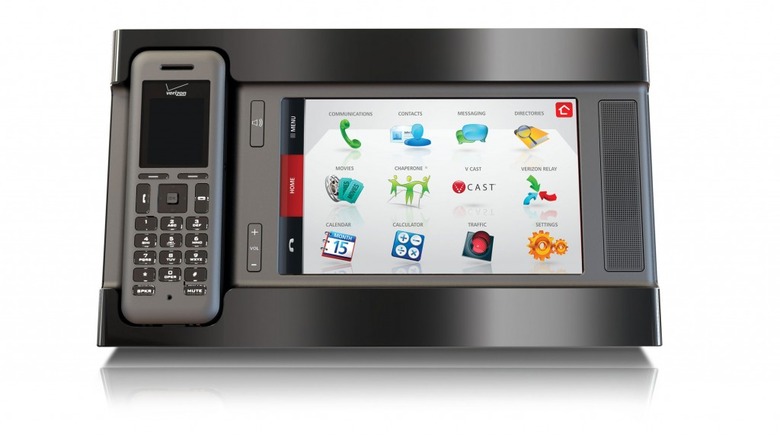 Verizon have officially launched the Verizon Hub, the company's "communications command center".  Built around a 7-inch 800 x 480 touchscreen base-station and cordless home phone, the Hub connects to a broadband connection (which can be Verizon's or from another provider) and offers on-demand access to information and entertainment.  That can include family calendars, directory enquiries, traffic and news, theater times (and ticket booking), streaming video, photos and music, visual voicemail and more.
The Verizon Hub also integrates with a family's Verizon Wireless cellphones, including direct photo message display, locating family using the Chaperone service, and exchanging GPS locations and directions with VZ Navigator phones.  Contacts and calendars are synchronized across the Hub and different associated cellphones, automatically updating, plus there's also full land-line functionality including diverts, simultaneous ring and on-screen voicemail control.
The Verizon Hub itself costs $199.99 after a $50 mail-in rebate with a two-year agreement; additional cordless handsets will be available for $79.99 each.  You'll also need at least one cellphone with Verizon Wireless service; an optional extra is the Verizon Digital Voice plan, which offers unlimited calling in the U.S., Puerto Rico and U.S. Territories and Canada, and unlimited messaging to and from Verizon Wireless phones with Unlimited Messaging for $34.99 per month.
Press Release:
The Home Phone Experience Changes Forever

New Verizon Hub Puts a Communications Command Center in the Home; Available in More Than 2,500 Verizon Wireless Communications Stores

BASKING RIDGE, NJ — Households across the nation can now experience for themselves the most talked-about new consumer electronics device on the market, the Verizon Hub. The Verizon Hub is an intuitive device that puts a communications command center in the home that bridges wireline and wireless connectivity and runs on any broadband connection – whether supplied by Verizon FiOS Internet or DSL or any other high-speed service provider.

Starting Sunday, Feb. 1, all Verizon Wireless Communications Stores across the nation will have live Verizon Hubs available to test out. The Verizon Hub, the first-ever VoIP (Voice over Internet Protocol) home telecommunications system featuring fully integrated connectivity with family members' wireless phones, gives busy families information at their fingertips from an easy-to-navigate touch screen with clear icons. With the Verizon Hub, adults and kids get on-demand access to customized and family-specific information and entertainment by just touching the screen:

Manage the family calendar and send reminder texts to family members' mobile phones – and text updates when appointments change;
Look up a business address and send a place-message to family members who use VZ Navigator(SM) to help them easily access GPS turn-by-turn directions to the business;
Find recipes and watch instructional cooking shows for those recipes from the best names in cooking;
Check local traffic conditions and get the latest weather forecasts for cities you choose;
Catch up on the latest news, sports and entertainment of the day with V CAST videos; and
Read a summary of an upcoming movie, watch a movie trailer, find local theaters and show times, and purchase tickets.

The Verizon Hub's Web management site gives families the freedom to view customized information and share content on their Verizon Hub from any Internet connection. By logging into the Web site, family members can check missed calls, listen to voicemail and quickly upload favorite pictures to display on the Verizon Hub's digital photo frame.

Full Integration with Verizon Wireless Phones

The Verizon Hub is the first VoIP phone designed from the ground up to be integrated with popular Verizon Wireless services: messaging, Chaperone® and VZ Navigator functions are all available on the Verizon Hub. For text, picture and video messaging-happy families, users can send and receive multimedia messages between the Verizon Hub and messaging-capable Verizon Wireless handsets and other Verizon Hub devices.

The Verizon Hub makes it a snap to use and manage the company's Chaperone child location service. Parents can view a list of family members using Chaperone directly from the Hub's home page, and hit "Locate Now" to see a map showing the Chaperone device's location. Then, by hitting "Send to VZ Navigator," a parent immediately has directions to that Chaperone phone sent to their own mobile phone. A subscription to Chaperone is required.

Several VZ Navigator-based services are available – after looking up an address, it's easy to send a place message from the Hub to any VZ Navigator-enabled mobile device. Verizon Wireless customers without a VZ Navigator subscription receive just a text message with the location information, but not GPS turn-by-turn directions.

A True Communications Command Center

The Verizon Hub is a family communications command center, helping busy families manage their lives. From the touch screen, there's access to:

Calendar (with Text Message Reminders) – View a monthly calendar, navigate forward and backward from the current month, set Calendar Alerts with a subject field for a specific time and date and reminder notification to appear on the Verizon Hub. Calendar Alerts can also be sent as a text message to any Verizon Wireless mobile phone.
Contact List – Create a personalized address book by storing contact information for friends, family and businesses. Contact list entries are synchronized between the Verizon Hub, Verizon Hub handsets and the Verizon Hub Web management site for quick and easy access.
Movie Listings, Show Times and Ticketing – Find out what's playing at local theaters, view show times, play trailers and purchase movie tickets directly from the Verizon Hub's touch screen.
Ringtones – Customize the Verizon Hub with a selection of free embedded ringtones.
Traffic – Get current video reports of slowdowns and accidents in top metropolitan areas.
V CAST News and Sports – Watch video of headline, financial and sports news, check sports scores and schedules.
V CAST Entertainment – View entertainment and celebrity news, kids' entertainment and horoscopes.
V CAST Food & Dining – Access and view recipes (some with video demonstrations), tips and techniques, and healthy eating information.
V CAST Lifestyle – View tips and information on parenting and family, home and garden, going green, beauty and fashion, health and wellness, and travel.
Verizon Relay – View photos received via picture messaging from family and others, all in one place.
Visual Voice Mail – Browse voicemails in the voicemail box through a graphical interface, view message information before choosing which message to play, prioritize message playback order.
White Pages and Yellow Pages – Perform name-based searches of white page directory listings by city and state and search the entire Yellow Pages by keyword or business name, along with the option to browse by category.
Weather – View five-day forecasts for a location right from the home screen (multiple city views available).

The Verizon Hub has added features that make it the go-to consumer electronics device in the kitchen: a full-screen calculator, intercom and handset paging, a variety of screensavers and custom slideshows for customizing when the base is in an idle state, wallpapers, plus time and date shown on the home screen with a shortcut to the calendar. Family members can use call logs to view missed, incoming and outgoing calls, look up contact information with reverse number lookup, call control for managing popular calling features and settings, and message status to get alerts for new calls, voicemails and messages.

Voice Features

The new Verizon Hub reaches beyond plain old voice, but families still need a reliable way to make and receive calls at home. With a Verizon Digital Voice plan, Verizon Hub customers get unlimited calling to numbers in the U.S., Puerto Rico and Canada, as well as American Samoa, Guam, Northern Mariana Islands and the U.S. Virgin Islands, plus access to many features available on traditional home phones or phone service. The Verizon Digital Voice plan includes call waiting, call forwarding, caller ID, caller ID with name, caller ID block, incoming and international call block, anonymous call rejection, remote access to voicemail, 10-number speed dial, and three-way calling.

In addition, the Verizon Hub offers a variety of advanced options and features for voice calls:

10-Digit Dialing – The Verizon Hub uses standard American 10-digit dialing behavior so the "1" will not have to be dialed in order to make domestic calls. For international calls, customers will dial 011 before the country code and number.
Back-Up Number – Allows customers to designate an alternate number (e.g. wireless or office number) where calls would be automatically forwarded in the event of a power outage or failure of the broadband connection.
Call Logs – Lists the caller's telephone number, date, time of day, physical location, and duration of every incoming, outgoing and missed call made during the current billing cycle; allows customers to quickly scan calls to determine which are domestic or international.
Contacts – Create a personalized address book by storing contact information for friends, family and businesses. The contact list entries are synchronized between the Verizon Hub, additional Verizon Hub handsets and the Verizon Hub Web management site for easy access.
Do Not Disturb – Using two separate menu options, customers can either send all calls directly to voicemail or receive calls only from those they have identified as an "accepted" caller (all other calls will receive a Do Not Disturb message and be rejected).
Return Call (*69) – Quickly return any incoming call, even if the customer didn't answer the call.
Simultaneous Ring – Incoming calls can ring on up to three unique phone numbers plus the Verizon Hub number, and the first phone that's answered connects to the caller.
Visual Voice Mail – Subscribers can view voicemails in their voicemail box, plus delete, reply and forward their voicemail messages without having to listen to prior messages or voice instructions. Customers can view Visual Voice Mail from both the Verizon Hub and from the Verizon Hub Web management site.

Pricing and Availability

To get and use the Verizon Hub, potential customers need:

911 service in the location they plan to use the Verizon Hub (virtually the entire nation);
A home broadband connection of any sort – from Verizon or any telecommunications or cable company;
A wireless router in the home;
Verizon Wireless service;
Verizon Digital Voice plan: $34.99 a month for unlimited calling in the U.S., Puerto Rico and U.S. Territories and Canada, and unlimited messaging to and from Verizon Wireless phones with Unlimited Messaging.

The Verizon Hub costs $199.99 after a $50 mail-in rebate with a two-year agreement; additional cordless handsets, which can be used throughout the home, will be available for $79.99 each. For customers who do not have a wireless router, Verizon Wireless will also offer one for $69.99.

For more information on the Verizon Hub, visit www.verizonwireless.com/hub.