For the second quarter in a row, OnePlus sold more phones in India than any other brand. That includes Apple, and it includes Samsung too. They're doing this by focusing on local trends, including cashback and EMI (equated monthly installment) offers. OnePlus is also has local India-based manufacturing, allowing the company to sell their smartphones without high import duties.
OnePlus currently (in Q3, 2018) leads the India premium smartphone segment with a 30% share. Their lead narrowed just a bit from Q2 of this year, when they had 40% of the market. Samsung's share also fell quarter-to-quarter, but not quite as steeply as OnePlus. Samsung's share is now 28%.
Apple was the leader of the pack at this same quarter last year, and pulled well ahead of the other two brands in Q4 of 2017. But Apple's share fell steeply in Q1, then fell again in Q2. Now, with the rise of the iPhone Xs and iPhone Xs Max, Apple's set to blast past both Samsung and OnePlus – assuming the other two brands continue their current share trajectories.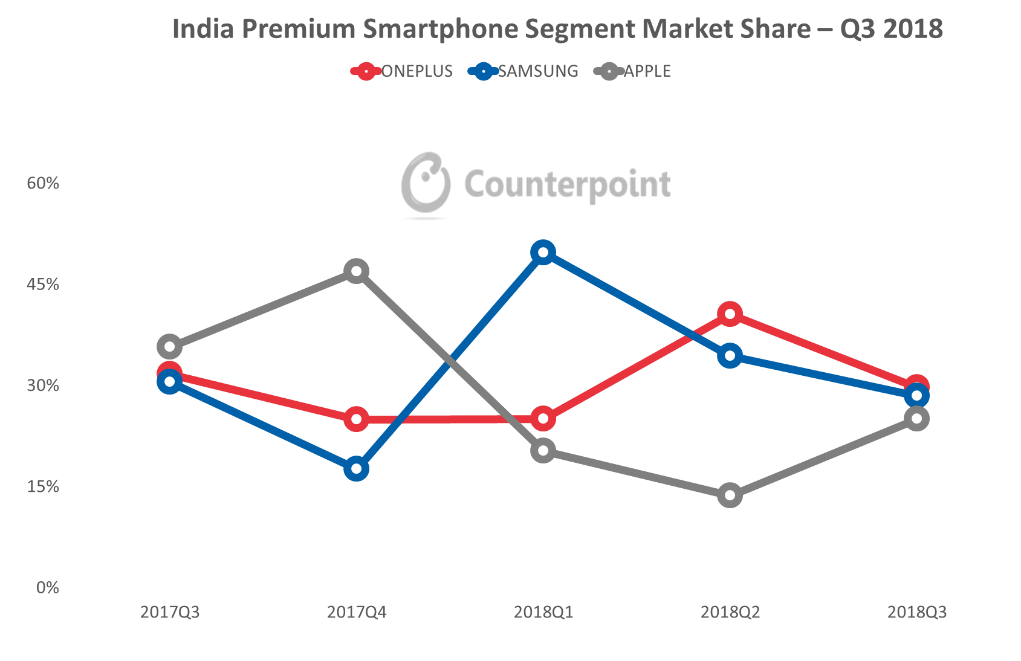 On the 29th of this month will reveal the OnePlus 6T, and from that point forward we're expecting OnePlus will get another bit of a jolt in market share. Centerpoint Research suggested that the OnePlus 6 "became the highest selling flagship model for OnePlus within five months of its launch." If the company can continue to push in key areas in the country, there's no reason why the OnePlus 6T shouldn't do even better.
"OnePlus continues to increase its points of sale by launching its offline and exclusive stores across key cities," said analyst Tarun Tathak of Counterpoint Research. "This has helped the brand reach out to a larger potential user base."
OnePlus is beating two of the biggest smartphone companies in the world in India. They're a comparatively TINY company. If the success of OnePlus in India is any indication, it would appear that the key to success in this country is a company's literal presence within its borders.