OnePlus 2 front and back sides leaked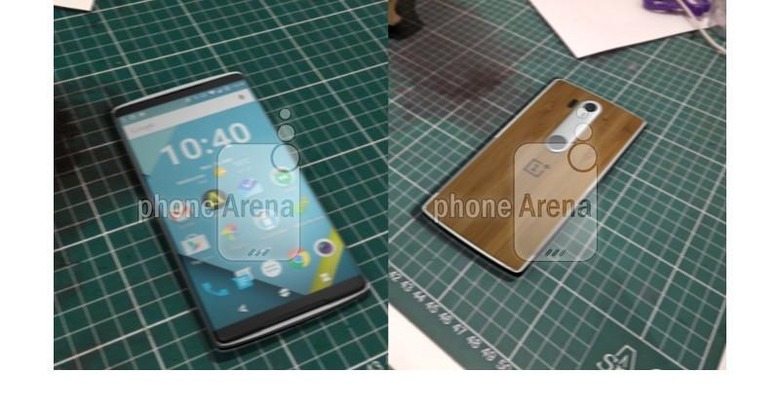 OnePlus may already be teasing the public with not so subtle clues about its next flagship, which it has practically confirmed to be called the OnePlus 2, but it isn't exactly forthcoming with everything. Which means there's still plenty of room for speculation as well as leaks. These two latest photos, for example, betray, at least supposedly, the overall design of the smartphone, which isn't exactly that markedly different from the current generation. Except perhaps for what is allegedly a fingerprint scanner on the back side.
In general, the OnePlus 2 shown here differs very little from the OnePlus One at first glance. Both have the same straight sides while the top and bottom edges are curved, with more prominent strips of metal. The difference, however, lies on the opposite face. The rear has a very prominent strip running down the middle starting from the camera. The spot at the bottom supposedly houses a fingerprint scanner, a theory that OnePlus has not yet hinted at so far.
The OnePlus 2, however, might be more interesting inside. Particularly, the startup's commitment to using the controversial Snapdragon 810 is particularly impressive, if not worrying. OnePlus promises that v2.1 of the chip will deliver the promised performance without the overheating problems. It is one of those cases where to see, or to feel, is to believe. OnePlus has also confirmed that the smartphone will have a USB Type C first, one of if not the first smartphone to do so. It even showed off its new USB cable design. The practical benefits of this change, however, have yet to be felt as the industry moves towards the new USB standard.
Other rumored specs include a 5.5 or a 5.7 inch screen. What isn't certain yet is whether this will be a QHD one. Given OnePlus' propensity to "never settle" as well as the expected significant price bump, we do expect 2K resolutions.
The revelation of a fingerprint scanner at the back is hardly earth-shattering. It's definitely a nice thing to have, as anyone with an iPhone 5 or later or a Samsung Galaxy S6 might attest to, but it's not a deal breaker just yet. It might also create some problems with removable covers given its rather unconventional placement.
The OnePlus 2 is scheduled to be announced on July 27 at a purely VR event, another daring first for the company and the industry as a whole.
VIA: phoneArena