Olympus SZ-30MR shoots simultaneous 1080p HD video & 16MP stills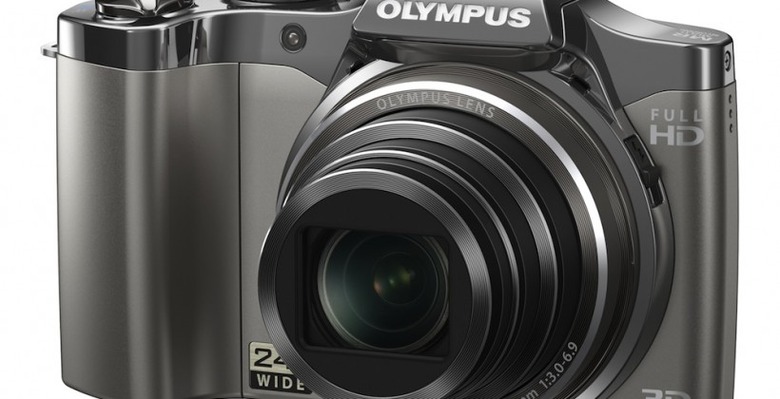 It's not the Micro Four Thirds camera we were hoping for, but Olympus has outed a pair of new Super Zooms which it claims are the first to shoot Full HD video and 16-megapixel stills simultaneously. The Olympus SZ-30MR and SZ-20 each have dual image stabilization and a backlit 16-megapixel sensor, which the SZ-30MR pairs with a 24x optical zoom and the SZ-20 with a 12.5x optical zoom.
The "MR" suffix stands for "Multi Recording", and basically means that while you're shooting 1080p HD video on the SZ-30MR, you can also fire off still images as well. That's not especially new, but what makes the difference here is that the Olympus captures stills at full resolution; other cameras which offer simultaneous shooting generally take pictures at much lower resolution than they can normally manage.
The SZ-20 lacks the simultaneous shooting abilities and makes do with a sizeable zoom. Both will go on sale in March, priced at €329 for the SZ-30MR and €219 for the SZ-20.
Press Release:
Introducing the first ever camera to capture Full HD movies & 16 Megapixel stills simultaneously

Olympus Super Zoom Series posts another world first

New SZ-30MR & SZ-20 deliver high-tech at its finest

Hamburg, 2 March 2011 – When Olympus launched the SZ-10 in February, it was hard to believe the zoom in a compact camera could get any more powerful. The new SZ-30MR proves that it can. With a jaw-dropping 24x wide optical zoom (25-600mm*), this state-of-the-art flagship breaks all the rules in the compact category – and it breaks records too. The SZ-30MR is the first camera ever to offer simultaneous recording of 1080p Full HD movies and 16 Megapixel still photos. So with the SZ-30MR, users can shoot in high resolution with different combinations of recording modes at once, then share their shots in the format of their choice. For example, as a movie and digital still or a wide-angle shot and a close-up. Like the SZ-30MR, the new SZ-20 is astonishingly slender for a camera with huge zooming power. The super-slim design makes both SZ models ideal for people who like to travel light but insist on the very best spec. With a backlit CMOS sensor for excellent pictures in low light, 3D photo shooting and Eye-Fi card compatibility, these cameras combine practicality with beauty and sheer imaging power. The SZ-30MR is available for €329, the SZ-20 for €219, both from March 2011.

MR is for a Multi Recording

The SZ-30MR is the world's first camera to record 1080p Full HD movie and 16 Megapixel stills at the same time – thanks to an ingenious feature Olympus calls Multi Recording. For anyone who's ever shot a scene one way, then (when it was too late) wished they'd done everything differently, MR is a must. Dual Engine TruePic III+ image processors give the

SZ-MR30 the power to record simultaneously in more than one mode, and in a variety of combinations. Users can record two different movies at once: in wide-angle and close-up; Full HD and lower resolution; or original and filtered (using one of the SZ-30MR's seven Magic Filters for movies). In addition, with the Photo with Movie Clip setting, it's now possible to capture moving footage before and after taking a single photo. These innovations give users the fun and flexibility of sharing their shots in a variety of media – from full-size prints to video clips for their favourite social media website. Both new models come with wireless Eye-Fi compatibility, so they can upload photos automatically to the Web – no cables required.

SZ is for Super Zoom

The Super Zoom SZ Series lives up to its name with a 24x wide optical zoom on the SZ-30MR and an equally impressive 12.5x super wide optical zoom on the significantly lower priced SZ-20. With this sort of zooming power it's easy to take exceptional shots, from the expressive face of a gargoyle high up on a church roof to an emotive movie close-up of battling athletes. The pixel-rich 1080p Full HD movie format ensures the best moving picture quality currently available in a compact camera – with breathtaking realism, clarity and colour when users play back on a large Full HD TV.

S is for state-of-the-art

The SZ-30MR and SZ-20 are packed with the smartest technology the compact camera world has to offer, giving users a host of features that make it easy to get creative, transfer movies or photos wirelessly and capture just the shot they want in excellent quality. Both cameras offer 3D still photo shooting and eight Magic Filters, including the new Sparkle and Watercolour options. Pet Detection mode automatically snaps dog or cat faces just as they look up, while with Smart Panorama, users simply pan from side to side to get a sweeping panorama picture.

The SZ-30MR is available in black for €329, the SZ-20 in silver and black for €219, both from March 2011.

Distinguishing features:

OLYMPUS SZ-30MR

Image Quality

• 24x wide optical zoom (25-600mm*) for exceptional close-ups

Creativity & Flexibility

• Multi Recording with Dual Engine TruePic III+ image processor for recording movies and photos simultaneously, or two movies in different modes or from different angles

OLYMPUS SZ-20

Image Quality

• 12.5x super wide optical zoom (24-300mm*) for superb close-ups

• TruePic III+ image processor for ideal colour reproduction and low noise

Common features:

Image Quality

• 1080p Full HD Movie with sound for capturing movies in the best image quality currently available in compact cameras

• 16 Megapixel backlit CMOS sensor for high-resolution, superb-quality full-size movies, stills and prints, even in low light

• Dual Image Stabilisation for reducing blur with fast-moving shots

Usability

• 3" colour LCD (460,000 dots) for easily framing, reviewing and sharing shots

• Smart Panorama for capturing sweeping stills just by panning the camera

• Handheld Starlight Mode for shooting blur-free at night without a tripod

• Advanced Face Detection and Shadow Adjustment Technology for capturing people's faces just as you want them

• Beauty Mode for hiding unwanted blemishes

• Intelligent Auto Mode (i-Auto) and AF Tracking for easy setting and focussing

• Pet Detection Mode for automatically capturing dog's or cat's faces when they look at the camera

• Scene Mode for automatic settings that suit specific conditions (e.g., Landscape, Night)

Creativity & Flexibility

• Eye-Fi Card compatibility for automatic wireless uploading of images to a website or PC

• 3D photo shooting mode for striking stills

• Magic Filters for adding creative effects to HD movies and/or stills:

Punk, Pop Art, Pin Hole, Drawing, Soft Focus, Fish Eye, plus new Sparkle (photos only) and Watercolour

Other key features

• Photo surfing and [ib] software for browsing, organising and viewing images by person, place, location or event

• HDMI technology for controlling your camera from one remote when it's connected to HD equipment

• ISO 80 to 3200

• SDHC and SDXC memory card compatible**

• Built-in flash

• In-camera manual

• USB charging

* 35mm camera equivalent.

** SD is a trademark of SD Card Association.

For a full list of features, please go to http://www.countryspecificurl.com

For questions or additional information, please contact:

Julia Rauther

Olympus Europa Holding GmbH

Tel.: +49-40-23773-4258

Email: Julia.Rauther@Olympus-europa.com

Appendix

1080p Full HD Movie recording

1080p Full HD movie recording (1920 x 1080) offers the best moving picture quality available in a compact camera today. With Full HD, footage is realistic, smooth, bright and clear. Movies become a fascinating window on real life when viewed on a big Full HD TV.

3D Mode (3D photo shooting)

Captures two shots of a scene from two different angles to create still photos that can be viewed with the added excitement and realism of 3D (on a 3D-compatible display). There are two 3D settings: Manual and Automatic. In both settings, the camera indicates when it is time to pan. In Automatic, when the camera is panned horizontally after the first shot, it automatically takes the second shot at the ideal moment. Manual is for 3D experts – the user decides when to take the second shot.

Advanced Face Detection technology

A technology that searches for faces in a composition and recognises them as the main subject. It then automatically puts them in focus and optimally adjusts exposure to create an image that's sharp in the right places and ideally exposed. Advanced Face Detection Technology can detect up to 16 faces.

AF Tracking

This system tracks a moving subject automatically and keeps it continually in focus – for optimally focused and exposed pictures. It even memorises the subject when it goes out of frame and resumes tracking when it reappears.

Beauty Mode

Beauty Mode touches up the appearance of subjects even while the shot is being taken. This feature recognises faces and automatically makes skin on the face and adjacent areas appear smoother, brighter and more youthful.

Dual Image Stabilisation

Providing two-fold protection, this special function helps to avoid image blur caused by camera shake or fast-moving subjects. It combines high ISO values with a sensor-based mechanical image stabiliser, where a built-in gyro sensor detects camera movement and adjusts the sensor accordingly.

Eye-Fi card compatibility

Lets users insert an Eye-Fi storage card and set it to automatically wirelessly transfer new photos and HD movies to the sharing website and computer of their choice.

i-Auto Mode

The "intelligent-Auto" mode uses advanced automatic detection technology that enables the camera to automatically recognise the most commonly shot scenes. This makes it possible to capture perfect photos without the need for manual settings.

[ib] software

Olympus now offers [ib], an integrated photo browsing and organising software. Images can be organised by person with a new face recognition technology, by place with a GPS-based mapping function or by event.

Magic Filters

Make it possible to create special artistic effects in still images and/or movies directly in the camera.

Fish-Eye: Simulates the dramatic effect of a fish eye lens, lending a new perspective to the whole scene with a "wrap-around" effect.

Pin Hole: Reduces peripheral brightness, like with an image seen through a pinhole. A unique colour tone results in a style that has an air of secrecy or portrays the feeling of being lost in another dimension or space.

Pop Art: Enhances colours, making them stronger and more vivid, to create high-impact pictures that express the light-hearted feeling of the pop art style.

Punk: Displays images primarily in contrasting pink and black to give them an edgy, punk-inspired feel.

Drawing: Transforms images into line drawings to give the impression that subjects have been sketched by an artist.

Soft Focus: Creates a soft tone that gives pictures an ethereal, otherworldly atmosphere. It renders pictures as though they were veiled in heavenly light, without obscuring details such as hair or flower petals.

Sparkle (photos only): Adds twinkling lights to objects.

Watercolour: Another piece of artistic wizardry. This time images are turned into a watercolour painting surrounded by soft light.

Multi Recording

A world-first, Olympus Dual Engine technology allows users to combine various photo and movie recording modes simultaneously:

Photo & Movie: A Full HD movie and 16 Megapixel full-size photos. While users are recording a Full HD movie, they can take a high-resolution photograph as well.

Photo with Movie Clip: Records a Full HD movie before and after taking a photo.

Multi-File Movies: A Full HD movie and a movie with less resolution.

Multi-Framing Movies: A wide-angle and a close-up Full HD movie.

Magic Filter & Original Movie: A regular Full HD movie and a movie with a Magic Filter effect.

Pet Detection

Automatically detects dog or cat faces (two different modes) and works together with the Auto Release to capture the photo the moment the dog or cat turns to face the camera.

Photo Surfing

By selecting this option in the Playback menu, users can opt to browse pictures by date, scene, person, place, or image collection.

Scene Mode

Offers a choice of different scenes to suit the subject being captured, for example, landscape, night, beach and snow or pet. The camera automatically adjusts a host of parameters to achieve the best possible result for the chosen scene.

Shadow Adjustment Technology (SAT)

A technology designed to improve exposure for pictures with dark areas. Using a sensor that works much like the human eye, dark parts of a composition (e.g., a shadow under a tree) are identified and the camera then adjusts the exposure settings accordingly for those areas. The result is a more realistic and detailed picture.

Smart Panorama

Allows the user to create an impressive super-wide angle, wrap-around photo simply by panning the camera horizontally or vertically. There's no need to pay attention to points of intersection – the camera knits the separate stills together automatically.

TruePic III+ image processor

Automatically enhances important aspects of image quality, including colour reproduction (range, saturation and brightness) and picture sharpness (reduced image noise, improved edge reproduction), as well as processing data faster. Supports the Magic Filters that enable unprecedented creative expression.