Olympus Rains Down New Lenses, Updates, Titanium E-M5 Mark II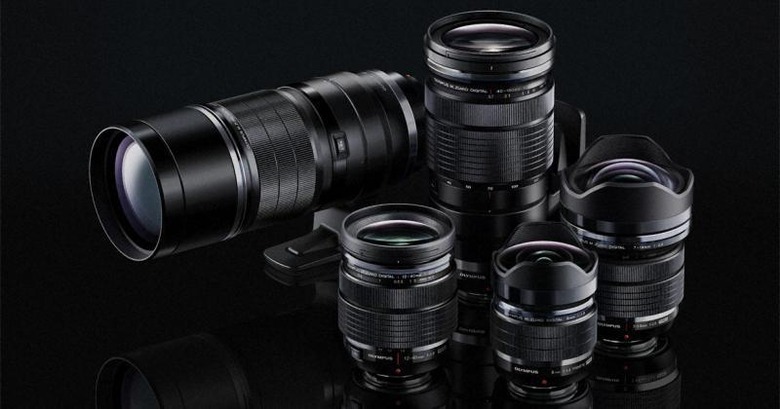 Olympus must be having a blast. Today it is announcing not one, not even two new things. Actually, it's better if we don't count. At the top of their list, of course, comes its two new M.ZUIKO DIGITAL PRO lenses that add wide angle shots to your digital photography arsenal. It is also announcing an upcoming firmware update to both its OD-M E-M1 Micro Four Thirds System camera as well as its still new E-M5 Mark II that improve on their underwater powers. And finally, that last camera is also getting a tinge of class with a limited edition Titanium-armored version.
M.ZUIKO DIGITAL ED 7-14mm f2.8 PRO
This lens promises wide-angle shooting thanks to its 35 mm equivalent focal length of 14-28 mm. But it also promises to do just as well in close-ups, with minimum distance of just 7.5 cm. At only 534 g (under 19 oz), this lens would win against rivals in the same category when it comes to the lightweight division. Like other M.ZUIKO premium lenses, this boasts of weather sealing, making it possible to bring and use the lens and everywhere, under rain or snow, in desserts or beaches. The lens features an L-Fn button that has 27 assignable functions, just to sweeten up the offer.
The M.ZUIKO DIGITAL ED 7-14mm f2.8 PRO will be available in Black starting June, with a price tag of $1,299.99.
M.ZUIKO DIGITAL ED 8mm f1.8 PRO Fisheye
If you're the type to go for extremely wide angle shots, however, this Olympus Fisheye lens might be more to your tastes with its 180-degree diagonal angle of view. Olympus boasts that this the industry's first Fisheye lens with an extremely large f/1.8 aperture. The lens is also perfect for bokeh effects with wide angle shots thanks to its small 2.5 cm minimum working distance. Like the M.ZUIKO DIGITAL ED 7-14mm f2.8 PRO above, it is also hardened to withstand whatever the elements throw at it.
Also coming in black, the M.ZUIKO DIGITAL ED 8mm f1.8 PRO Fisheye arrives next month for only $999.99.
Firmware updates
Starting June, Olympus will be rolling out firmware version 1.3 for the OD-M E-M1 and version 1.2 for the E-M5 Mark II. While these updates of course addresses issues and bugs, it focuses a lot of muscle on improving the underwater experience for the two cameras. A new Underwater Picture Mode is available, allowing users to fine tune aperture and shutter operations for the best underwater shot. This feature would go perfectly with a new PT-EP11 underwater case for the Olympus E-M1.
Olympus OD-M E-M5 Mark II Titanium
Last, but definitely not the least, Olympus is introducing a limited edition Titanium model of its E-M5 Mark II camera. It's pretty much the same camera we saw back in February. At lest on the inside. Outside, it will be bearing the same color as Olympus' 1994 SLR, the OM-3T/Ti. Only 7,000 kits of this design will be sold all over the world, and it will come with an owner card to prove it. It will also have a leather strap and leather card case to go along with it. All available starting June for $1,199.99.