Olympus PEN E-P2 black-on-black kit debuts alongside new zoom lenses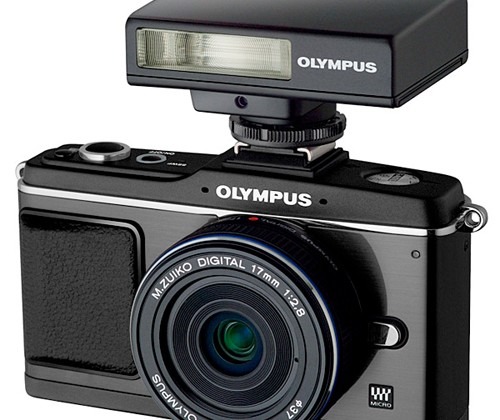 The tipped Olympus PEN E-P2 black-on-black kit has made its official debut, a black-clad P2 Micro Four Thirds camera complete with matching M.ZUIKO DIGITAL ED 17mm pancake lens and FL-14 flash, priced at $999.99 when it drops in October 2010.  Meanwhile a second version – which switches the black FL-14 flash for a black VF-2 electronic viewfinder – will also be launched, at €1,079.  There are also two new lenses to choose between.
First up is the pricy M.ZUIKO® DIGITAL ED 75-300 MM F4.8-6.7, which will carry a $899 tag and promises to be the world's smallest and lightest 600mm super telephoto lens.  It's accompanied by the M.ZUIKO DIGITAL ED 40-150MM F4.0-5.6, far cheaper at $299, and is a 35mm equivalent to 80-300mm.
The 40-150mm lens will drop in November, while the 75-300 lens will follow on in December.  Both will be available in either black or silver.
[via Gizmodo]
Press Release:
Olympus PEN® E-P2: Back In Black

CENTER VALLEY, Pa., August 31, 2010 – In the past year, the Olympus PEN family has won a series of high profile awards, including the CEA CES Innovations Award, the EISA Best European Camera and the Red Dot Design Award. Today, meet the newest member of the world-renowned family: the Olympus PEN E-P2 black-on-black kit. For the first time, the PEN E-P2's stylish retro black metal body is complemented by a black M.ZUIKO DIGITAL ED 17mm lens and a black FL-14 flash in an exclusive, limited availability kit.

Look what you can do with a PEN E-P2 kit. Just like the original, it blends high-quality still images like those taken with a Digital Single Lens Reflex (DSLR) with High Definition (HD) video, stereo linear PCM audio recording and In-Camera Creativity inside an ultra-portable body.

"The PEN E-P2 kit's edgy black styling gives the camera a discreet, more professional look. Perfect for photographers who want to capture the action without being a distraction," said Katie Roseman, product manager, Olympus Imaging America Inc. "Photo enthusiasts will appreciate the camera for its excellent image quality, HD video, creative functions and high-end stereo sound, while design aficionados will relish its sleek black profile."

The powerfully simple PEN E-P2 is compatible with an array of Micro Four Thirds lenses, including the newly announced M.ZUIKO DIGITAL ED 75-300 MM F4.8-6.7 and M.ZUIKO DIGITAL ED 40-150MM F4.0-5.6, which feature a high-speed, silent autofocus during still shooting and HD movie capture. It is part of a new generation of system cameras.

The black Olympus PEN E-P2 kit will cost $999.99 and will be available at select photo specialty stores beginning in October, 2010. The kit includes the PEN E-P2 Body, black M.ZUIKO DIGITAL ED 17mm lens, black FL-14 flash, USB Cable, Video Cable, Li-Ion Battery Pack, Li-Ion Battery Charger, Shoulder Strap, OLYMPUS [ib] software CD-ROM, Manuals and Registration card.
Press Release:
CENTER VALLEY, Pa., August 31, 2010 – Olympus today announces two new lenses to its Micro Four Thirds lens family: the M.ZUIKO® DIGITAL ED 75-300 MM F4.8-6.7 and M.ZUIKO DIGITAL ED 40-150MM F4.0-5.6. Both lenses feature a high-speed, silent autofocus during still shooting and high definition (HD) movie capture. They are the ultimate lenses for zooming in on sporting events, beautiful wildlife and faces from a distance, and because they make barely a whisper when focusing, they won't call attention to photographer or add unwanted noise to movie recordings. Look what you can do.

Strong Zooms

The M.ZUIKO DIGITAL ED 75-300mm f4.8-6.7 with a 35 mm equivalent of 150-600mm is the world's smallest and lightest 600mm super telephoto lens. Weighing merely 15.17 ounces and measuring 2.76 by 4.57 inches, this lightweight lens delivers excellent portability and outstanding image quality when paired with the award-winning Olympus PEN® cameras. Previous lenses offering 600mm or more have been too large and heavy for most users to enjoy super telephoto shooting. This lens is smaller and lighter than the comparable ZUIKO DIGITAL ED 70-300mm f4.8-6.7.

The M.ZUIKO DIGITAL ED 40-150mm f4.0-5.6 is extremely light, weighing only 6.7 ounces. With a wide zoom range with a 35mm equivalent to 80-300mm, this lens offers versatility and portability. It's an affordable complement to the powerfully simple 3x wide-angle zoom lens (M.ZUIKO DIGITAL ED 14-42 f3.5-5.6) that comes standard with the PEN kit.

Olympus' M.ZUIKO DIGITAL ED 75-300mm f4.8-6.7 lens. Photo provided by Olympus Imaging America Inc. Click for a bigger picture! Olympus' M.ZUIKO DIGITAL ED 75-300mm f4.8-6.7 lens mounted on an E-PL1 camera body. Photo provided by Olympus Imaging America Inc. Click for a bigger picture!

Olympus' M.ZUIKO DIGITAL ED 75-300mm f4.8-6.7 lens.

Silent Operation

The M.ZUIKO DIGITAL ED 75-300mm f4.8-6.7's rear focusing mechanism is comprised of a single-element unit, to enable remarkably fast and nearly silent HD movie recordings with sound. The M.ZUIKO DIGITAL ED 40-150mm f4.0-5.6 has two lens elements in the rear focusing mechanism. The manual focusing mechanism is designed to deliver quiet and precise auto focus operation, for an affordable, high quality means to capture your life in still images or HD videos.

The new lenses are made with ED (extra-low dispersion) glass to maximize the performance of the Micro Four Thirds System. The Micro Four Thirds System standard meets the telecentric requirements of dedicated digital design. Light rays strike the imaging element nearly head-on for optimum edge-to-edge image reproduction. It also enables much more compact design than the Four Thirds System standard (or other interchangeable lens systems) because it reduces the outer diameter of the lens mount by 6mm, and the distance from the lens mount to the sensor (the flange back distance) by approximately half. As a result, M.ZUIKO DIGITAL Micro Four Thirds System lenses offer uncompromising professional quality for capturing both still images and HD videos, and the lenses are exceptionally compact to make capturing life more fun.

The Micro Four Thirds System's design, compact size, low weight and amazing image quality with the new lenses extend the photographic potential of the system by adding more options. The new lenses are compatible with all Micro Four Thirds System Olympus PEN cameras, and all other current and future cameras that comply with the Micro Four Thirds System standard. When mounted on an Olympus PEN camera, the lenses are stabilized thanks to the camera's in-body Image Stabilization system and offer effective shake compensation at all focal lengths.

Olympus' M.ZUIKO DIGITAL ED 40-150mm f4.0-5.6 lens. Photo provided by Olympus Imaging America Inc. Click for a bigger picture! Olympus' M.ZUIKO DIGITAL ED 40-150mm f4.0-5.6 lens mounted on an E-PL1 camera body. Photo provided by Olympus Imaging America Inc. Click for a bigger picture!

Olympus' M.ZUIKO DIGITAL ED 40-150mm f4.0-5.6 lens.

AVAILABILITY

The M.ZUIKO DIGITAL ED 75-300mm f4.8-6.7 will be available in December 2010, while the M.ZUIKO DIGITAL ED 40-150mm f4.0-5.6 will be available in November 2010. Both lenses will be available in black and silver.

U.S. Pricing / Product Configurations

M.ZUIKO DIGITAL ED 75-300mm f4.8-6.7 Estimated Street Price: $899.99

M.ZUIKO DIGITAL ED 40-150mm f4.0-5.6 Estimated Street Price: $299.99