Olympus OM-D E-M10 hands-on: Tiny retro snapper packs a punch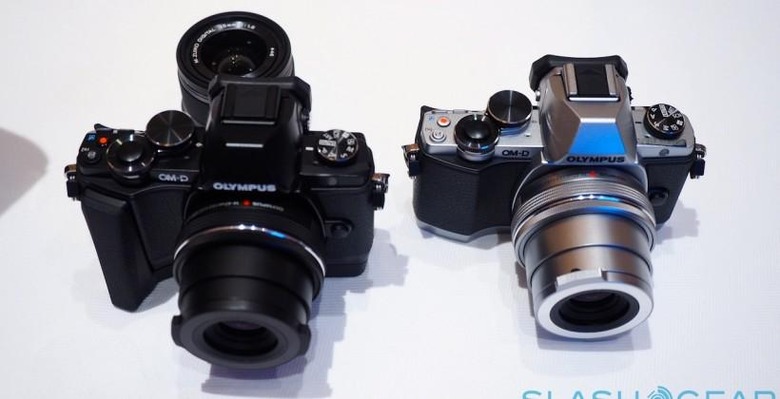 Olympus has had a run of success with its OM-D series of cameras, not least the E-M5 we reviewed last year, and now there's the new OM-D E-M10 to carry that torch, a model the company claims rivals APS-C DSLRs while being considerably smaller. In fact, at 63.9mm deep and 516g with the new 14-42mm EZ kit lens, the OM-D E-M10 is even smaller than the body alone of Canon's EOS Rebel SL1. We caught up with Olympus ahead of the new camera's launch to find out what makes the E-M10 so special, what the company had to do to pack so much into so little space, and to see the new lenses – including an updated version of the surprisingly popular fish-eye body cap lens – to go along with it.
First, the headline specs: the E-M10 has a 16-megapixel sensor, Olympus' new TruePic VII processor, and ZUIKO optics, with 81-point FAST AF borrowed from the EM-1 and Tracking AF. There's in-body, 3-axis VCM IS, and 8fps sequential shooting, and Olympus has even found space for a pop-up flash and a live-view EVF with 100-percent coverage to go with the 3-inch, 1037k dot LCD. ISO 100-25600 is supported.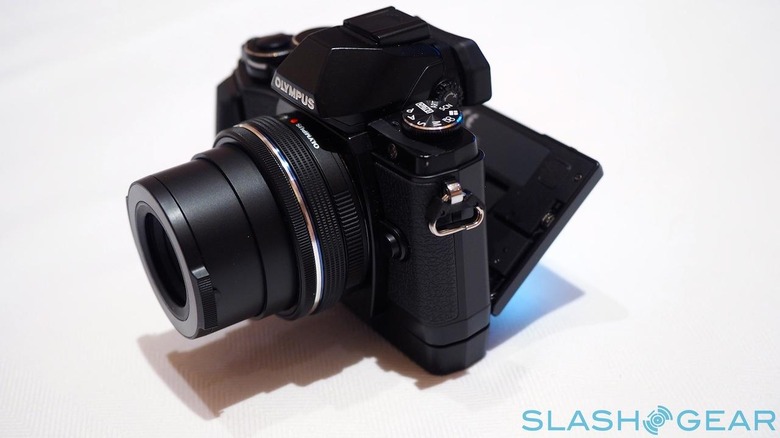 WiFi b/g/n is included, for hooking the E-M10 up to a nearby smartphone for remote photo access and shooting control, and the camera can use the phone's GPS to geotag its shots. If you'd rather process things in-camera, there's Art Filters, HDR, Photo Story, and red-eye fixing. Connectivity includes USB 2.0, video-out, and HDMI out, and Olympus says the E-M10 will take around 320 shots on a full charge.
Unsurprisingly, there have been a couple of compromises made to achieve all this – particularly at the price Olympus is charging. For a start, the lightweight retro body is made of a combination of plastic and metal, and it's not weatherproof either, unlike other OM-D cameras. There's a hot-shoe, but no accessory port.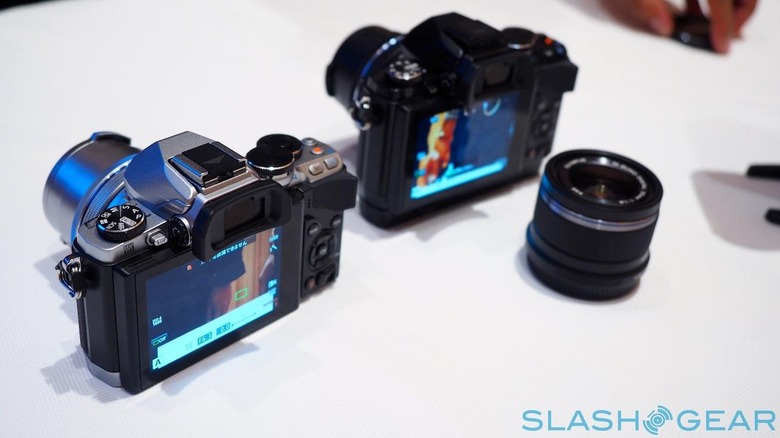 In fact, Olympus concedes that, for some, the E-M10 might actually be too small. To suit those photographers there's the optional ECG-1 external camera grip, which attaches to the tripod socket at the bottom and gives the base and side a little extra bulk. Unlike many such grips, there's no added functionality – you don't get a booster battery, for instance – but it has at least been designed to hinge down so as to give swifter access to the memory card and battery doors.
In the hand, it's a surprise just how small Olympus has been able to make the E-M10, without it feeling toy-like. The optional grip does help, bulking out where your right hand holds the camera and leaving an angle for your finger to rest along, but even in its regular state it's still easily flourished. In fact, the compact size – particularly when paired with the new 14-42mm zoom, more on which in a moment – already has us coveting the new OM-D as an everyday shooter, given how pocket-friendly it is.
Meanwhile, Olympus has a trio of new lenses – and a clever adapter – launching alongside the E-M10. First up is the camera's kit lens, the M.ZUIKO Digital ED 14-42mm F3.5-5.6 EZ zoom, described by the company as the world's thinnest standard zoom. It measures in at just 60.8mm in diameter and 22.5mm thick, and 93g, with the electric zoom working with a new version of the OI.Share smartphone app for remote use.
Despite the size, Olympus has still fitted an automatic lens cap, and the company says the zoom offers the same optical performance as the 14-42mm II R lens, which is more than twice as thick.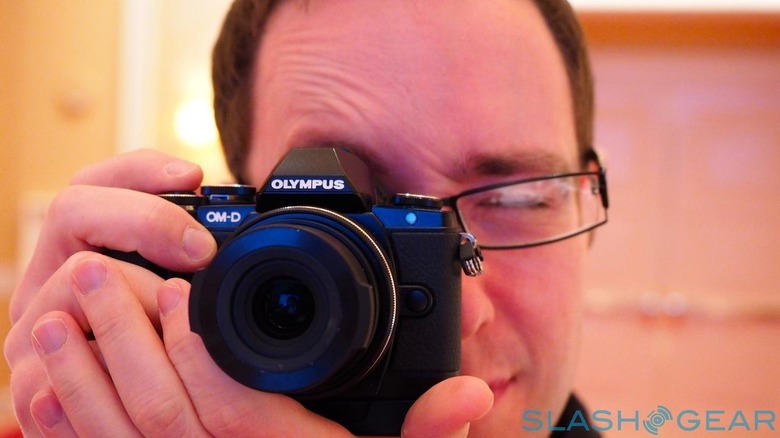 Second, and billed as "My First Quality Lens", is the 25mm f/1.8 prime, positioned as ideal for close-ups and portraits. Now 30-percent smaller and lighter than the Panasonic 25mm f/1.4 – itself already a photographer favorite – it nonetheless is said to deliver the same optical performance as the M.ZUIKO 45mm f/1.8, with close-ups of as little as 25cm supported.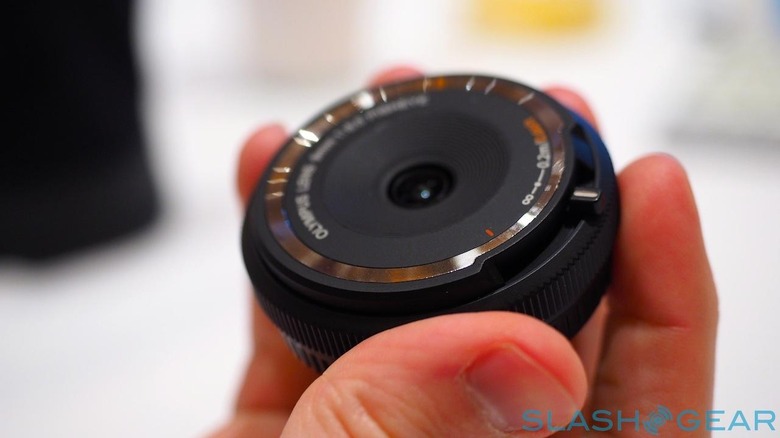 Finally, there's Olympus' second take on what was initially intended as somewhat tongue-in-cheek, but went on to be a surprise hit among users. The new fish-eye body cap lens takes things back to manual, with a physical focus lever and 9mm, f/8.0 optics that Olympus suggests is good for ultra-wide landscapes or wacky close-ups.
Perhaps most interesting is the MCON-P02 macro converter, however, which allows cameras like the E-M10 to be used with standard lenses but delivering high magnification. With the new 14-42EZ, for instance, the 25cm minimum focus distance is cut to 18cm, while the maximum magnification rises from 0.23x to 0.38x. With the 25mm f/1.8 prime, meanwhile, the focus distance is cut to just 17cm, with 0.22x magnification. In short, it's a way of getting even closer with lenses you might already have.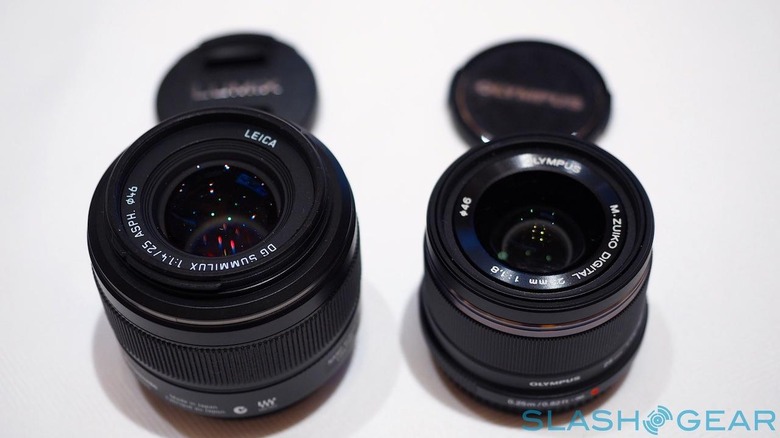 The Olympus OM-D E-M10 is expected to hit shelves in March this year, priced at $699.99 for the body only, or $799.99 when paired as a kit with the 14-42mm lens. It'll be offered in black or silver. Pricing for the ECG-1 external camera grip – which will only be offered in black – hasn't been confirmed at this point.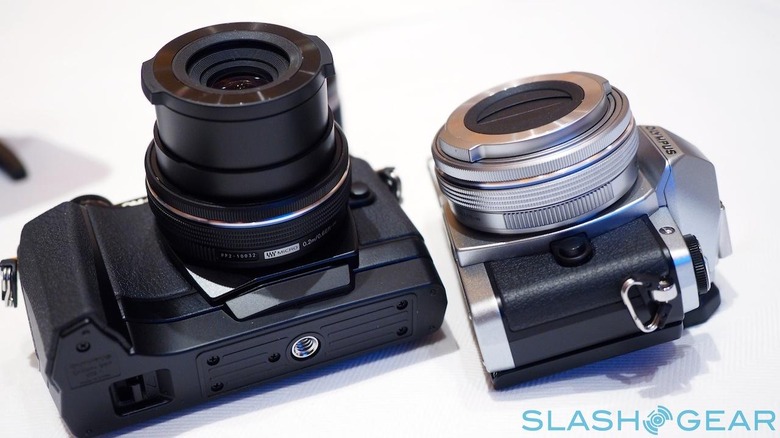 Meanwhile, the M.ZUIKO Digital ED 14-42mm F3.5-5.6 EZ zoom will be offered in either black or silver, and priced at $349.99. The 5mm f/1.8 prime will be $399.99, while the fish-eye body cap lens will be offered in black or silver, with pricing yet to be finalized; Olympus told us that it expects it to be around the same $50 as its predecessor. Pricing is also unconfirmed on the MCON-P02 Macro Convertor.