OLPC XO-3 tablet revealed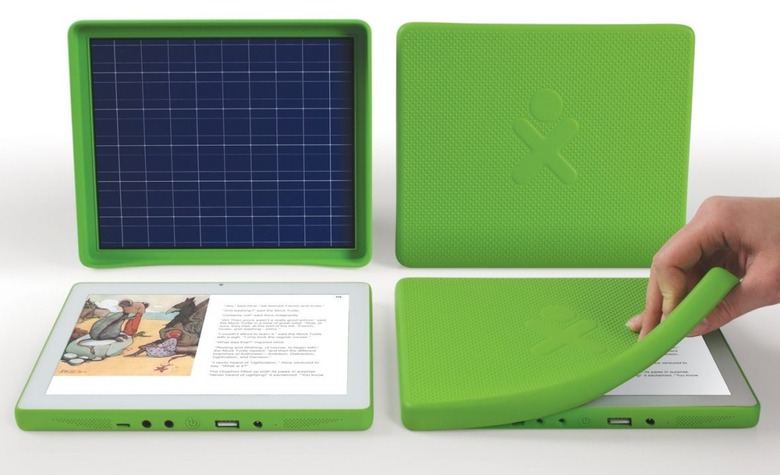 OLPC had already announced it was bringing along its XO-3 tablet to CES this coming week; now we know what the new education-focused slate will look like. Less slimline than the older concepts and nowhere near as space-age as the earlier dual-screen XO-2 renders, the new silicone-clad XO-3 does at least have the bonus of actually fitting inside the Marvell ARMADA PXA618 processor and half gig of RAM we're expecting.
Up front is an 8-inch screen – a 1024 x 768 Pixel Qi panel, no less, for indoor and outdoor visibility – with a peel-off silicone cover so as to protect it from scratches and bumps while in a schoolbag. There'll also be solar panels on the inside, one of a trio of recharging options to keep the OLPC XO-3 running: as well as plugging it into the mains, should you have the luxury of being near an AC supply, there'll be a hand-crank to manually top up the battery.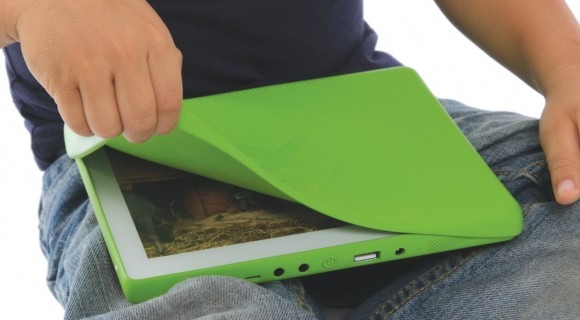 Sixty seconds of cranking is good for ten minutes of use, or so OLPC tells us, and the OS is either Android or the specialist education-focused Sugar platform. Ports – which are also covered up by that clever cover – include full-sized USB, audio and a memory card slot.
Best of all, though, is the price: OLPC expects the XO-3 to kick off at $100, though that will be for regular LCD rather than Pixel Qi versions. Unfortunately, you won't be able to drop by Best Buy and pick one up, as OLPC will be selling direct to educational organizations and charities. Stand by for more from CES this week.