OLPC unveiling XO 3.0 tablet at CES 2012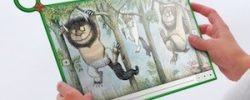 The OLPC project are finally ready for the launch of their next XO Tablet. The XO 3.0, which has been in limbo for some time, will be shown off at CES next week. Marvell and OLPC have collaborated on previous models that are currently in the hands of over 2.4 million children in 42 countries. Chief Technology Officer of One Laptop per Child, Edward McNierney stated the XO 3.0 is a "natural successor" for their current laptops.
The XO 3.0 features Marvell's Armada PXA618 SOC processor and Avastar Wi-Fi SOC,with 512MB of RAM. With the partnership between Marvell and OLPC, the XO 3.0 will reach its target audience of education systems in developing countries. Measuring at 8-inches the XO 3.0 tablet will be highly portable for students throughout the world.
A unique feature of this table is found in its charging circuitry. Drawing a charge directly from solar panels, hand crank and other alternative power sources, the XO 3.0 will be unlike other tablets. From just one minute of hand cranking, users can expect at least ten minutes of runtime, according to OLPC. The expected price for this tablet comes in at around $100. There are no individual sales of OLPC devices since they only sell in bulk to governments.
[via EETimes]