Oh good, Samsung is making a Surface clone now, too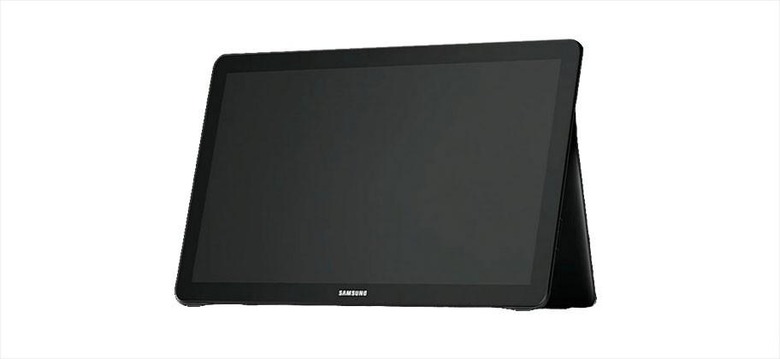 The Samsung Galaxy View has been teased by the company this week immediately after showing off their Gear S2 smartwatch in full. While we've gotten our Gear S2 hands-on experience up close and personal, this Galaxy View remains a bit of a mystery. With a kickstand at its back and a bit screen up front, we can't help but see similarities between this and Microsoft's leading piece of hardware – the Surface. Could this be Samsung's attempt at the crossover?
With a name like "Galaxy" we'd have to think this was a machine made with Android. If that were so, wouldn't it make more sense for this device to be smaller than it appears, coming with a display that's able to fit in a purse or backpack?
Late last month we saw information on a device codenamed Tahoe, one made by Samsung with a 18.4-inch full-HD (1080p) display made for schools, offices, and living rooms. This might be Samsung's play for another new product category.
This category would be – again, maybe – for a sort of "transportable display" that does whatever you need it to on-the-go. Instead of just a Samsung Galaxy Note Pro 12.2, this device would be more massive and far more prepared to work with the rest of the devices in your pocket and around your wrist.
Then again, it could just be a new PC. We're thinking Android or Tizen will be in full effect. Stay tuned to our Samsung tag portal for more.