Office for iPhone debuts as Microsoft drops 365 sub need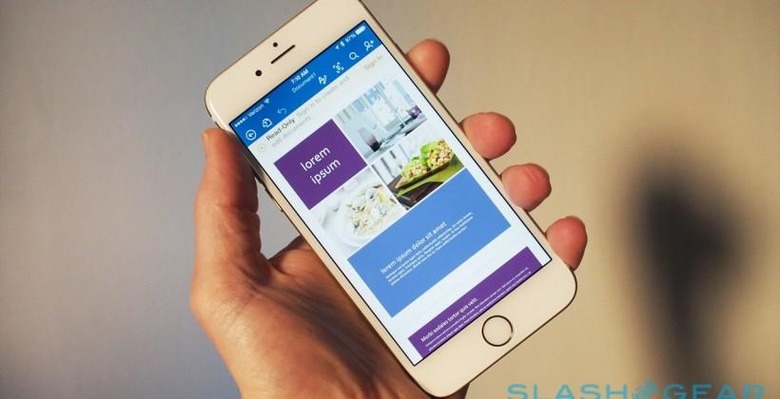 Microsoft refuses to slow down on its software push, with a new free Office suite for iPhone and by dropping its Office 365 subscription requirement for its iOS and upcoming Android apps, as it redoubles its efforts to grab mobile user share. The new Word, Excel, and PowerPoint apps for iPhone – taking on Apple's own Pages, Numbers, and Keynote – arrive alongside updates to the same apps for iPad, but also see Microsoft announce a new Office for Android tablets beta program. Though not quite open for business yet, Android tablet owners can sign up for when the apps are released in early 2015.
The decision to release Office for iPad was met with raised eyebrows back in March, with surprise that – Microsoft having been fiercely protective of its own apps – it would embrace iOS. Since then, the company says, over 40m downloads have been racked up.
However, whereas until now you've needed an Office 365 subscription in order to actually create or edit files with Office for iPad, that requirement is being dropped as of today. Although Microsoft would still prefer you to cough up the monthly tithe for its cloud storage and sharing platform, if you'd rather bypass them altogether and stick with the new Dropbox integration, that's fine with them.
The new iPhone apps bear an unsurprising resemblance to the iPad versions, and support all the usual creation and editing features you'd expect from word processor, spreadsheet, and presentation apps.
They're accompanied by a refreshed trio of apps for the iPad. Both need iOS 7.0 or later on your iPhone or iPad.
As for Android, that will also include the same three titles. Android users won't need Office 365 subscriptions either, and of course there's the same Dropbox integration.
If you want in on the Android preview, though, there's one caveat to bear in mind. Microsoft says it's not looking for feedback from those with Android 5.0 Lollipop on their tablets, so if you're rocking a brand new Nexus 9 you're out of luck, and you should resist the temptation to install any Lollipop updates that your OEM of choice pushes out.
Of course, Microsoft also has its own platform for tablets in the shape of Windows, but those users aren't being left out. Touch-optimized Office apps will arrive alongside Windows 10, the company says, sharing a single preview image of the app-in-progress:
SOURCE Microsoft
MORE iTunes; Android tablet preview