Office for iPad release set for 11AM PST today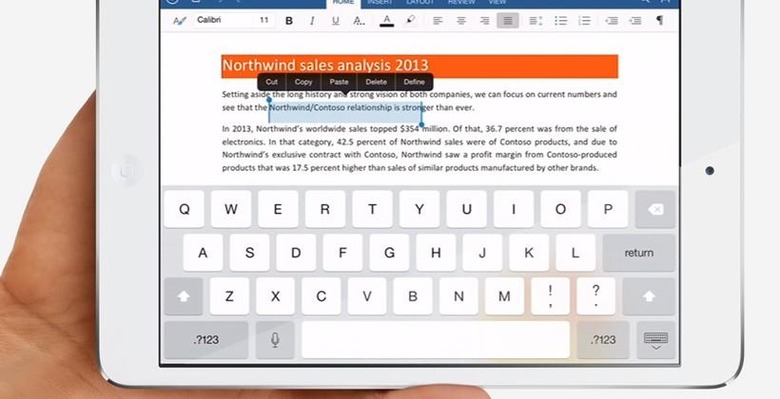 This week the folks at Microsoft responsible for Office have revealed that they'll be releasing the first full-blown iPad iteration of the app today. This release will take place at 11AM Pacific time – that's 1PM Central or 2PM Eastern – and it'll be free. You can view documents and give presentations of documents without cost, but you'll be paying a subscription fee to edit.
This release will include necessity for an Office 365 subscription if you want to either edit a document or create a document. Users will also be able to use their Microsoft Office 365 Personal plan when it's released, or take part in a 30-day trial run through Office dot com.
Inside the Office for iPad suite you'll find the ability to work with Word, PowerPoint, and Excel documents with ease. Each of these apps looks rather similar to their desktop counterpart – a stark differentiator from the iPhone version of the Office suite, that working with a much more limited feature set. This release is ready to take on the next-generation processing power of the iPad in full, in a way that not many other apps do from this angle.
The Office for iPad suite works with PowerPoint transitions, Sparklines, access to a massive set of fonts, and both landscape and portrait modes for viewing and editing. You'll find author blocking, full text modification, and view options galore. This may very well be Apple's first big threat in the iWork universe for iPad – we shall see!