Microsoft Office 2013 has gone up for sale, with the company's US and UK stores now listing multiple versions of the new software package. Priced from $139.99/£109.99 for Office Home and Student 2013, but also available in Home and Business, and Professional versions, the new suite will make its official debut later today at an event in New York.
Eager beavers can get a head-start, however, though so far only UK shoppers get the option to either receive a boxed version of Office 2013 through the mail, or to download it straight away from Microsoft's site; US shoppers only have the download option. The Home and Business version is priced at $219.99/£219.99, while the Professional version is $399.99/£389.99.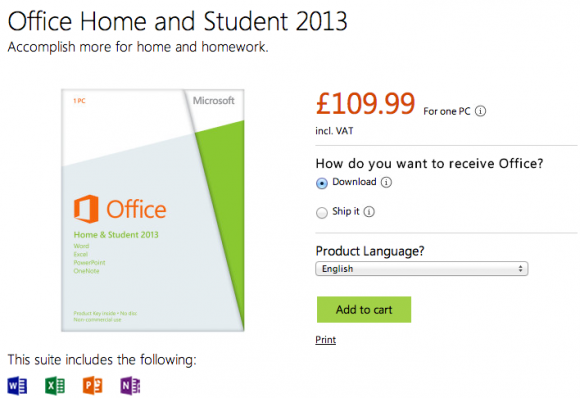 Microsoft tipped the imminent launch of Office 2013 yesterday, with the company's official Office Twitter account blurting out the news. The package – which includes Word, Excel, PowerPoint, and OneNote in all bundles, though more expensive versions throw in Outlook, Publisher, and Access – has been available for testing since late 2012.
Meanwhile, Microsoft is tipped to be working on a version of Outlook for Windows RT, adding the email, task and calendar app to the existing version of Office for RT. That could potentially make RT-based tablets such as Microsoft's own Surface more appealing to enterprise customers, so the rumors go.
[via The Inquirer]