Last we saw of the ODROID Android Entertainment device was a spec-sheet and some tiny images; now, at least, we know they have a working prototype.  The company has sent us a video demonstrating the ODROID's HD movie-out connectivity, as well as some big-screen gameplay, with the gaming handheld's ARM Cortex A8 processor proving just as capable as we've seen from the iPhone 3GS.
Video demo after the cut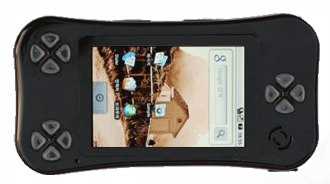 The ODROID has a 3.5-inch 320 x 480 capacitive touchscreen, a 720p-capable HDMI output and WiFi b/g, and while it runs Android it lacks any sort of cellular connectivity.  Instead it's designed as more of a games handheld, PMP and WiFi MID style device, with a composite TV output, headphones socket, both microSD and SD card slots and a 1,300mAh battery.
The video below shows the ODROID pumping out first 720p HD video content, including 24 and Transformers, before going on to play a game on the big-screen.  We're still not sure of release dates nor pricing for the handheld, but at least we know it's gone beyond render art stage.