ODROID Android entertainment device borrows iPhone 3GS CPU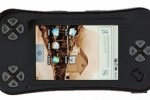 Hardly a week goes by without a new Android concept design showing up, and today's promises to bring decent gaming to the table.  Based on the same 600MHz Samsung S5PC100 ARM Cortex A8 processor as the iPhone 3GS, the ODROID from Hardkernel also packs a 3.5-inch 320 x 480 capacitive touchscreen, a 720p-capable HDMI output and WiFi b/g.
Hardkernel are seemingly positioning the ODROID as an entertainment device, rather than a smartphone, as it lacks any sort of integrated cellular connectivity.  That seems a little shortsighted, given the rise in collaborative, internet-based gaming, but it will also help keep costs down and avoid the need for subscription-based purchases.
Elsewhere there's a composite TV output, headphones socket, both microSD and SD card slots and a 1,300mAh battery.  No word on how long you can expect that to last, but Hardkernel seem to expect plenty of button-thrashing as there are several hardware controls.  No word on when we might expect to see the ODROID hit shelves, nor for how much.