Oculus Quest hands-on: $399 VR headset cuts cords not corners
Traditionally, the middle-child can be the most problematic, but Oculus is hoping that its new Oculus Quest virtual reality headset bucks that trend. Revealed at Oculus Connect 5 today, the Facebook-owned company's annual VR developer event, the Quest slots in-between the existing Rift and Go headsets and, as I eagerly put to the test, promises the best of both.
So, like Oculus Go, the Quest – formerly known by its Project Santa Cruz codename – is complete wire-free. No tether to a gaming PC; no potent graphics card required to drive the VR experiences. It'll be relatively affordable, too – at least in virtual reality gaming terms – at $399 for the 64 GB model.
At the same time, though, Oculus is promising that Quest's processing power is more akin to a full Rift setup. As such, games should be more immersive and run smoother. It'll also come with the Rift's Touch controllers, which Quest can track using its new Oculus Insight tracking system.
Put it on, and it's instantly familiar if you've worn an Oculus headset recently. The three straps are all adjustable; I wear glasses, and I had no problem keeping them on while comfortably wearing the Quest. That's more than I can say about Samsung's Gear VR, for example, which can end up putting undue pressure on the bridge of my nose. A lens spacing adjustment slider is on the bottom, and a USB-C port for charging on the side.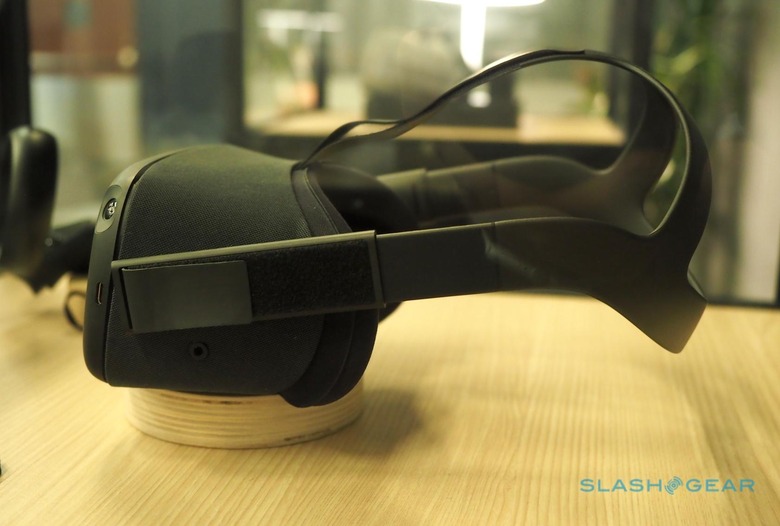 Oculus has upgraded the audio performance, too, with speakers build into the sides of the headset. There's more bass in particular. I'd still definitely want to plug a set of headphones into the 3.5mm socket on the side if I was playing on my own, but being able to hear in-game sounds and effects loud and clear while still listening to the people around me worked surprisingly well.
I dived into a game of SUPERHOT VR, a first-person fighting game in which the speed at which you move affects the speed at which your opponents attack – down to the rate at which bullets approach you. It's arguably the perfect title to show off Oculus Quest's movement tracking system. What makes Oculus Insight particularly special is that there's no need for any "lighthouse" beacons or similar: the headset itself is responsible for doing all the tracking.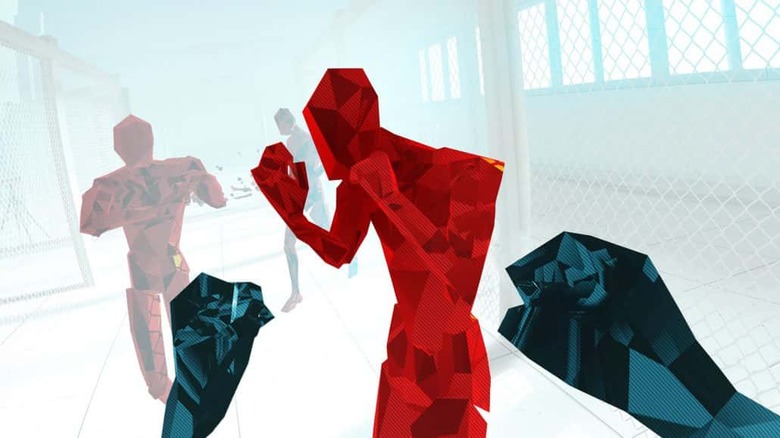 Four ultra-wide-angle cameras are used, one on each corner of the headset's face. They, along with lashings of computer vision algorithms, figure out where you are in 3D space. Rift, meanwhile, donates its Guardian system, overlaying a faint grid of glowing lines when you approach a wall or other obstacle.
Insight, and the Quest's 6DoF (six degree of freedom) tracking, works impressively well. In SUPERHOT VR, how slowly and gradually you move has a huge impact on how well you do in each battle; Quest seemingly had no problem translating even my smallest movements into in-game movement. It's left me particularly curious to see the promised multi-room support Insight will offer, remembering multiple connected spaces like a series of rooms, and allowing you to roam between them. Arenas up to 4,000 square feet in size can apparently be handled.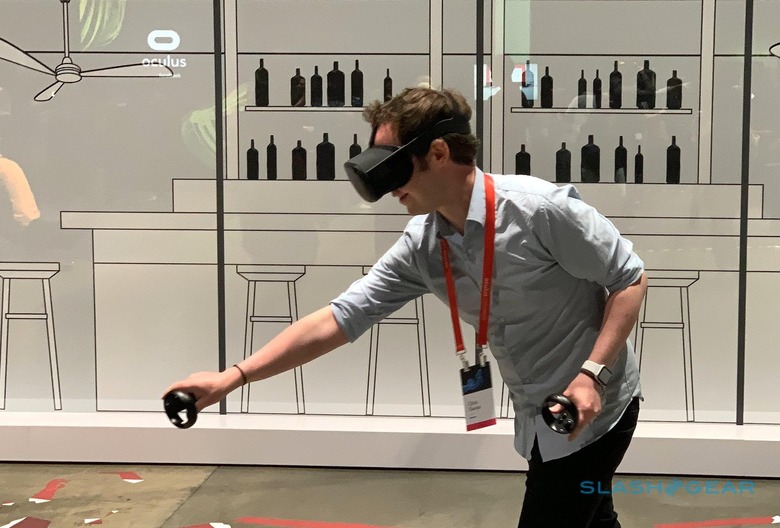 The 1600 x 1440 resolution per eye matches that of the Oculus Go, meanwhile. Of course, resolution isn't everything – you need a sufficient GPU to drive that – and SUPERHOT VR's simplistic graphics aren't exactly best placed to put that through its paces. A pre-game section, though, is far more graphically intense, and there I'd say Quest looks better than how I recall Go performing.
A conclusive opinion will have to wait, though. Right now Oculus is playing hardware details close to its chest: the company didn't even want people taking close-up photos of the prototype headsets and controllers we were using. Battery life, too, is uncertain at this point. One of the advantages of Rift – and tethered headsets in general – is that you don't have to worry about recharging, of course.
All the same, even with those details still up in the air, there's a lot to be excited about Oculus Quest. It's comfortable, cherry-picks the best features from its siblings, and promises to launch with a catalog more than fifty titles strong, including hotly-anticipated games like the first episode of Vader Immortal: A Star Wars VR Series. That may well be sufficient to lift Quest free from any sort of middle-child syndrome when it hits stores next year.