OCOSMOS OSC9 tablet hits US by Dec with Smart remote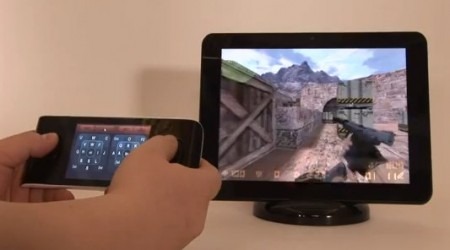 OCOSMOS' OSC9 tablet PC has gone up for pre-order in the US, with the 10.1-inch slate – billed as being the thinnest Windows 7 tablet around – expected to begin shipping at the end of November. Priced at $649 from Dynamism, the OSC9 runs a 1.5GHz Oak Trail Atom Z670 processor, 2GB of RAM and offers a choice of 16GB or 32GB of flash storage, all fronted by a 1280 x 800 10.1-inch display. It also supports an optional "Smart O-Bar" screen-toting remote.
If the touchscreen sounds bigger than what OCOSMOS were hawking back at the OSC9's debut at CES 2011 earlier this year, you're not wrong. Then, the slate had a 9-inch panel running at 1024 x 768, but OCOSMOS has obviously followed fashion – and, we dare say, panel supplies – and increased both size and resolution.
Still present, however, is the Smart O-Bar Multi-controller, a compact remote that offers a 3.5-inch 320 x 480 LCD display, WiFi b/g/n, gyroscope and accelerometer, and can act as anything from a wireless keyboard/mouse for the OSC9, as a simple game controller, or as a VoIP phone handset. Alternatively, owners can stream multimedia content from the OSC9 to the Smart O-Bar.
Finally there's an HDMI docking station, with ethernet and a pair of USB ports. The OSC9 measures in at 267 x 173 x 11.9mm and has a battery good for up to 6hrs runtime, WiFi b/g/n, Bluetooth 3.0 and GPS. We have to say we'd be more excited to see Windows 8 on the slate, but there's always upgrading next year. The OSC9 is priced at $649, while the HDMI dock is $69.99, the Smart O-Bar controller $139.99, and a keyboard dock $69.99.