OCOSMOS OSC9 Tablet PC Hands-On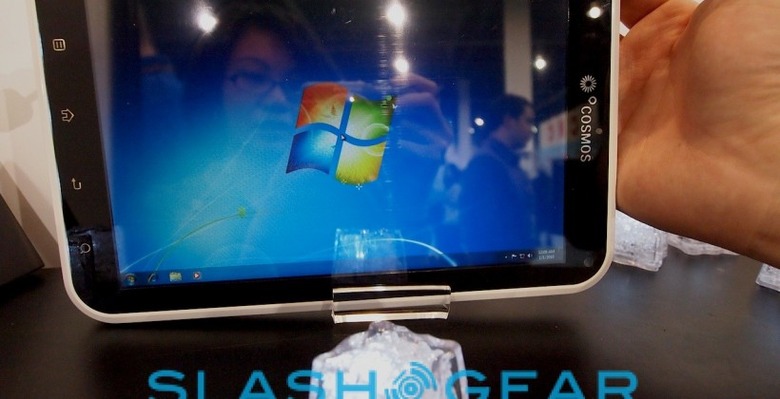 OCOSMOS' second Windows 7 tablet is another interesting one; bigger than the OSC1 with a 9-inch 1024 x 768 screen, and coming with a folio case that hides space for a spare battery and a wireless remote control pad. Check out our hands-on feedback after the cut.
Unlike with the OSC1 TC, which has a more gaming slant, OCOSMOS reckon the OSC9 is for more general-purpose mobile use. The 1.5GHz Intel Atom Oak Trail processor is paired with twin cameras – 1.3MP on the front, 3.1MP on the back – and while the 9-inch display is a capacitive multitouch-capable panel, there's also a remote control section which can switch between an on-screen keyboard, gaming controls and multimedia buttons.
As with the OSC1, the OSC9 ran surprisingly slickly for a prototype. Windows 7 is easier to control – though still not ideal – on the larger display, and while we still miss the physical keys that OCOSMOS ditched from the original OSC1 design, the on-screen 'board is reasonably spaced for pecking out emails and URLs. It'll be gaming and multimedia where it comes into its own, though; we're yet to see how much of a gaming platform Oak Trail can be, but the promise is far more processing capability and graphics crunching than previous Atom versions.
OCOSMOS say the OSC9 will run for around 5-6hrs on a full charge, and that when it arrives in the second half of 2011 – price yet to be determined – it will come in black or white initially, and then be followed by other colors. The leather case will come in black or white.