OCOSMOS OSC1 TC hands-on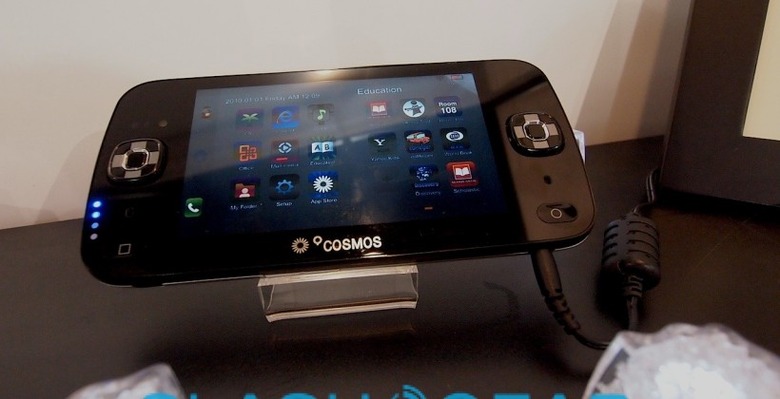 OCOSMOS' OSC1 Tiny Computer (TC) may have dropped the physical QWERTY keyboard – something we're not quite ready to forgive them for – but it's still an intriguing compact handheld. Straddling the line between UMPC and portable games console, the Intel Oak Trail powered internet device may look like an oversized smartphone, but inside there's a full Windows 7 install. Check out our first impressions after the cut.
In fact, while a smartphone might seem the obvious comparison, the OSC1 is more akin to a netbook. We obviously didn't have the opportunity to check whether Intel's latest-gen 1.5GHz processor lives up to their power claims, but we're hearing 4-5hrs mentioned as a realistic estimate.
In use, it's surprisingly fast even in this beta hardware/software stage. The capacitive touchscreen is responsive, and OCOSMOS' custom UI is relatively basic compared to some we've seen, but still sufficient to turn the 5-inch 1024 x 600 display into a more finger-friendly proposition. It's flanked by two multi-function directional pads, which can be programmed not only to user need but to change key assignment depending on what app is running. If you're gaming on the OSC1 TC, for instance, they can be directional controls and trigger buttons – there are shoulder buttons as well – but in the browser they can navigate through pages and handle bookmarks.
Pricing will be the tricky point, and OCOSMOS are tight-lipped on what exactly the OSC1 TC will cost when it arrives roughly midway through 2011. We've got video of the OCOSMOS OSC1 TC running, and will add it in as soon as it's processed.