O2 Joggler: touchscreen home organizer hits UK April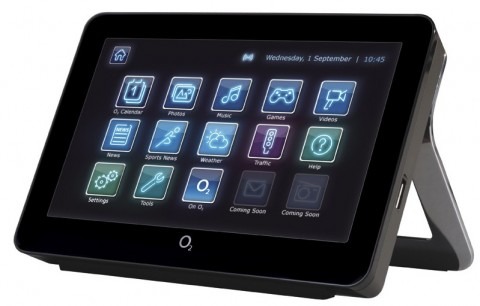 O2 declined to comment when leaked shots of the OpenPeak OpenFrame home information center showed up last month bearing the carriers icons, but they're happily squealing about it today.  The 7-inch touchscreen desktop communications tablet gets a new name – the O2 Joggler – and promises media streaming, PIM apps and photo viewing.
While the concept might seem similar to Verizon's Hub, the O2 Joggler lacks a SIM card slot or any sort of cellular radio – all data is carried over a broadband connection, with the Joggler connecting via ethernet or WiFi – and as such there's no ongoing monthly charge.  It doesn't look as though you can actually browse the internet, though; instead the Joggler delivers content from Sky News Weather, Trafficmaster (for road condition updates) and Sky Sports. 
1GB of internal memory can be used for images, video or audio, plus there's a USB port for adding extra storage.  Alternatively the Joggler will stream content from another PC on the network.  O2 have also launched a free online calendar service which can be managed from the Joggler, and soon all buyers will get 50 free SMS messages a month to send.  The Joggler can also receive messages (since it's the UK and you don't pay to receive SMS, that's presumably an unlimited amount).
The O2 Joggler will be available in early April, priced at £149.99 ($220); alternatively, if eligible, O2 customers can pick it instead of a free upgrade handset.
Press Release:
O2 helps busy family lives with O2 Joggler

O2's revolutionary touch screen device sits at the centre of the home and helps family life run more smoothly

O2 today announces the O2 Joggler, a first-of-its-kind device which will transform the way families manage their busy lives. Taking the place of all the notes traditionally placed on the fridge door, the O2 Joggler is always on and can be used by the entire family. It sends text message reminders which mean every family member will know who needs to be where by when. The O2 Joggler launches in early April.

The O2 Joggler has been built on the insight that family life is hectic and can be difficult to manage. Appointments, birthdays, school runs, work deadlines and more can all be stored on the O2 Joggler's calendar, which will text handy reminders to family members' O2 mobile phones.

The digital evolution of the traditional family wall calendar, the O2 Joggler is a sleek 7" touch screen device for the household that keeps the whole family connected. Ideally placed in the kitchen or the living room, O2 Joggler sits at the heart of the family home and is available to customers on all UK networks*.

It connects to your home Broadband either wirelessly or using an ethernet cable. There is no in-built SIM and therefore no ongoing costs or monthly subscription.

Alistair Johnston, Marketing Director, Telefónica O2 UK, said: "We've developed the O2 Joggler with today's busy families in mind. It has been purpose built to help families better organise their lives."

Play music, watch videos, catch-up on breaking news

The O2 Joggler is much more than an electronic calendar. It features a wide range of additional features for the whole family, including:

· Weather – never get caught out in the rain again with updates from Sky News Weather. The O2 Joggler provides a four-day forecast from 60 UK towns as well as most other cities across the world, useful for checking the weather before a holiday.

· Traffic – get the latest traffic black spot updates from Trafficmaster including the average speed of traffic on major roads**. O2 Joggler remembers the last place that was looked at and centres its traffic information around this location.

· News and sports ­– catch the latest headlines from Sky News and Sky Sports. Headlines are refreshed throughout the day, making it useful for checking scores and headlines without any hassle.

· Photos – The O2 Joggler can also be used as a digital photo frame. Up to 200 photos can be stored on the internal 1GB memory or through an external USB memory.

· Music/ Video – play up to 100 songs or videos stored on the device memory using the O2 Joggler's built-in speakers, or stream it through a home PC.***

· Games – customers can test their brain skills with a game of Sudoku. And if they need to pop out and pick up the kids, they just touch-save and carry on playing later. More games will be coming soon.

· Tools – use the O2 Joggler as an alarm clock or calculator.

Coming soon

· Messaging – The O2 Joggler will let customers send 50 text messages every month to any mobile in the UK for free. It will also be possible to send texts to the O2 Joggler from any UK mobile.

· Radio – A wide array of pre-set internet radio stations will soon be available to listen to.

As new applications and content become available, they will be sent directly to the O2 Joggler, ensuring it's always kept up to date.

O2 Calendar

The new electronic O2 Calendar is available both on the O2 Joggler and as a stand-alone, free service on the internet. It provides a simple and convenient way for families to better manage their lives and is available to anyone, regardless of network*. Appointments can be included on the O2 Calendar using the Web or via text message.

The O2 Joggler will be available from early April at O2 stores and from the O2 online shop at www.O2.co.uk, priced at £149.99, or free if taken instead of a handset at upgrade****. For more information, visit www.o2.co.uk/family

*Text reminders will only be sent to O2 mobiles in the UK

** Traffic alerts for all A roads and Motorways in England, Scotland and Wales

*** iTunes format files not supported

****Applies to O2 Pay Monthly customers on 18 and 24 month contracts, excluding O2 Simplicity customers. Pay & Go customers can apply their upgrade discount to the cost of the device (up to £200). The O2 Joggler is not available as an upgrade to corporate customers.

Subject to availability. Broadband connection required. Selected features subject to network coverage.