NVIDIA Tegra "Parker" blasts forth aside mini ARM computer "Kayla"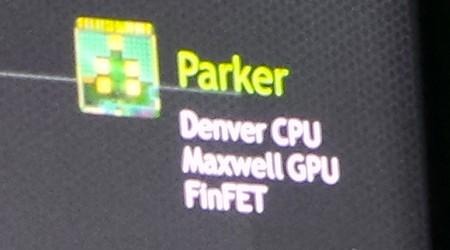 This week the folks at NVIDIA have been revealing bits and pieces of their GPU roadmap with Tegra and GeForce GPU action left and right, moving forward with their newest mobile superhero code-named SoC "Parker." This SoC comes after the still code-named "Logan" and will, if the naming scheme holds true, be Tegra 6 down the road. Along with this reveal came word of a code-named system called "Kayla" – a processing beast that, when it's ready for action, will be extra-tiny and extra-powerful beyond anything we're capable of today.
Parker is the newest in a line of code-named Tegra processors, coming after Wayne (Tegra 4) and Logan (Tegra 5, more than likely), and bringing on the innovations of past generations and/or outdoing them with the following firsts:
• First with Denver CPU.

• First 64 bit ARM processor coupled with NVIDIA's next-gen Maxwell GPU.

• First to use FinFET transistors.
According to NVIDIA CEO Jen-Hsun Huang, this is only the beginning. Huang noted that "In five years time, we'll increase Tegra by 100 times, though Moore's Law would suggest an eight-fold increase." With Logan we'll see the first mobile processor on the planet to work with CUDA. This processor will also bring Kepler GPU power and OpenGL 4.3 – and it'll be in production by early 2014.
Parker, on the other hand, is still in the pipeline. While we may see it out by 2015, we can't be sure until NVIDIA gives the real word.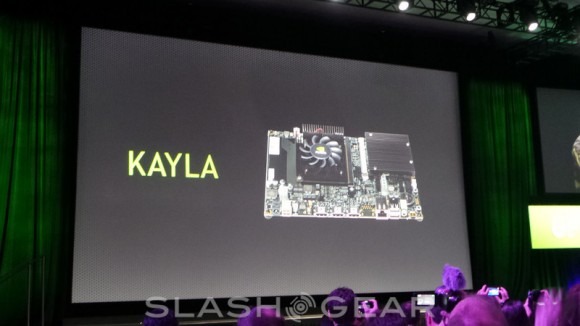 Then there's Kayla. With NVIDIA's Kayla, we've got what's been described by Huang as "Logan's girlfriend." This device is around the size of a tablet PC at the moment, and is beastly enough already to run real-time ray tracing. As Huang said, "this is showing the kind of demos we used to do on massive GPUs."
Inside Kayla you'll find CUDA 5, Linux, and PhysX processing. All of this runs on a rather tiny ARM-toting computer – and it's coming sooner than later. Have a peek at the timeline below for more Tegra and GeForce GTX action from NVIDIA as GTC 2013 continues – hit up our tag portal for more action as well, we'll be here the whole conference long!
And don't forget to check our massive Tegra hub for more mobile processing action than you can handle – more big blasts coming up quick!