NVIDIA Tegra "Logan" detailed with game-changing CUDA integration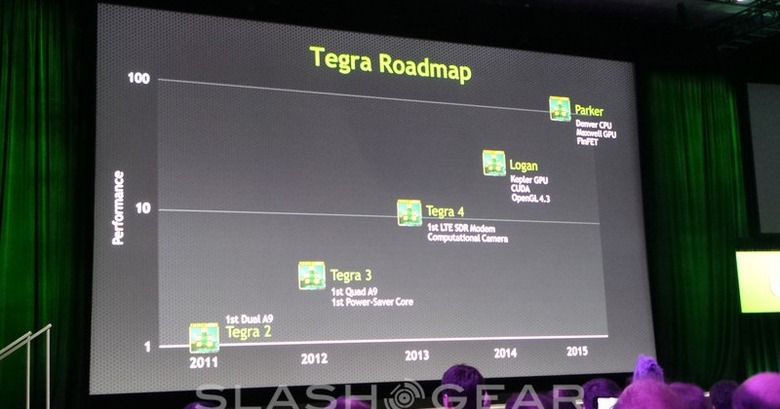 This week NVIDIA's CEO Jen-Hsun Huang spoke up at their GPU Technology Conference on the future of the mobile processor known as Tegra and has teased what will likely be called "Tegra 5". Running through what we'd already learned about the Tegra 2, Tegra 3, and the upcoming Tegra 4, Huang let us know that the next code-name "Logan" would be breaking boundaries once again. The next Tegra processor will, according to Huang, do "everything a modern computer should do."
Speaking on how they created the idea of a single energy-saving core – seen first in the NVIDIA Tegra 3 quad-core processor – with 4-PLUS-1 technology, sleeping with this one sleeper core for low-powered tasks. Huang spoke also of the first software-defined radio – Deep Execution Processor – and the Computational Camera using both the CPU and the GPU with the sensors of the mobile camera – introduced on the Tegra 4.
Inside Logan we'll be seeing CUDA 5 and Kepler. This is the first time we've seen a mobile processor incorporating CUDA, and also the first time a Kepler GPU will be coming to the mobile universe. This processor will also be bringing on full CUDA 5 as well as OpenGL 4.3.
Interestingly enough, Huang mentioned that Logan – this next generation – will be coming out at the beginning of next year. As we've heard from NVIDIA not too many weeks ago, Tegra 4 and Tegra 4i will not be coming to market any sooner than the second half of 2013. In other words, we're looking at some rather rapid movement between the two generations, without a doubt.
Have a peek at the timeline below as well as the GTC 2013 tag portal for more information on Tegra and the ever-expanding GPU universe of NVIDIA in many great and rather exciting ways! We'll be here the whole conference long!
Be sure to tune in all week in our massive Tegra hub as well!