NVIDIA SHIELD Update Edges In On PC Streaming Final Release

Though PC streaming from NVIDIA SHIELD is still considered "Beta" by the company itself, an over-the-air software update coming this week has increased the number of games supported by the device officially up to 31. This OTA update suggests that NVIDIA is edging in ever-closer to a final bump for the machine into Go Time – for now, our tests have already proven the system to be more than capable of handling the games we've wanted to play out in the wild.
This week the OTA for SHIELD bumps support for PC streaming up with FIFA 12, DIRT 3, Mortal Kombat: Komplete Edition, Resident Evil: Revelations, and Call of Juarez: Gunslinger. This is in addition to titles like Bioshock: Infinite and Half-life 2. We also played Metro: Last Light in our demonstration for our full SHIELD review just a few weeks ago.
Meanwhile the update to SHIELD this week will bring "improved" PC streaming stability as well as improved gamepad detection and improved Wi-fi performance. There's also a bit more support for Tegra developer tools for those of you out there on the creative end of all this: CPU sampling profiler (Tegra Profiler) as well as GPU analysis (PerfHUD ES) are coming your way quick – that's in the Tegra Android Developer Pack, mind you.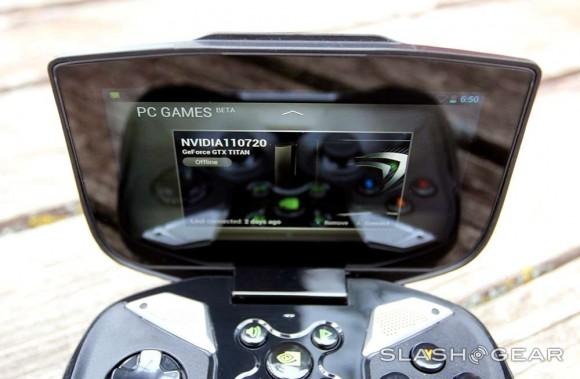 Also on the Android side of things: SHIELD had Crazy Taxi and Asphalt 8: Airborne controller support right out of the gate earlier this month. Have a peek at some hands-on time with Asphalt 8 courtesy of Android Community in the video below.
Finally you'll find this update to SHIELD – named OTA Update 59, if you'd like to know – brings in the ability to move game and app data files from internal storage to an external SD card. NVIDIA SHIELD has the ability to work with up to 64GB microSD cards, so let the downloads roll!