Asphalt 8: Airborne launches with NVIDIA SHIELD, Tesla Model S, barrel rolls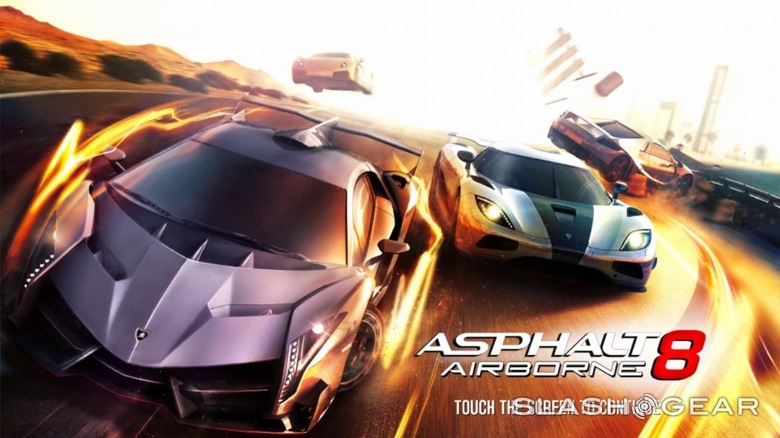 The 8th generation of Gameloft's rather successful racing game franchise is out today for both iOS and Android devices in Asphalt 8: Airborne. This game takes another step toward making a truly worthy translation of the 2008 movie Speed Racer to the gaming universe. Though it's not Gameloft saying they're doing so, it certainly appears as if the closest game to the mark (in Asphalt 7) has been outdone by this 2013 Asphalt 8 release.
This game continues the use of luxury dream-car implementation and expands on the model with more realistic models and crashes and damage that reflects the real world. Not that you're aiming to play this game with the same dangers as actually driving one of these lovely vehicles, that is – but you'll see how it feels, anyway.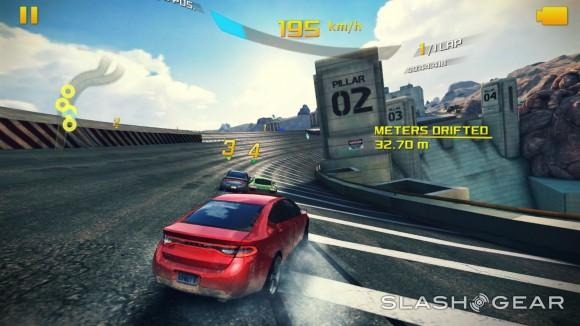 Asphalt 8 works with both single-player and multiplayer games, attaching to cloud-hosted sessions with your smartphone or tablet's mobile data connection. At the moment in our brief testing setup we've found connectivity with the live multiplayer mode to be reliable regardless of connection speed – just so long as it's 4G LTE or above.
Above you'll see several available car models: Tesla Model S amongst them.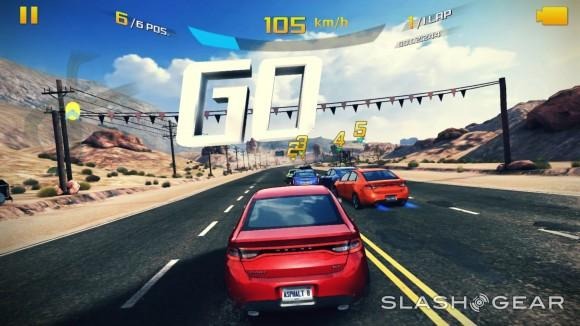 This game rings in at $0.99 USD for iOS as well as Android, and it's limited on prerequisites – surprisingly so – for bot platforms. For iOS you'll need at least an iPhone 4, iPod touch 4th gen, iPad 2, iPad mini, and iOS 5.0 or later. For android, things get a bit more complicated. Thus far we've found the following devices to be compatible with Asphalt 8 in the Android universe:
AT&T HTC One
Verizon Samsung SCH-I605
AT&T Samsung SAMSUNG-SGH-I537
Verizon Motorola DROID RAZR HD
Samsung GT-N5110
AT&T Samsung SAMSUNG-SGH-I337
NVIDIA SHIELD*
AT&T LGE Nexus 4
Samsung SM-T310
Samsung GT-N8013
T-Mobile GT-I9100
T-Mobile GT-N7000
Samsung GT-P7510
T-Mobile GT-N7000
AT&T LGE LG-E980
HTC HTC One
Samsung SCH-I925
HTC HTC VLE_U
Samsung Galaxy Nexus
Asus Nexus 7
Samsung SAMSUNG-SGH-I717
Asus Transformer Prime TF201
Asus Transformer Prime TF201
Samsung SAMSUNG-SGH-I777
*UPDATE: NVIDIA SHIELD is not only compatible with Asphalt 8, it's been specifically optimized, physical controls and everything. Hot stuff!
Have a peek at this hands-on video from Android Community with Asphalt 8 working on NVIDIA SHIELD in an epic 9-minute race!
Below you'll find a limited cross-section of Android devices that are not compatible with Asphal 8 – so if you're planning on using one of these devices to drive, think again.
Verizon Motorola XT1080
T-Mobile LGE LG-P659
HTC HTC One mini
Sprint Samsung Nexus S 4G
Samsung SM-C101
Samsung SAMSUNG-SGH-I467
Samsung GT-P5210
OPPO X909
Verizon PANTECH ADR930L
Motorola XT557
This game should be appearing in the Google Play app store and the Apple app store for your mobile devices immediately. Asphalt 8 is also said by Gameloft to be coming to platforms such as Apple's OS X, Windows 8, and Windows Phone 8 in the near future too – play on ALL the operating systems!