NVIDIA SHIELD TV (2019) and Pro official: Android TV, AI upscaling, new remote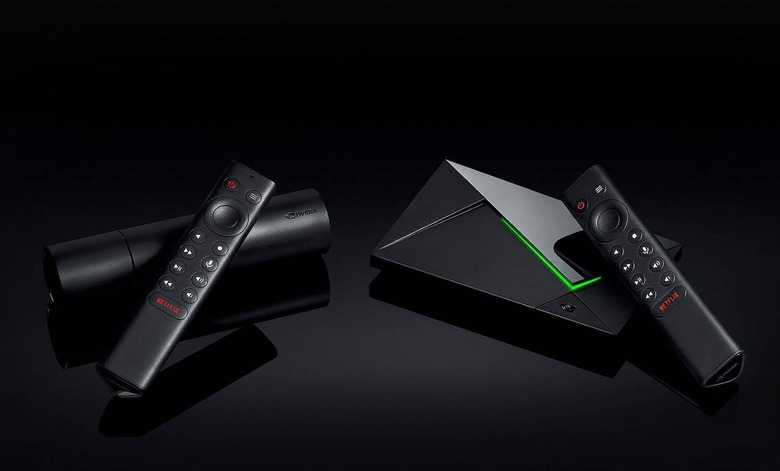 NVIDIA's much-loved SHIELD TV is getting an upgrade, and this time the two versions of the Android TV set-top box each pack a new, AI-powered upscaling system. For gamers and the most demanding users, there's the SHIELD TV Pro, while those who simply want a potent way to watch streaming content get the SHIELD TV (2019).
Both use a new NVIDIA Tegra X1+ processor, which the chip-maker says is packing up to 25-percent more performance than the old version. It also allows NVIDIA to support some of the more popular recent video and audio standards, like Dolby Vision and Dolby Atmos.
Two NVIDIA SHIELD TV for 2019
2019's SHIELD TV is an unusual shape. While most set-top boxes are either unassuming rectangular pucks or HDMI-ended sticks, NVIDIA's is a short cylinder roughly the size of a flashlight. It's $149.99 – the cheapest RRP for a SHIELD TV so far – but still pairs the Tegra X1+ with 2GB of RAM and 8GB of storage. There's a microSD card slot, too.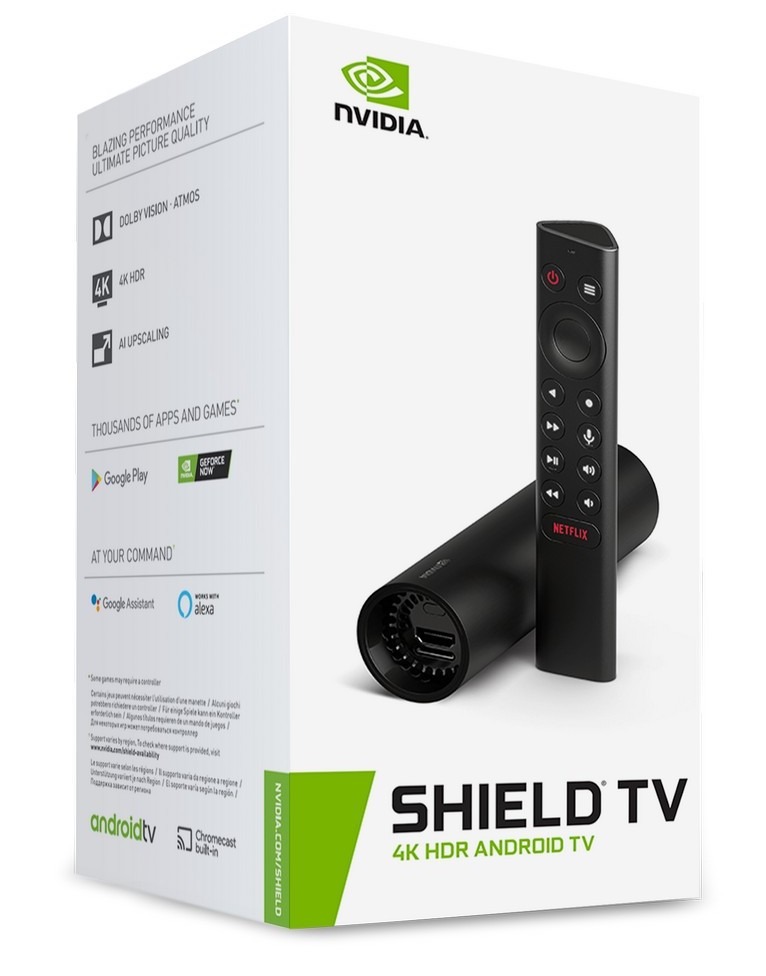 On one end, there's a power socket and a gigabit ethernet port; on the other, an HDMI-CEC port and the microSD slot. Inside, there's 802.11ac WiFi and Bluetooth 5.0+LE.
The SHIELD TV Pro, meanwhile, looks much like its predecessor, a rectangular box designed to either sit flat or stand on its side. It's focused on those users who insist every box be checked off, whether that be 4K video streaming, or NVIDIA GeForce NOW gaming. It pairs the Tegra X1+ with 3GB of RAM and 16GB of storage, and you still get a microSD card slot to add to the latter.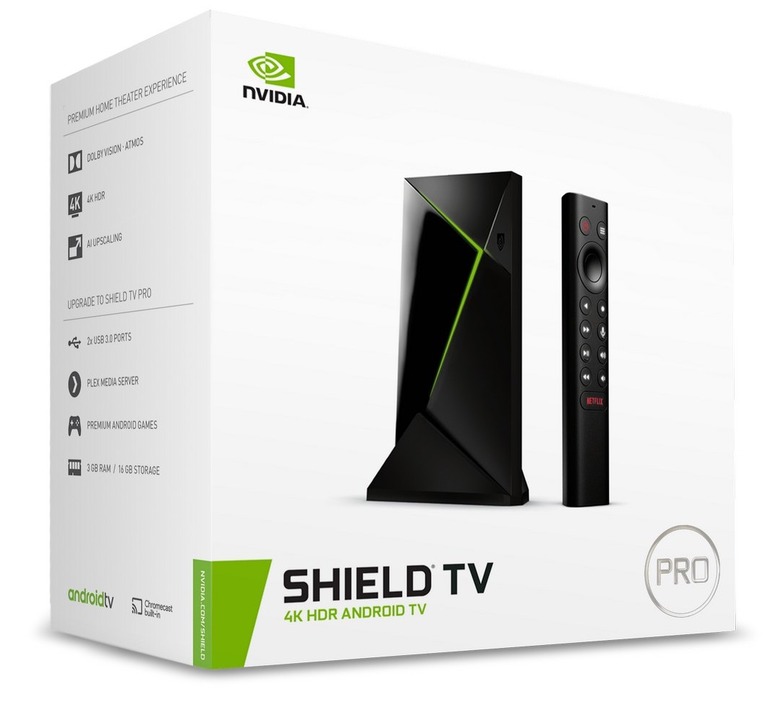 There's Plex Media Server support, with 1080p transcoding, and the SHIELD TV Pro is SmartThings Hub-ready: all you need to do is add a SmartThings Link. There are two USB 3.0 ports as well, which will work with USB storage, cameras, TV tuners, wireless adapters for peripherals like a keyboard, or simply charging something. It's priced at $199.99.
A new SHIELD TV remote
Both come with a new remote control, that's triangular in profile. It connects to the SHIELD TV and SHIELD TV Pro via Bluetooth, but also has an IR blaster for controlling your TV's volume or other devices if that can't be done via HDMI-CEC. There's a microphone for interacting with the Google Assistant, and a dedicated Netflix shortcut.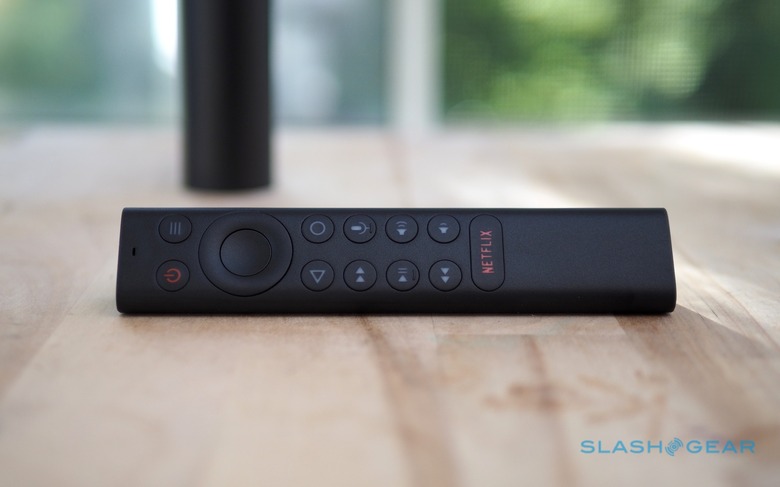 NVIDIA says it took the opportunity to address some of the most common requests or frustrations of the old SHIELD TV remote with this 2019 version. So, the buttons are backlit and motion-activated, lighting up when you pick up the remote. It runs on a pair of AAA batteries, this time, rather than more fiddly watch-style batteries. Perhaps most useful, there's a lost-remote locator: press a button on the SHIELD TV, or in the companion iOS/Android app, and the remote will beep to help you find it.
What you don't get, this time, is a game controller. NVIDIA's argument is that gaming enthusiasts will probably have a controller they prefer, and this time around the SHIELD TV is compatible with not only NVIDIA's SHIELD Controller and Android controllers in general, but the Xbox One Wireless Controller and the PS4 DualShock 4 Wireless Controller. The flip side is that, if you're not into gaming at all, you're not spending money on an unnecessary peripheral.
Android TV plus NVIDIA's special sauce
As before, the SHIELD TV runs Google's Android TV. Its predecessor had a reputation for arguably being the best Android TV box on the market, indeed, and NVIDIA is eager to retain that kudos.
Part of that is making sure there's plenty of support for Dolby Vision and Atmos. Indeed, Netflix, Amazon Prime Video, Disney+, Vudu, and Movies Anywhere all support both the video and audio technologies. YouTube, Google Play Movies, Hulu, and others support 4K streaming, too, and Android TV finally has a pretty comprehensive selection of music apps like Spotify, Tidal, and SiriusXM.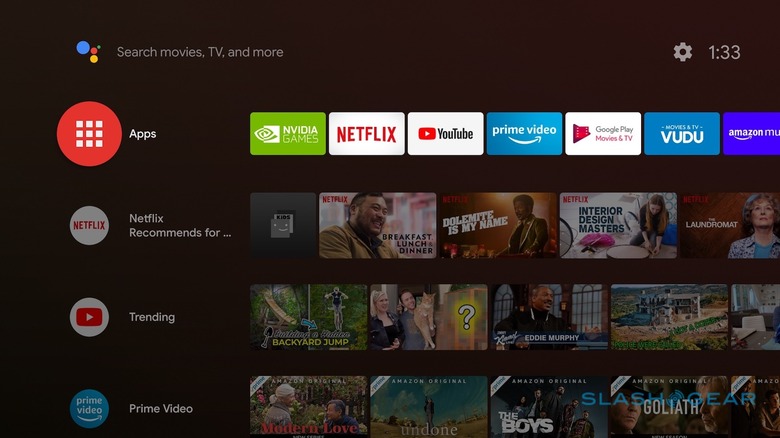 To that, NVIDIA adds gaming. The Google Play store is already home to a number of high-profile titles for Android TV gamers, but NVIDIA's own GeForce NOW service is probably even more appealing on that front. Still in beta – and so still free to use – GeForce NOW promises hundreds of cloud-based games, including Fortnite, Assassin's Creed III, and Batman: Arkham City.
As you'd expect, you can interact with the Google Assistant directly on the SHIELD TV itself. Or, you can pair it with a Google Home or other Assistant-powered smart speaker, and control SHIELD TV that way. It supports recently-added features like Routines, too.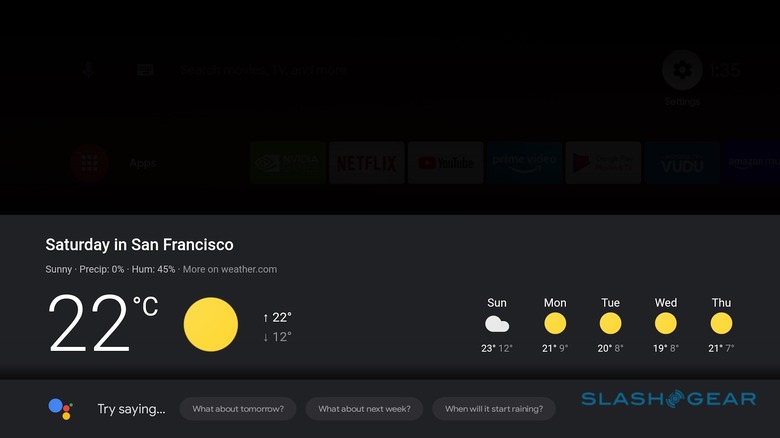 If you're an Alexa household, the good news is that SHIELD TV will play just as nicely with Amazon's assistant. Again, you'll need to pair the box with an Echo smart speaker to do that.
AI Upscaling
The Tegra X1+'s horsepower isn't just useful for games, meanwhile. NVIDIA is also tapping it for an AI-Enhanced video upscaling system, which promises near-4K results from 720p and 1080p source video.
NVIDIA started out by teaching a deep learning neural network about traditional upscaling, showing it source footage, the results of traditional upscaling, and getting it to predict how it would upscale the same clips. Over time, the AI learned how to refine that source video to near-4K, and to apply that in real-time. The result is an unexpected leap in detail, clarity, and color (and NVIDIA even allows you to do a split-screen of pre- and post-AI-Enhanced video so you can see just what the difference is).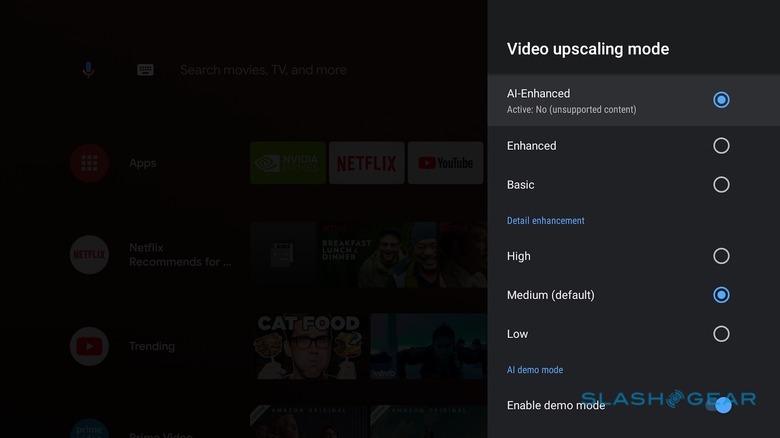 There are a few limits, mind. Not every content is compatible with the new AI upscaler, and NVIDIA says it's currently best at relatively recent video: you can't feed it with a classic black & white movie and expect untold detail to be added in. It also tops out at 30 fps, which means it's not really intended for sports that often streams in 60 fps.
Along with the AI-Enhanced upscaling there's a new Enhanced version – which doesn't use AI, and thus can be activated in situations where its AI counterpart cannot – and the same, Basic upscaler as on the previous model. There's also the choice of High, Medium, or Low detail enhancement.
SHIELD TV 2019 pricing and availability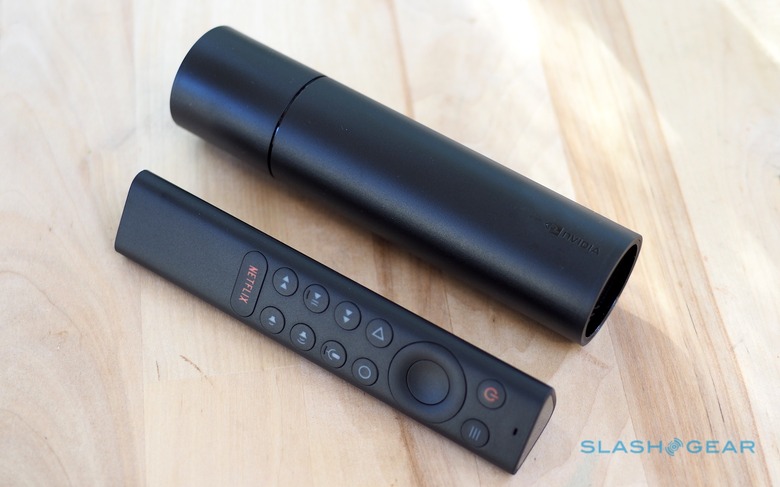 Both the SHIELD TV and the SHIELD TV Pro are going on sale today, in the US, Canada, and select European countries. The SHIELD TV is priced at $149.99, while the SHIELD TV Pro is $199.99. Availability in Australia and New Zealand will follow on in the coming months.