NVIDIA SHIELD Tablet might soon be upon us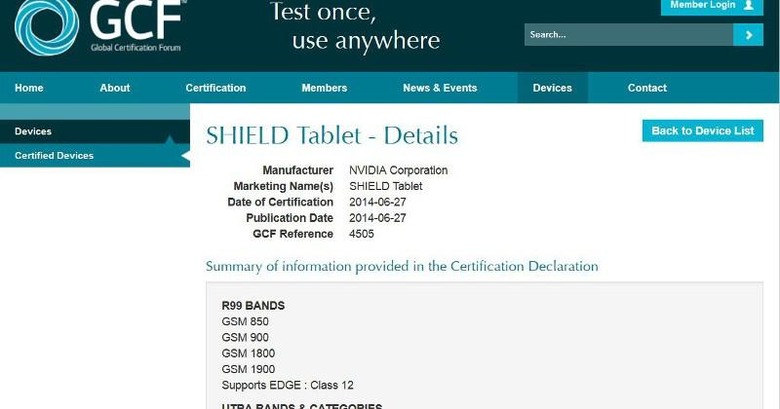 The stars might be aligning and a new NVIDIA SHIELD device might soon be revealed, but this could be a rather strange beast. Based on a recent certification entry from the Global Certification Forume (GCF) and a recent sighting on NVIDIA's own website, the chipmaker's next SHIELD gaming machine won't be a handheld like before but will be a mid-sized Android tablet instead.
Last May, a certain NVIDIA Mocha was sighted on GFXBench's website, a tablet that carried a 7.9-inch 2048x1536 screen and the manufacturer's impressive Tegra K1 mobile CPU. While those features eventually found their way into Xiaomi's Mi Pad, it was enough to fuel the interest and rumors around a new NVIDIA tablet. The name SHIELD Tablet was thrown around, seemingly confirmed just recently by a blank entry in NVIDIA's TegraZone webpage.
Today, however, we have an even more official confirmation, at least of the name. The GCF is a body that handles certification for members of the 3GPP group, basically a standards body for those using 3G technologies. The certification doesn't really give us much except for two details. First is that the device, or at least one variant of it, will have 4G LTE support. The second and perhaps more important details is that it confirms the SHIELD Tablet name.
But what is really in a name? Quite a let if we let our minds wander a bit. NVIDIA already has a tablet, that's for sure, but that one was named Tegra Note, with the "Note" emphasizing the device's special stylus. This upcoming tablet doesn't have that name and instead uses "SHIELD" instead, a brand NVIDIA has so far reserved for its new gaming line. Now a tablet, even a 7-inch one, is hardly a serious gaming device, at least compared to the comfortable handheld form of the NVIDIA SHIELD. There is speculation that the SHIELD Tablet will make up half of a duo, the other being a detachable game controller.
How that will turn out is anyone's guess for now. It is hard to imagine a setup similar to gamepad addons like the MOGA, as the weight of the tablet will definitely keep it unbalanced. NVIDIA might instead be aiming for something along the lines of the Wikipad or the Razer Edge, definitely more interesting alternatives. We might not have to wait long to see what the NVIDIA SHIELD Tablet will look like, if it is real at all. Rumor has is that NVIDIA is slated to unveil such a device on July 22, so Android gamers in the crowd might want to tentatively mark their calendars.
SOURCE: GCF
VIA: Notebook Italia