Razer Edge Tablet Looks To Take PC Gaming Mobile For $999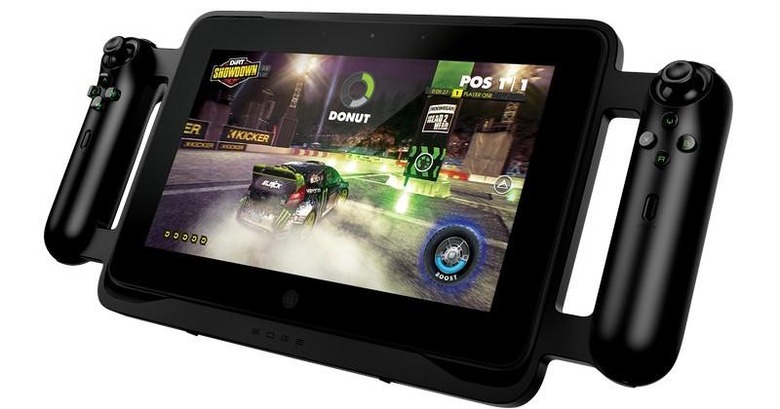 We've seen a few companies try their hands at tablet gaming, but now Razer is officially entering the space with its new Edge tablet. To say that the Edge is "new" is somewhat misleading, as we were introduced to a version of this tablet at CES 2012. Back then, it had been dubbed Project Fiona, but today, with the hardware locked down and plenty of accessories to talk about, Fiona is becoming the Edge.
For $999, you'll be getting the basic Edge package. Don't let the word "basic" fool you though, because even this package is quite beastly. At that price, the Edge comes outfitted with a third-gen 1.7GHz Intel Core i5, 4GB of RAM, an NVIDIA GT640M LE GPU, and a 64GB SSD. On the other hand, if you want to shell out $1,299 for the Razer Edge Pro, you'll be getting the same NVIDIA GT640M LE GPU, but you'll also be getting a bump up to a 1.9GHz Core i7, 8GB of RAM, and either a 128GB or 256GB SSD. Both models come with a USB 3.0 port and Bluetooth 4.0.
Of course, there wills also be plenty of accessories to add to this package, including a keyboard dock that can be used to play games that rely on a keyboard or mouse. You'll also have the option of a controller dock – which features the handlebar controller we saw with Project Fiona – along with 40Wh battery packs that cost $69 a pop and supposedly double the life of the Edge. Finally, Razer will be have a docking station on offer, which will provide gamers with additional USB 2.0 ports, an HDMI port, and stereo sound. The docking station will cost $99 and the detachable controller dock will set you back $249, though sadly Razer doesn't have a price for the keyboard dock yet due to the fact that it isn't quite ready for prime time.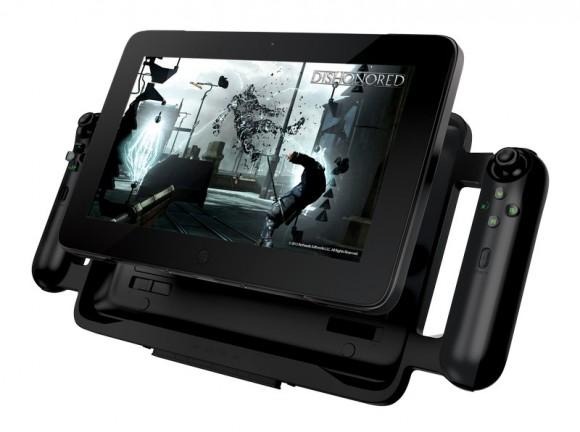 Razer will be offering an Edge Pro and controller dock bundle for $1499, which doesn't seem too bad considering the prices of each and the specs of the Pro tablet. Both versions of the tablet are available for purchase right now from Razer's website, and we'll be hearing much, much more about the Razer Edge very soon. If this is as good as Razer claims, then expect to see some major changes in the realm of tablet gaming. Check out our CES portal for more straight from the show!