NVIDIA Shield Tablet K1 returns with new $200 price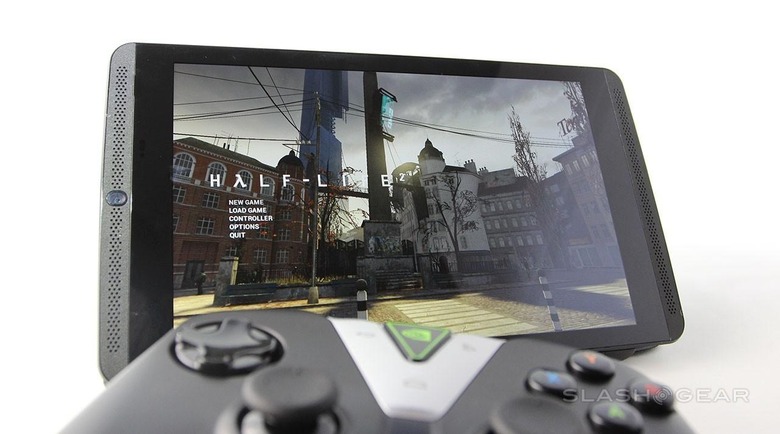 NVIDIA's Shield Tablet is back, refreshed post-recall and sweetened with a $100 price cut over the original model. The Android slate was already one of the cheaper ways to get a performance tablet, but now NVIDIA has trimmed both the range and the specifications to a single unit at $199, dubbed the Shield Tablet K1.
The original tablet was recalled earlier this year, after suffering overheating issues.
Outwardly, unless you're a true Shield Tablet aficionado you might struggle to see the aesthetic changes. The Shield Tablet K1 has new grips, rubberized for easier holding, and the stylus silo has been dropped, since NVIDIA no longer includes the pen in the box.
Inside there's the same Tegra K1 processor as before – not, it's worth noting, the Tegra X1 which NVIDIA announced earlier this year – with 16GB of storage. You get a microSD slot too, but no option for more internal memory.
Also gone is the LTE configuration, with the Shield Tablet K1 only packing WiFi a/b/g/n and Bluetooth. NVIDIA says that Android 6.0 will be released "in the coming months."
Battery life is still tipped at 10 hours, and you get access to NVIDIA's GeForce NOW cloud gaming service. Three months of free access will be included with each purchase, after which it'll be $7.99 per month.
NOW READ: NVIDIA Shield Tablet original review
For accessories, a wireless controller will be $59.99, a cover for $39.99, and the DirectStylus 2 – which the Shield Tablet K1 is still compatible with, if not bundled with – for $19.99. If you don't have a microUSB charger you'll need to budget for one of those, too, since NVIDIA has left that out for cost-saving purposes as well.
In short, if you're an original Shield Tablet owner then you probably won't want to upgrade, unless of course you want another one. For everyone else, it's the $199.99 price tag that makes the 8-inch tablet so appealing.
SOURCE NVIDIA