NVIDIA QUADRO K6000 becomes new world's most powerful graphics card for professionals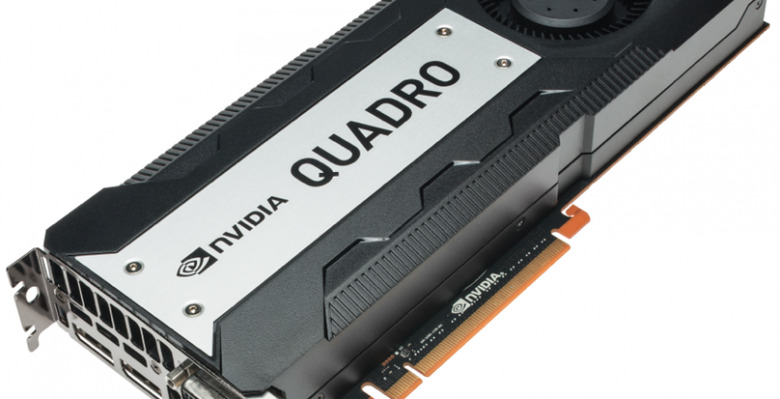 This week at the annual computer graphics conference known as Siggraph, NVIDIA has let loose information on their next-generation NVIDIA QUADRO K6000. This is NVIDIA QUADRO release is the new most powerful graphics card on the market – so says NVIDIA, bringing the world's largest graphics memory with 12GB onboard. This isn't the sort of processing power you'll be using for anything less than the most power-hungry tasks on the planet.
Faced with managing extremely large data sets and time constraints, NVIDIA is aiming to satisfy the most current demands of product creators everywhere from graphics-intensive big-screen films to car manufacturing. Showing examples in both Layout and Animation & Simulation, NVIDIA has made it clear: the memory capacity involved in the K6000 allows previews of scenes with a much more final vision than has ever been offered before.
"It's going to allow artists to preview their scenes much earlier in the pipeline. In this case, with the K6000, it's all interactive." – NVIDIA
"The added memory and other features allow our artists to see much more of the final scene in a real-time, interactive form, and allow many more artistic iterations." – Guido Quaroni, Supervising Technical Director at Pixar Animation Studios
In car manufacturing, NVIDIA aims to push reality-based design processes to a new generation as well – time restraints and massive amounts of data are needed here as well. Especially when full-on reality-based previews of vehicle renders are needed to avoid costly mistakes once the manufacturing process begins.

"I am now able to load nearly complete vehicle models into RTT Deltagen and have stunning photorealism almost instantly. Instead of spending significant time simplifying the models to fit into previous hardware, we can now spend more time reviewing and iterating designs up front which helps avoid costly changes to tooling." – Dennis Malone, associate engineer, Nissan North America
The third of three places where NVIDIA aims to take command is with massive geological datasets. In the ecology survey universe, like the automotive world, users need to know what's under the ground before they get there – the rendering of these possibilities is one of the most intense at this point in our collective history.
"Compared to the Quadro K5000, the Quadro K6000 tripled the performance when running jobs on Terraspark's InsightEarth application. With jobs running in mere minutes, we can run more simulations and get better insight into where to drill. In this business, drilling in the wrong place is a multi-million dollar mistake, and the Quadro K6000 gives us the edge to make better decisions." – Klaas Koster, manager, seismic interpretation, Apache Corporation
Sizemic exploration is what we're looking at here. Faster simulation means faster imaging and faster analysis in the end.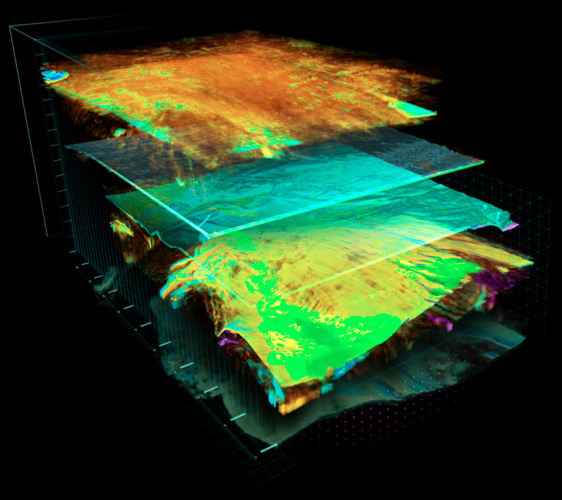 The NVIDIA QUADRO K6000 will be available this Fall worldwide from both leading OEMs and resellers. If you're aiming to bring on a massive display wall for broadcast-type applications or digital signage, you'll be glad to see 2 DisplayPort 2.1 ports and 2 DVI ports on its back that can be run simultaneously.
• 12GB ultra-fast GDDR5 graphics memory lets designers and animators model and render characters and scenes at unprecedented scale, complexity and richness

• 2,880 streaming multiprocessor (SMX) cores deliver faster visualization and compute horsepower than previous-generation products

• Supports four simultaneous displays and up to 4k resolution with DisplayPort 1.2

• Ultra-low latency video I/O and support for large-scale visualizations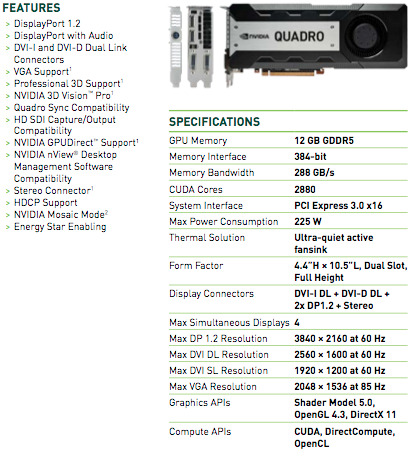 When pressed on how this product would continue to roll beside the gaming-aimed card family GeForce – specifically with cards such as the GTX TITAN, NVIDIA made it clear: these are two separate families, but they can co-exist as a friendly bunch.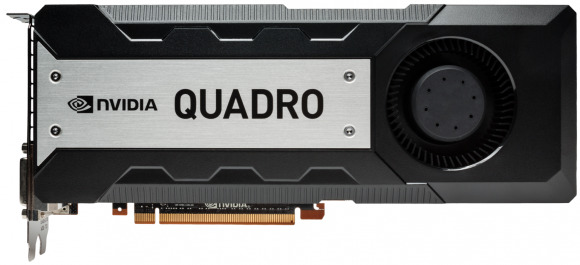 "The Quadro family is targeted at professionals – while you can certainly play games, the real value is for professionals on a variety of verticals. For that Geophysicist that like to play Assassin's Creed, could he have a good time doing that? Absolutely." – NVIDIA
This unit will be available in, as NVIDIA says, an "October timeframe" from groups like Dell, HP, and Lenovo and with systems integrators like BOXX Technologies and Supermicro.