NVIDIA Project SHIELD goes wild with The Conduit HD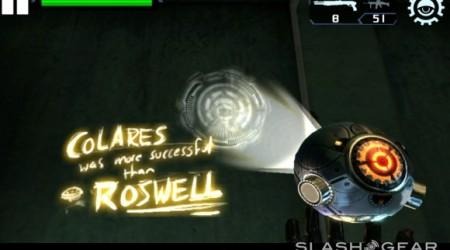 If you were waiting for an ultra-sweet shooter made to take away any thoughts you had that Android was a lesser environment than these so-called full-system PC operating systems, NVIDIA has got just the thing for you. Here we're seeing The Conduit HD, revealed here working on NVIDIA's Project SHIELD on Android – that's not even streamed, it's straight from the system! Have a peek at this undeniable action thriller on none other than the NVIDIA Tegra 4 right this minute.
What you're having a peek at here is not a future game that'll only be coming to Project SHIELD, nor is it a game that's relegated to processors that haven't been released yet – The Conduit HD is already on the Google Play app store right now! But here's what you need to look out for in this demo – keep an eye on how fantastic this game looks on Project SHIELD, then try it out on whatever smartphone or tablet you've got right this minute. Let us know how it goes!
With Project SHIELD, this game comes alive with what NVIDIA says are "nearly endless customization options". As you decide where each of your controls is mapped to the hardware on Project SHIELD, so too will you become more skilled at ending the lives of your opponents. This game was originally launched (in a lesser iteration) on the first Nintendo Wii, and it's been optimized by its developers in collaboration with the NVIDIA developer team for placement on the NVIDIA TegraZone.
For those of you that follow the NVIDIA TegraZone releases like a hawk, you'll know that this game has been out for a little over a week. We've got our own hands-on review of The Conduit HD if you care to take a peek right this minute as well! Once you've seen this game played on the ASUS-made Google Nexus 7 tablet, you'll have a little bit of an idea how the NVIDIA Tegra 3 (inside this tablet) will be trumped by the NVIDIA Tegra 4 (inside Project SHIELD).
Have a peek at the Project SHIELD timeline below as well for more information on this groundbreaking system. Coming soon to a market near you!