NVIDIA Ion GPU slots into 21 new netbooks & nettops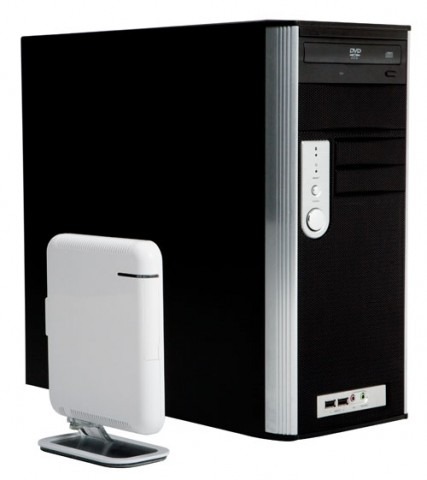 NVIDIA's Tegra may be stealing MID-lover's hearts at Computex 2009, but that doesn't mean the company is forgetting about their Ion GPU.  Taking to the stage with news of a full 21 Ion-based devices - including the ASUS Eee Top ET2002 all-in-one, ASRock ION 330 and MSI Wind Top AE2201 – NVIDIA revealed a mixture of mainboards, all-in-one desktops, netbooks, nettops and notebooks based on the 1080p-capable chipset.
Among the more interesting devices are Pegatron's IPP7A-CP, which we saw as the Ultra Slim last month, which is a super-compact nettop, and the ET2002 Eee Top upgrade which should finally give the touchscreen all-in-one the graphics grunt it deserves.  The full list of new products is available in the press release below. 
Ion is capable of not only 1080p video but 7.1 surround sound audio, DirectX 10 graphics and video acceleration and transcoding with NVIDIA's own CUDA technology.  More on the physical hardware when we get it.
Press Release:
NVIDIA Energizes Computex With New ION-Based PC Products

Highly Anticipated Platform Takes Off With 21 New Products for Small PCs

NVIDIA ION graphics will soon be available in the compact, all-in-one ASUS eeeTop ET2002.

The AsRock ION 330 is a small, energy efficient desktop PC with a dual-core Atom CPU and NVIDIA ION graphics.

The Pegatron IPP7A-CP is one of the most compact ION PC designs yet introduced.

Funtwist is bringing an ION-based desktop to the market.

COMPUTEX, TAIPEI, TAIWAN—JUNE 2, 2009—NVIDIA, the world leader in visual computing technologies and the inventor of the GPU, announced broad adoption of its award-winning NVIDIA® ION™ graphics processor at the Computex tradeshow today. The new products – introduced at an NVIDIA press conference in Taipei and on display at the show – include small desktop PCs, thin and light notebooks, all-in-one PCs, and low power motherboard solutions which all deliver a full PC experience in a small, low-power system.

The new products include:

Acer Desktop AspireRevo

AsRock Desktop ION 330

ASUS Motherboard C2N7A-I

ASUS All-in-one eeeTop ET2002

Colorful Desktop iHTPC

ECS Desktop 7AT-3L

ECS All-in-one Morph-I

Flextronics All-in-one Cobra-2

Flextronics Desktop Dove-2

Funtwist Desktop FION 330

ICD All-in-one Kitchen PC

Lenovo Notebook IdeaPad S12

MSI Desktop Windbox D200

MSI All-in-one Windtop AE2201

Pegatron Desktop IPP7A-CP

Pegatron All-in-one IPP7A-DF2

Pegatron Motherboard IPX7A-ION

TCL All-in-one Ruiyi 1010

Telcast Notebook TL-1000N

Weibu Notebook N10A

Zotac Motherboard ION-ITX

See the new ION products on display at Computex at the NVIDIA partner booths in the Nankang Exhibition Hall.

The new NVIDIA ION-based PCs and platform solutions are great for high definition video, mainstream gaming, and GPU-accelerated video and photo editing applications that take advantage of NVIDIA CUDA™ technology.

ION also supports DirectX Compute as part of Microsoft's upcoming Windows 7 operating system. DirectX Compute running on NVIDIA's CUDA compute hardware architecture delivers a major boost for small form factor PCs because it accelerates applications like video editing that run poorly or not at all on today's low-powered PCs. Other GPU-accelerated applications like vReveal and Badaboom let users quickly edit video and convert it for use on a portable media player like an iPod.

"NVIDIA is really shaking up the small form factor space with ION graphics," said Rob Enderle, Principal Analyst for the Enderle Group. "Netbooks and nettops are the hottest selling items in the PC space right now, but most are severely limited. ION removes the major chunk of that performance limitation allowing PC vendors the perfect blend of design, performance, and value that drives sales in hard times."

"Consumer interest in the Acer AspireRevo featuring NVIDIA's ION graphics has been overwhelming," said Gianpero Morbello, senior vice president of corporate marketing for Acer. "The Acer AspireRevo clearly demonstrates the power of ION to deliver a full and unique multimedia experience for an amazingly low price. We see strong consumer demand in this space."

NVIDIA ION graphics processors deliver big performance from small PCs with up to 10X faster graphics than similar systems1. ION graphics support:

Windows 7 and Windows Vista Home Premium

Low-power CPUs including Intel Atom, Intel Celeron, and Via Nano processors

Outstanding 1080p HD video with true-fidelity 7.1 audio

Popular games including The Sims 3, Lego Batman, World of WarCraft, and Battlefield Heroes

DirectX 10 graphics with advanced digital display connectivity

Accelerated video enhancement and transcoding using NVIDIA® CUDA™ and DirectX Compute technology

About NVIDIA

NVIDIA (Nasdaq: NVDA) is the world leader in visual computing technologies and the inventor of the GPU, a high-performance processor which generates breathtaking, interactive graphics on workstations, personal computers, game consoles, and mobile devices. NVIDIA serves the entertainment and consumer market with its GeForce graphics products, the professional design and visualization market with its Quadro® graphics products, and the high-performance computing market with its Tesla™ computing solutions products. NVIDIA is headquartered in Santa Clara, Calif. and has offices throughout Asia, Europe, and the Americas. For more information, visit www.nvidia.com.

1 Based on 3D Mark '06 results on Atom 230 CPU with NVIDIA ION GPU, versus Atom 230 CPU with Intel 945 graphics.