Pegatron Ultra Slim Atom nettop to use SiS HD graphics not Ion?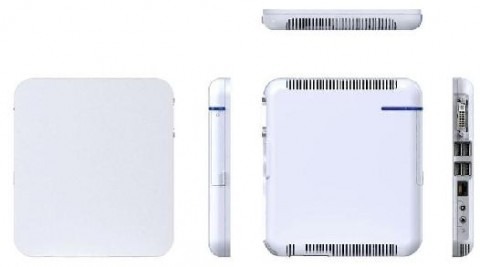 Further details on Pegatron's Intel Atom-based nettop have emerged, courtesy of SiS, and they seem to suggest that the compact PC will not, in fact, use NVIDIA's Ion GPU.  Instead, the Pegatron Ultra Slim Atom Nettop will use the SiS672/968, a low-power chipset that includes high-definition capable graphics and support for two SATA 3Gbps drives.  Pegatron will bundle that with the 1.6GHz Intel Atom 230 processor and up to 2GB of RAM.
Small enough to piggy-back onto a flat panel LCD, the Pegatron Ultra Slim Atom Nettop will nonetheless include WiFi, a PCI Express 1x interface, six USB 2.0 ports and DVI video output.  It will support high-definition audio, but still use under 22W and be fanless. 
Those specifications don't quite match up with what we heard from the recent launch in Taipei, where the Pegatron nettop – there referred to as the "Cape 7" - was promoted as using NVIDIA's Ion GPU.  It also was pictured with an HDMI port, rather than DVI.  It's possible that Pegatron have developed two versions of the nettop, but the company so far is yet to comment.
[via Notebook Italia]