NVIDIA Ion 2 benchmarked: moderate improvement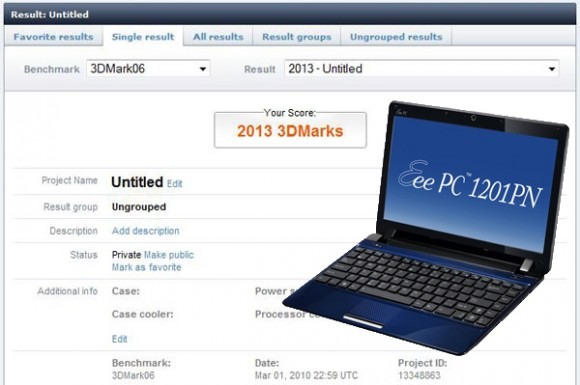 Curious as to just how potent that new NVIDIA Ion second-generation chipset is?  After the disappointing benchmark results from the Acer Aspire One 532G demonstrated at MWC 2010 last month, NetbookItalia ran the new ASUS Eee PC 1201PN at CeBIT 2010 through 3DMark06to see how that fared.  Happily things seem a little healthier this time around.
The 1201PN scored 2013 3DMarks, compared to its first-gen Ion predecessor the ASUS Eee PC 1201N which generally scored around 1,580 in 3DMark06.  It's worth noting that the AO532G tested last month used 3DMark03, hence the fact that you can't directly compare the scores between the two.
A bigger improvement would obviously have been preferable with the second-gen Ion, but that's not all NVIDIA are promoting this time around.  Instead, they've hooked up their Optimus system which can intelligently direct tasks to both the Ion 2 and the integrated Intel GMA 3150 graphics built into the Atom N450 processor.  That, they reckon, is better for battery life, and in fact are suggesting that Ion 2 equipped netbooks with regular 6-cell batteries should be capable of lasting around 10hrs.  Considering the previous-gen Eee PC 1201N only managed under 5hrs of regular use, that'll be impressive if the new Eee PC can achieve it.