Early Ion 2 benchmarks suggest GPU slower than predecessor?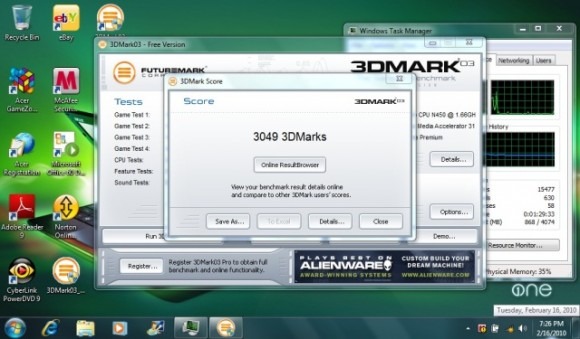 While we grabbed some hands-on time with Acer's Aspire One 532g netbook at MWC 2010 last week, what we didn't think to do was to sneakily attempt to benchmark it.  Being the first netbook to pack NVIDIA's second-gen Ion 2 GPU, the AO532g has many would-be buyers curious as to how it matches up to the first-gen Ion chipset; unfortunately, going by NetbookNews' testing,
The AO532g scored 3,049 in 3DMark03, which actually puts it on a lower bar than some first-gen Ion machines.  Ion LE netbooks – such as the Samsung N510 – have been clocked at 3,593, for instance, despite being based on the older platform.
Over at Netbook Choice they're theorizing that the shortfall could be down to a bandwidth shortfall in the Intel NM10 chipset's PCI Express lanes.  The Pine Trail Atom N450 processor the Aspire One 532g uses takes advantage of the DMI bus to connect the CPU and the chipset, but NVIDIA lack licensing agreements to do the same.  Of course, it could also be down to early drivers or something Acer themselves did to the netbook for display purposes; we'll have to wait until the AO532g's release to find out for sure.
[via Netbook Choice]