This week the folks at NVIDIA have revealed the next generation of graphics processors for gaming notebooks. With the NVIDIA GeForce GTX 980M and GTX 970M, you'll find the first above-1080p desktop-level performance on a gaming notebook. That's what NVIDIA suggests – and that's what they're aiming to deliver with a series of 5 notebooks launching with the GTX 980M and 970M, both with Maxwell architecture under the hood.
Beyond 1080p
With the GTX 980M/970M line of gaming notebook processors, NVIDIA aims to go beyond the 1080p high water mark. With 25 x 14+, Ultra, and above, you'll find NVIDIA rolling out the red carpet for AAA gaming on panels far beyond what you're currently rolling with.
For those of you planning on continuing to purchase gaming notebooks with 1080p displays or below, there's Dynamic Super Resolution. You'll want to head back to our DSR article from late last month to catch up on the subject, but for now, here's the gist: NVIDIA processes the game you're playing at a higher resolution then fits it in to your display's native resolution, resulting in a best-possible final result.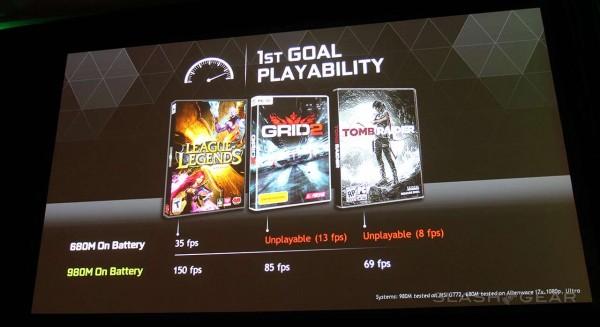 But what about cordless performance? What good is the next generation of gaming notebooks if they need to be plugged in to the wall all the time to look halfway decent?
NVIDIA BatteryBoost
With most notebooks today if you unplug their power cord, performance drops to levels that make a game unplayable. With NVIDIA's next generation hardware – with certain software settings – you'll find frame-rates to be boosted back up to a playable arena.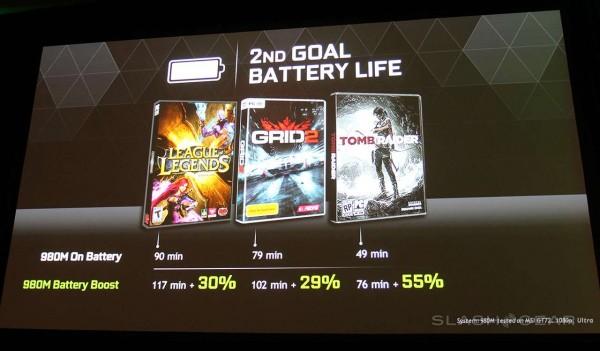 But what about battery life? There's no use in giving a boost to performance if you're just going to knock out battery life.
NVIDIA also has battery optimizations in place for this generation. Based on what we've seen NVIDIA show so far, we'll be seeing far better battery life than ever before at the same time as performance increases.
It seems almost too good to be true.
GeForce Experience
The next generation in GeForce Experience software also allows you to optimize your settings for plugged-in or unplugged notebooks. Those running the GTX 980M/970M line will benefit the most from this update.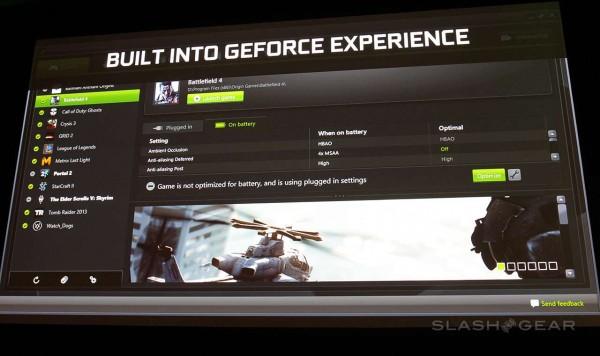 Inside GeForce Experience, you'll find two separate categories for Optimized settings: On Battery and Plugged In.
Two Goals
NVIDIA suggests that their two goals with this generation in notebook-aimed graphics processors are Performance and Battery Life – both unplugged from the wall. Now that gaming notebooks are getting graphics performance enough to play the best games, it's time to unplug.
We'll see soon enough – launching very, very soon, we'll see at least five new notebooks launching with the GTX 980M/970M line of graphics cards.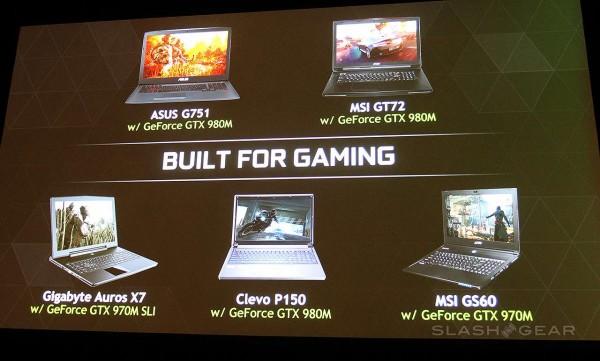 • ASUS G751 : GeForce GTX 980M
• MSI GT72 : GeForce GTX 980M
• Gigabyte Auros X7 : GeForce GTX 970M SLI
• Clevo P150 : GeForce GTX 980M
• MSI GS60 : GeForce GTX 970M
Above you'll see the first five gaming notebooks running GTX 970M or 980M GPUs right out of the box. Stay tuned as we take a closer look!