NVIDIA is preparing for the near future in which 4K graphics appear well before the average gamer has a 4K display. Dynamic Super Resolution is the rendering of a game at 4K, then downsampling to the screen you're working with. Instead of attempting to fit a curved line inside a grid of boxes, NVIDIA works with a filter.
Instead of a blade of grass being cut into pieces, Dynamic Super Resolution allows you to have a much more realistic vision. Dynamic Super Resolution allows you to have a full blade of grass instead of a chopped-up piece of junk.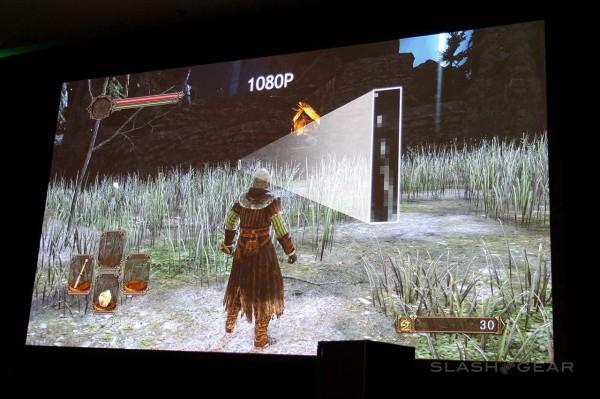 The GeForce Experience will be the delivery vehicle for DSR. Just as you're able to optimize the rest of your gaming experience with graphics settings, DSR will deliver an optimal vision using higher-end graphics than your system would otherwise be able to handle.
NOTE: You'll also be able to access this feature through your NVIDIA GeForce control panel if you're not super excited about the GeForce Experience for whatever reason.
This system will be delivered on Maxwell, but "over time this capability will be delivered throughout the product pipeline." – so says NVIDIA's Tom Petersen.
Screenshots: If you're using DSR to render 4K resolution down to your lesser display, a screenshot will produce a 4K image.
Upscaling: This system will not be limited to 4K. You can amp up to 16K, for example, and make the most of your GPU – test its limits, even.
Dynamic Super Resolution is just one of several NVIDIA feature innovations revealed this week. Have a peek at our NVIDIA tag portal for more GeForce GTX graphics power from all angles!