NVIDIA GeForce GTX 670 brings Kepler on a $399 budget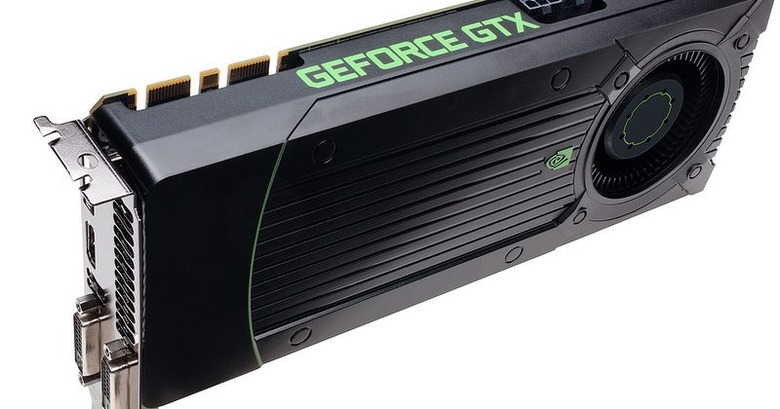 NVIDIA has launched its latest GPU, the GeForce GTX 670, the third to use the company's Kepler architecture, and pulling in at a new $399 price point. Borrowing the 28nm processes as the meaty GTX 680 (and the dual-GPU GTX 690), the GeForce GTX 670 opens up Kepler at a more affordable point of the market, with the promise of 45-percent better gaming power than its closest AMD rival.
It's also meant to be more frugal, too, delivering that boost in grunt while consuming 18-percent less power. NVIDIA says the GeForce GTX 670 "ties the competition's much higher-priced flagship product on 25 of the world's most popular games and benchmarks" no less.
The GPU supports NVIDIA Surround, 3D Vision Surround and PhysX rendering, with support for up to 2560 x 1600 resolution on a single monitor. There's also NVIDIA's GPU Boost for dynamically adjusting – and overclocking, if appropriate – clock speeds to maximize performance. The company's temporal antialiasing (TXAA) tech is also implemented, so as to help cut out "jaggies" in rendering.

The GeForce GTX 670 has 915 CUDA cores, a 980MHz graphics clock and a 102.5MHz processor clock. Connectivity includes a a Dual Link DVI-I, a Dual Link DVI-D, an HDMI and a DisplayPort socket.
The usual suspects – ASL, ASUS, Colorful, ECS, EVGA, Gainward, Galaxy, Gigabyte, Innovision 3D, Jetway, Leadtek, MSI, Palit, Point of View, PNY, Sparkle and Zotac – are all onboard to make GeForce GTX 670 cards.