NVIDIA GeForce GTX 680 Officially Debuts 28nm Kepler GPU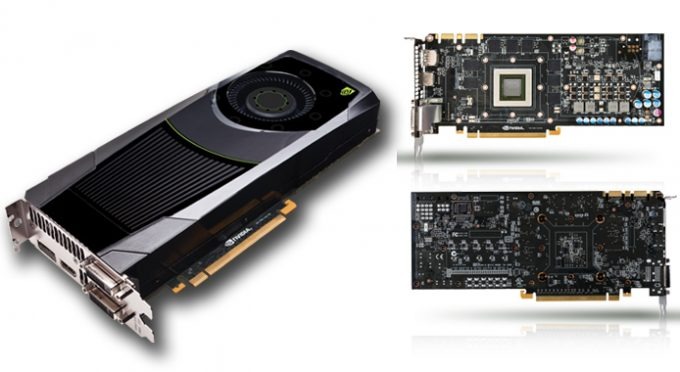 NVIDIA has revealed its latest graphics card, the GeForce GTX 680, using its new Kepler GPU architecture for improved performance and lower power consumption. The successor to NVIDIA's Fermi, Kepler introduces a completely redesigned streaming multiprocessor with a focus on efficiency, along GPU Boost to dynamically adjust clock speed within power draw limits. Meanwhile, the GeForce GTX 680 also uses SMX, relying on the same base clock across the GPU and featuring 192 CUDA cores. 1536 cores on the GPU means, NVIDIA says, the GTX 680 "handily outperforms" its GeForce GTX 580.
It's power efficiency that NVIDIA is most proud of, however. "Compared to the original Fermi SM," the company says, "SMX has twice the performance per watt. Put another way, given a watt of power, Kepler's SMX can do twice the amount of work as Fermi's SM." The card demands just two 6-pin connectors, and draws at most 195 watts of power, NVIDIA says, compared to the 244 watts the GeForce GTX 580 sucks down. That also means a quieter graphics card, since less active cooling is necessary.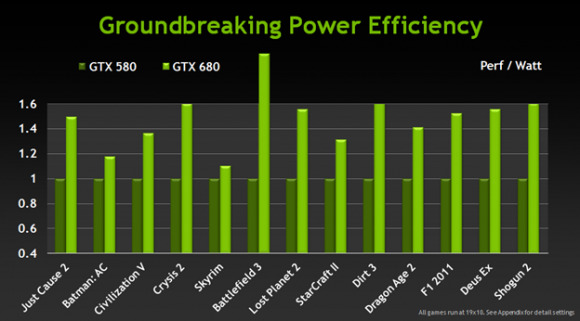 Adaptive Vertical Sync, meanwhile, dynamically adjusts VSync to suit the current frame rates of the game. The NVIDIA GeForce GTX 680 itself has 2GB of GDDR5 memory and unsurprisingly supports DirectX 11 and NVIDIA's own PhysX graphics engine and 3D Vision for 2D-to-3D scaling. There's also NVIDIA Surround multi-monitor support, from a single card, with two DVI, two Mini DisplayPort and one HDMI, for up to four simultaneous monitors.
If that's not enough, there's dual SLI or 3-way SLI support for an even more ridiculous gaming rig. PCs running the new NVIDIA GeForce GTX 680 are available to order today – with card partners including SUS, Colorful, EVGA, Gainward, Galaxy, Gigabyte, Innovision 3D, MSI, Palit, Point of View, PNY, and Zotac - with the card expected to be priced at $499.