NVIDIA drivers land in Fallout 4's tree of optimizations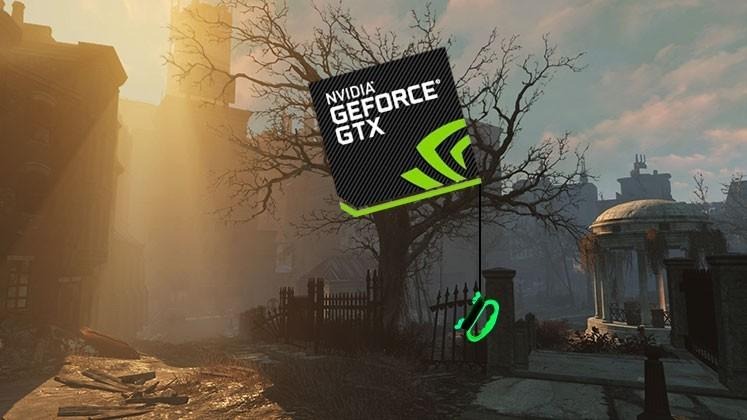 Launch day for Fallout 4 includes the release of NVIDIA's newest Game Ready driver, ready to pump the quality up to the tippety top of all your computer's abilities. Users will – of course – need an NVIDIA GeForce GTX GPU, the Game Ready driver itself, and GeForce Experience more than likely. Using the GeForce Experience, users will be able to tap into optimal settings for their unique setup with a couple of taps of a couple of buttons – far easier than going in to the game's settings and setting everything up yourself.
For those of you looking to play Fallout 4 with MINIMUM hardware, you're going to want a GeForce GTX 550 Ti with 2GB of VRAM – that's the basics. Every GPU released after that (higher-power GPUs, that is), bring bigger and better graphics. With a GeForce GTX 780 with 3GB of VRAM, for example, you'll have a far higher range of graphics to roll with.
NVIDIA of course recommends you attain an NVIDIA GeForce GTX 970 for 1080p resolution and an NVIDIA GeForce GTX 980 Ti for 2560 x 1440. NVIDIA mentions the ramping up of Volumetric Lighting effects specifically – and Bethesda mentions the rest:
• Tiled Deferred Lighting
• Temporal Anti-Aliasing
• Screen Space Reflections
• Bokeh Depth of Field
• Screen Space Ambient Occlusion
• Height Fog
• Motion Blur
• Filmic Tonemapping
• Custom Skin and Hair Shading
• Dynamic Dismemberment using Hardware Tessellation
• Gamma Correct Physically Based Shading
While you'll be able to take a peek at the Xbox One-based graphics of Fallout 4 in our Fallout 4 Review, stick around for more of a deep dive into the PC graphics delivered with NVIDIA's highest-range graphics processors soon!