NVIDIA and Continental team on turnkey driverless car tech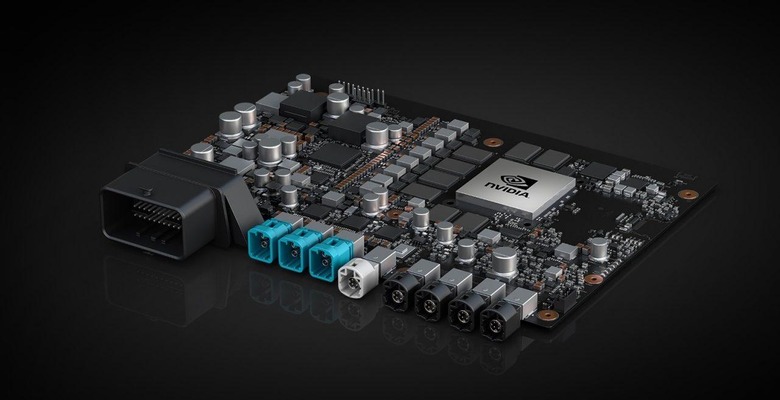 Intel and Continental have hooked up on a self-driving car project, aiming to put complete autonomous vehicle systems on the market from 2021. The deal will see the two companies combine NVIDIA's latest DRIVE platform driverless car "brains" with the wealth of sensors in Continental's catalog, offering automakers what will eventually be a turn-key system for up to Level 5 autonomous vehicles.
It's an ambitious plan, but arguably one that both companies are well placed for. Though NVIDIA has only just announced its latest DRIVE Xavier platform, effectively a supercomputer for driverless processing which will be the heart of its collaboration with Continental, that comes at the tail-end of numerous earlier DRIVE computers. Those have already been used in dozens of autonomous vehicle projects.
On Continental's side, meanwhile, the company already produces a wide range of different sensors that automakers are relying on for things like adaptive cruise control, automated parking, and emergency braking. That includes long-range cameras, fish-eye cameras that give a surround view of the vehicle, radar sensors for both long and short range use, and 3D LIDAR laser scanners. It's also a key supplier of the control units some automakers are already using for semi-autonomous and driver-assistance systems.
Initially, the two companies will work together on what they're describing as "highly automated driving features": that will include things like automatic lane-changing for highway use, traffic merging support for adaptive cruise control, and 360-degree perception. They'll use HD maps, with a greater than typical degree of accuracy and detail, so that the vehicles will be able to localize themselves more precisely. Indeed, the goal is that vehicles using the NVIDIA/Continental system will be able to feed data back into those HD maps, allowing them to be self-healing as the road network evolves. It looks likely that it will use the HERE SENSORIS standard, which Continental is already onboard with.
Down the line, though, those Level 2/3 features will evolve to full Level 5 self-driving support. Intended for vehicles with no steering wheel, pedals, or other traditional driver controls, it'll offer automakers a way to drop in a full autonomous system from sensors through to onboard processing and the DRIVE OS and DRIVE AV software to contextualize what's happening around them.
It's the latest in a series of partnerships for NVIDIA, as the company moves to strengthen its position in the automotive space. High-power local compute is a key element of driverless vehicles, which can't afford to the suffer latency involved in cloud processing. At the same time, however, those autonomous car supercomputers can't be profligate with power, since that would require larger batteries.
NVIDIA's efforts have already netted it a few high-profile wins. Last month, at CES 2018, the company announced not only its new DRIVE Xavier platform but a deal with Volkswagen. That will see the German automaker use the new hardware to power an onboard Artificial Intelligence in the upcoming I.D. BUZZ electric Microbus, which is expected to hit dealerships within the next few years.